Israel has grown into a significant supplier within photonics, as Warren Clark discoversIsrael is a country that most people have heard of, but very few know much about. It makes the headlines, but rarely for its advances in photonics. For many, dealing with an Israeli company is never a consideration since the nation is dismissed as one blighted by unrest. The reality is that Israel has a thriving high-tech sector, and those that live and work there believe others would do well to see for themselves what the country can offer.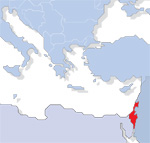 Well-placed: Israel's time zone makes is possible to trade with most countries at some point during the day.
'There's an opinion in some countries that Israel is something of a war-torn country, but this is a gross exaggeration,' says Aaron Lewis of Nanonics, a Jerusalem-based company specialising in near-field optical microscopes (NSOM) and atomic force microscopes (AFM). 'Much of the activity here is over-reported but I can't deny that, as a company, we have been affected by the troubles. Some years ago, we lost a valued employee as a direct result of the unrest.'
The emergence of high-tech industry as a major growth sector has not come about by chance. 'Israel is well-suited to a hi-tech industry such as photonics, since it has excellent manpower resources,' continues Lewis. 'As a nation, we benefited enormously from people emigrating here from the former Soviet Union – people with a very high level of technical expertise. As a company involved in photonics, that resource is very appealing.'
According to Israel's Ministry of Science and Technology, there are now more than 100 companies involved in photonics, and many of them just a few years old. As an industry sector, it employs more than 4,000 people, and its rapid rise in significance is largely attributed to the huge well of academic excellence in the country.
In a recently-published overview of the optronics and photonics industry in Israel, the Ministry's Joe Van Zwaren puts this growth down to a background of 'world-class research by strong academia, a well-developed optronics industry, and a well-developed venture capital community.'
Indeed, the government has been largely supportive of developments within photonics. 'The photonics industry, per se, does not get any specific support from the government,' says Yoram Shalev, marketing manager with Ophir Optronics, 'but most high-tech companies, especially those involved in defence contracts, do get plenty of assistance where needed.'
'When we began in the early 1990s,' says Lewis, 'there was a particular emphasis on funding for hi-tech companies. Back then, one of the key areas was photonics, and now there is a focus on nanotechnology, which suits the development of our company very well, since our products are in the area of nanophotonics and optical and other nanocharacterisation. Specifically we can provide excellent nanoptical characterisation on the whole variety of new or relatively new photonic devices from fibre lasers to silicon waveguides and from lasers to plasmonic waveguides.'
In terms of markets, photonics serves as wide a variety of applications as anywhere else, but there are one or two sectors that attract more investment than others. 'The significant markets here are the military and industrial sectors,' says Shalev. 'Defence is a particularly large market, both in terms of domestic market and for export. As a nation, Israel exports very high-tech defence products, from missiles to laser guidance systems.
'Another major market is the medical sector. There are around half a dozen companies here involved in using photonics for medical purposes – and that's a significant number for such a small country.'
Though the indigenous market for photonics is fairly healthy, a significant proportion of trade in this sector is via export. 'For a nation of our size, sales of photonics are disproportionately large, since Israel is a very developed nation,' says Shalev. 'Though around 70 per cent of our sales are via export, our own nation is still our largest market. We sell more to Israel than we do to the UK, for example, in spite of the latter being a much larger country.'
'Much of our business is in exporting, and Israel is a very good exporting nation,' concludes Lewis. 'We have free trade agreements with most of the major markets, and our central location makes us ideal for doing business with the US, Europe and the Far East. Our time zone makes it possible to trade with just about anywhere at some point during the day. One area in which we are just beginning to make major inroads is in South America.'
Israeli companies are emerging as major players in the field of photonics, and the emphasis on research and development will only increase its market share.
Key Israel companies