Good service leads to growth
John Murphy meets Mike Elliot, whose company Elliot Scientific has grown to be the largest UK-owned photonics distributor
Very few international companies can afford to have their own subsidiaries in every country. So, when most people want to buy something, they have to deal with a distributor. On the one hand these distributors can be seen as middle-men, taking a commission on sales – but their life is not so easy. If they do not give good service, sales will suffer and they will lose their distribution deal.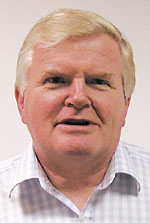 Mike Elliot: 'I believe people enjoy doing business with us.'
Elliot Scientific has grown to become the largest UK-owned distributor in the photonics market; it also has a cryogenics and magnetics division. Customers often like the security of dealing with a large company, and the firm's founder Mike Elliot has built up a company that is larger than the UK subsidiaries of the biggest names in the business. It effectively represents 35 different companies in the UK as if it were their UK subsidiary, but with no security of tenure – although it now manufactures its own product range. If it was not performing, its principals would soon find another distributor to replace it.
Mike Elliot firmly believes that it is his business philosophy that has propelled his company to its current size. It is not just about doing the business, but about how they do the business. He wants customers to be happy, so they like doing business with his company and come back for more. He talks about things like respect and acting like a gentleman, rather than going hammer and tongs to meet sales targets at any price.
'Mutual respect' may not be a fashionable business model, but if his approach did not work and he did not reach the sales targets, he would soon be out of business. On the other hand, if he gets it right his customers will be loyal and keep returning back for more. He also believes his approach is scaleable. Since setting up on his own in 1990 as a distributor, he has expanded into manufacturing and the firm's product line, Elliot Martock, has its own distributors outside the UK. The next stage is to see if he can duplicate the Elliot distribution model in other countries. With no venture-capitalists to satisfy, he does not have to look for quick returns. He wants to be in the game for the long haul.
Although the company is well known in the market, its founder has always shied away from talking about how it actually works. He thinks that being too boastful in the press would be seen by his customers as vulgar. But in his first-ever interview he is, at last, ready to tell the Elliot Scientific story.
Elliot studied applied chemistry at university. It was a 'sandwich' course, so he spent some of his time working in industry. He quickly worked out that while he loved science, he was not cut out to work in a lab. He thought he would be much more at home in sales so, after graduating, got a job in scientific instrument sales. In 1979 he was offered a job with the UK subsidiary of Spectra Physics as a sales engineer and within six months he was promoted to sales manager. In 1986 he was recruited by Newport to set up its UK operation from scratch and was appointed managing director.
Elliot says: 'Working at Newport greatly expanded my product knowledge, but it also taught me how to set up a company with someone else's money. They were very good to me and a few years later they allowed me to start my own company.'
Elliot always had a dream of founding his own company. After four years at Newport, he told his bosses that he wanted to set up on his own. They were extremely supportive and even let him use Newport office space for his first six months, in return for his being available to advise his replacement as UK managing director.
He says: 'They were a mature company and entrepreneurial themselves, and I had done a good job for them, so there was mutual respect. I needed to find a name for the new company and I decided that from the very beginning I wanted to be involved in many sectors of the market, so I decided to call it Elliot Scientific. I also had decided that I wanted to be approachable and easy to deal with. I always thought the fun bit was meeting people and selling them the right thing, rather than dealing with VAT returns.'
Elliot started recruiting manufacturers to distribute their goods. The first was Lightwave Electronics (DPSS lasers, now owned by JDSU), then Neos Technologies (acousto-optic modulators) and also Cyber Optics of Canada (profilers). He knew the principals of these companies, because they were part-owned by Newport. Newport was very happy with this arrangement, because although it held a small investment share, it did not want to distribute them itself. Elliot was very careful never to allow any one contract to become so important to the business that it could not carry on without that contract.
Distribution is a funny game and many distributors have found that if they do too good a job, the manufacturer steps in and takes over its own distribution. Elliot wanted a broad-based business operating in many sectors so that, if one part of the business suffered a dip, then other parts would make up for it. No supplier has ever accounted for more than 20 per cent of the business. This strategy has served the company well – especially when the bottom dropped out of the telecoms market – and it has survived many storms in the markets it serves over the years.
It also meant that the company could make the most of customer relationships. A relationship with a lab could start just with a few components. The company's focus is around the customers, rather than around a particular manufacturer or technology. Elliot believes that if you treat a customer well they will come back and the business will grow. He instils in his new staff the principle that someone who is a graduate student today could be a professor in 10 or 20 years, and if they like doing business with Elliot, they will keep coming back throughout their careers. Many of his staff have been with the company for 10 years or more and have been dealing with the same customers despite their customers changing positions within their organisations or, in some cases, changing organisations.
During the 1990s Elliot developed a relationship with a UK component manufacturer called Martock Design. The relationship grew and Elliot thought there was an opportunity to expand the company by setting up a manufacturing operation for Martock products, which had developed its own patented products. He liked the product range and thought the products were complementary to others that the company was distributing. So, in 1998, he set up a manufacturing operation with an exclusive contract from Martock. Elliot was the UK distributor for Thorlabs for many years and actually manufactured a range of Elliot/Martock products that were in the Thorlabs catalogue.
Elliot realised that having a manufacturing side to the company would make it more resilient, because distribution contracts can be lost when manufacturers are taken over. It also offered the opportunity to expand internationally by getting the Martock line distributed in other countries.
In 2003 Elliot bought out Martock Design and folded it into Elliot Scientific, marketing the products under the brand name Eliot/Martock.
Elliot says that what makes his company special is its reputation: 'Customers always have a choice to go somewhere else. I believe people enjoy doing business with us. It is all about mutual respect between the customers and us. We make a big thing about solution science for research and industry. We don't want to sell someone the wrong thing for a high price when they can buy the right thing for a low price. We want to give the best advice going. It's in our ethos that we sell people what they actually need, rather than what they think they might need. If we give the best advice, customers will come back to us. We want them to come back so we have an ethical approach to business and help them as much as we can.
'I tell people that customers could be with us for 30-40 years and we want to have a reputation for efficiency and quality of service. I believe that is our key differentiator. In a world where there are not many gentlemanly people, we have an open-door policy. We want to make it easy for customers to talk to us; we have no voicemail.
'We also have an ethos of recruiting the very best people, who are well qualified. We want to pay them well and give them a nice environment. We believe that leads to greater efficiency and that, in turn, is helpful to our customers. Also it pays back, because our high-calibre workforce is very loyal and we have a low staff turnover. We have more than 200 man-years of experience in our company.
'We like being broad-based with some very low-cost, high-volume components and some very high-cost, low-volume instruments. Someone can come to us with a very broad-based experiment that might have a femtosecond laser. They might want to analyse the pulses; they might want optics and components for the system; and they might want one company to supply the complete system.'
Elliot says that most sectors of its business are doing well at the moment. He is reluctant about disclosing any details of the size of the company, either its turnover or its number of employees, because he believes the information might help his competitors. It is, after all, a private company. He will only say that Elliot Scientific is one of the top three distribution companies in its sector in the UK, and is the largest UK-owned distributor.
Last year it lost the contract to distribute the Thorlabs range in the UK (when the latter bought the former Melles Griot UK operation), which it had held since 1991. Thorlabs now operates its own subsidiary. Elliot regards this as an opportunity for his own manufacturing division. Martock has specialised in complex mechanics, but it has now created its own range of components to compete with Thorlabs. Recently he purchased some patents for three-axis rotational mechanics, which were shown at the first time at Photonics West.
In the future Elliot is looking to expand the range of products that it makes, but also to look for distributors of its own in other countries. Other options include expanding the distribution business in other countries – either by opening overseas branches or taking over distributors in other countries.
He says: 'There are some great opportunities in manufacturing and there are great opportunities in distributing. In the past 12 months we have signed some great principal deals, so we are very pleased with our distribution business at the moment. Our philosophy is never to be afraid to be entrepreneurial. We are always willing to take a risk. When people ask us to make something we always try to do it. If we make a mistake then, because we are broad-based, the one mistake is against the rest of the business, which is doing OK. It's not fatal. It's interesting to see opportunities and get involved with them and we like to talk to people with ideas, whether they are within or outside the company, because there might be ideas for products or whatever that we might like to get involved in.'
Over the years Elliot has not lost his fascination with the science that his customers are doing and he loves visiting them and finding out about their latest work. He says: 'That is singularly the best thing. The highlight of any week is visiting a customer and finding out what they are doing. I am excited about running a business, but I am also excited by the science. Most people in this business enjoy mixing science with business. We enjoy having the technical enjoyment and we learn things along the way. But the people who work at this company don't necessarily want to do a year of research; they enjoy learning about it and enjoy doing the business too.'