Israeli star shines bright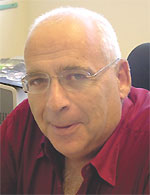 Yoram Shalev, managing director of Ophir Electronics. 
Ophir was formed in 1976 in Jerusalem, Israel, and since then has become an international leader in precision IR optics components and laser measurement instrumentation.
Today, nearly 30 years after its formation, the firm also has offices in Japan, Germany and the United States, employing some 290 people and turning over around US$35 million. It also has a network of sales and service agents in more than 25 other countries around the world.
Shalev, who joined the company nine years ago, explains that the company has developed three main product lines since its formation:
Laser and photonics measurement instruments - Ophir's laser measurement group manufactures, calibrates and sells a complete line of instruments for measuring laser power, energy, beam profile and spectrum. Its products are used in a variety of fields such as medical, industrial, research and telecommunications;
Optical IR components and lens sub-assemblies - Ophir is a manufacturer and supplier of IR optics for the military, security, commercial and industrial markets. Areas of expertise include optical lens assemblies for MWIR and LWIR cooled and uncooled cameras, optical elements and high-power CO2 optics for industrial lasers. All technologies involved in the design and manufacturing processes are in-house, from the initial research, development and design to the final inspection of the finished product; and
3D non-contact measurement - Ophir's subsidiary Optimet is a world leader in high-accuracy, non-contact, 3D measurement sensors. Optimet develops and manufactures line and point sensors based on its unique and patented conoscopic holography technology, which relies on the measurement of laser-beam reflections - mainly for quality control applications in the automotive, aerospace, steel and micro-electronics markets, among others. Among Optimet's clients is an international dental firm that uses the Israeli firm's sensor as part of a system that measures patients' teeth and fits them for dental appliances.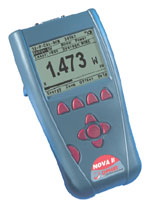 Ophir's Nova II laser power meter.
In the early days, however, the product offering was nowhere near as extensive, and was mainly centred on optical coatings. The firm was formed by three physics PhDs, Shalev tells Electro Optics, who had 'less money than confidence' but who were determined to grow the company in a steady and controlled manner - and to have fun at the same time.
In fact, Yaacov Zerem, Ephraim Greenfield and Ephraim Sekemski launched the business with just a few thousand dollars of their own money, starting out by producing optical coatings in a 15-square metre office in Jerusalem's Machon Lev technology institute. The company moved into larger offices three years after, and then expanded those premises no less than six times before the company moved to its current premises, a 5,000 square-metre office complex in Jersualem's Har Hotzvim science park.
The trio used their well-placed confidence to win contracts from clients within the Israel Defense Forces (IDF), their modus operandi being to promise higher-quality products than were available in the market at the time, and then to do whatever it took to deliver on their promises.
In the early days, Shalev continues, military clients were of the utmost importance to Ophir, buying into technologies such as night-vision that have since been used in other applications. These include fire-fighting - letting fire-fighters see through thick smoke - aerospace (allowing aircraft to land in heavy rain or fog) and even the automotive industry. Ophir's precision optical coating, polishing and cutting tools are able to sculpt lenses to a tolerance of less than a micron.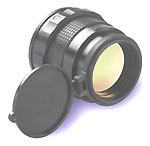 Ophir's 50mm lens for uncooled cameras.
ISO 9001:2000 certified, Ophir has a quarter of a century's experience of operating according to military standards across all performance specification levels.
Shalev explains: 'The military was extremely important, without a doubt - not least, because they have very good budgets! Also, they generally have a need to employ the most advanced technologies on the market; technologies that are now being applied in civilian applications.'
Zerem, now president and chairman, originally stated that he would build a company turning over US$30 million within 25 years. Give or take a few percentage points, that aim has been fulfilled.
There has been no 'defining moment' in Ophir's growth over the years; rather, it has been a slow but steady rise in fortunes resulting in a current client list of more than 100. The company was listed on the Tel Aviv stock exchange in 1991 and has continued to prosper since. Despite being down around 2.5 million shekels (US$500,000) in 2003 - largely due to the establishment of a lens-manufacturing facility in Massachusetts - 2003 saw Ophir post a profit of 9.2 million shekels (about US$2 million) in 2004.
Before Shalev joined Ophir, he had formerly worked as a marketing manager for a company that sold video equipment, and then moved to a software manufacturing firm. He tells Electro Optics that, previously, he had never stayed with an individual employer for more than three years. He says: 'That is just the way it is in many firms - three years seems to be the limit in terms of what the employee can gain from the employer, and also in terms of what the employee can offer. However, I am very happy to have been working for Ophir for the last nine years, and am planning to stay here much longer.'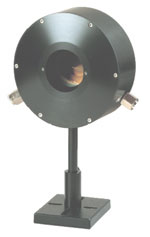 Ophir's 10K-W thermal surface absorber head.
The overriding reason for this commitment, Shalev explains, is that Ophir is 'a fantastic company to work for'. He continues: 'Despite the fact that we are clearly a hi-tech firm, our biggest strength lies in our human resources. Employees are always a company's biggest asset and Ophir understood this very clearly from the outset.
'Led from the front by the president Dr Zerem, our workers always arrive with a smile on their faces. There is a very creative atmosphere at our premises and everyone works as a team, with the same goals in mind. However much we continue to grow, it is imperative that we remain a "people company" if our success is to be assured.'
As far as the future is concerned, Shalev reveals that Ophir has one/two-year and three/four-year plans - but will not reveal the content of those plans in case the opposition are reading this article! He says: 'What I can say is that, in financial terms, we have been growing at a rate of around 20 per cent in recent years and we aim to continue growing at that sort of rate. We have very clear plans and we will support such growth by entering new fields - through acquisitions, if necessary.'
It appears that the future is bright for Ophir - and, even if the competitors are being left in the dark over the company's plans, Yoram Shalev has a laser-sharp clarity on what the future holds.