Laser-based gene therapy treatment wins 2017 SPIE Startup Challenge
Laser-activated gene therapy nanodevices developed by Harvard University spin-off Cellino Biotech came first place in the 2017 SPIE Startup Challenge, held at SPIE Photonics West in San Francisco at the start of the month.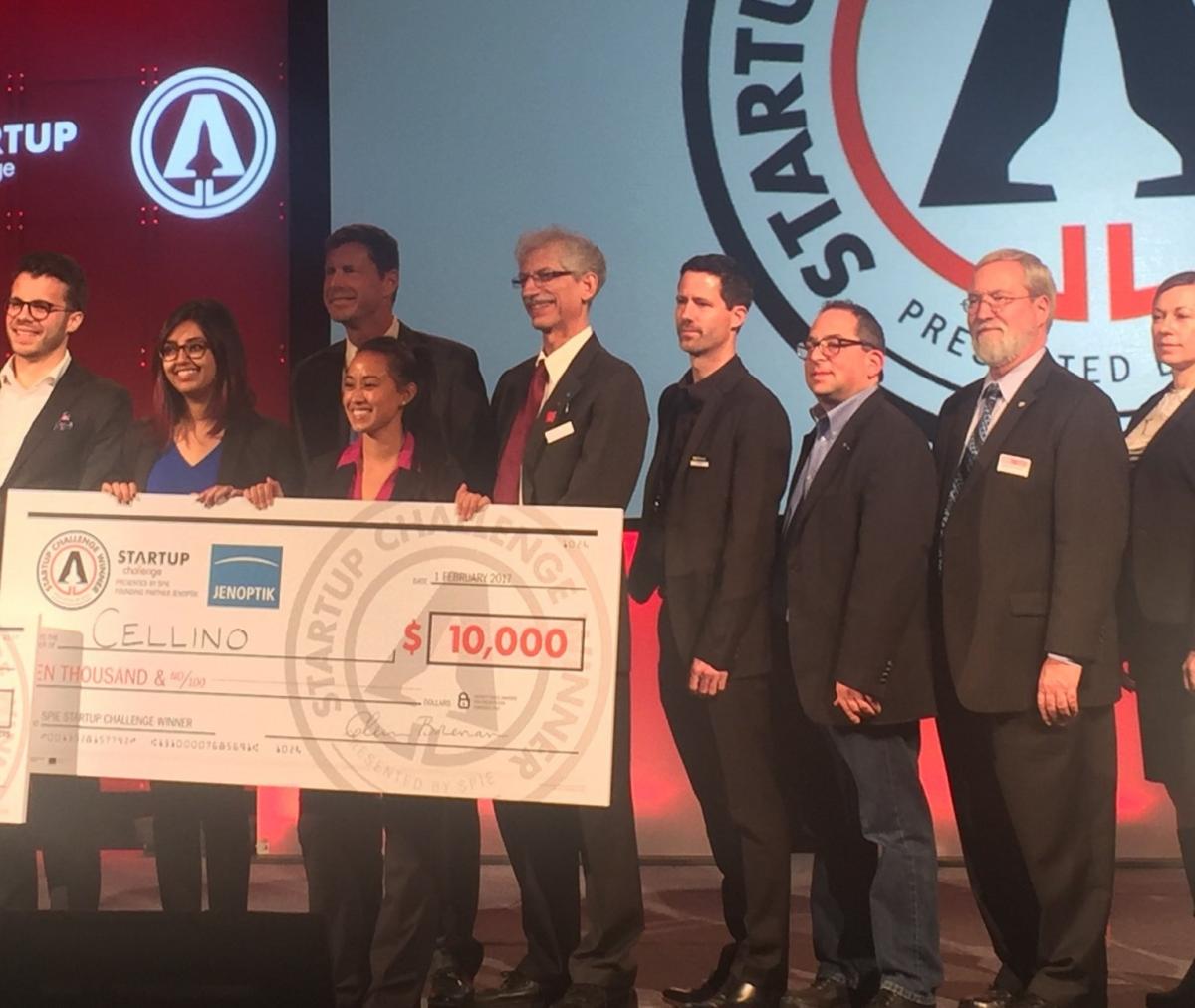 First prize winner Cellino was awarded $10,000 in cash and $5,000 of Edmund Optics products
The winning technology, pitched by Harvard graduate and Cellino's CSO Marinna Madrid, consists of nanofabricated substrates that are able to deliver novel gene therapies to cells safely and reliably in order to treat viral or genetic diseases such as leukemia or HIV. Madrid noted during her pitch that $1 billion has already been put into developing safer and more reliable therapeutic delivery methods, and that the industry the Harvard-spin off is targetting is worth $2 billion. Cellino's benchtop instrument has been designed for use by research labs and hospitals to enable the better development and treatment of gene therapies. 
Second-place was claimed by Zeev Zalevsky, CTO and founder of Bar Ilan University spin-off IC Touch, for pitching a device that translates visual information captured by a camera to spatial tactile stimulation of the cornea, allowing blind or visually impaired people to effectively 'see'.
Adam Wax, president and chief scientist at Lumedica, pitched the company's accessible and affordable OCT technology, OQ EyeScope, to claim third-place. According to Wax, the company was able to achieve the low cost of the EyeScope through taking advantage of certain optical components that are mass-produced for mobile phones. This, along with the company's streamlined manufacturing process, has enabled Lumedica to provide the new OCT scanner for only $10,000, compared to the lower end price of $35,000 for standard entry-level OCT equipment. The company is currently aiming to raise funds to increase the portability of the device, allowing it to address the demand of affordable OCT technology in health clinics around the world. 
Other 2017 Startup Challenge finalists included: TriLite Technologies, for its RGB Laser Light Module for AR/VR, ultracompact MEMS laser scanner for AR and VR applications; Fresh Strips, for its ensuring of quality in food; and Fastree3D, for its 3D vision chip-based lidar system.
Cash prizes totalling $85,000 were awarded throughout the challenge, including the $10,000, $5,000 and $2,500 sponsored by Jenoptik for first, second and third place. The first-place winner also received $5,000 worth of products from Edmund Optics.
The SPIE Startup Challenge began in 2011 and is now supported by Jenoptik, Edmund Optics, Trumpf, Open Photonics, and the U.S. National Science Foundation (NSF). Dirk Fabian, SPIE's community lead, discussed the evolution of the competition with Electro Optics leading up to the event.
Jay Kumler, president of Jenoptik, said: 'The breadth and business potential of the finalists was really impressive. All of the finalists should be congratulated on the exciting companies that they have launched.'
SPIE president Glenn Boreman shared his congratulations for all the competitors as well, noting: 'These entrepreneurs are doing the hard work of bringing these technologies out of the lab so they can benefit the public.'