Laser TV at CES 2021 'better than cinema'
The new RGB laser light source architecture offers a colour gamut coverage almost 50 per cent beyond that of high-end cinema (Image: Hisense/CES)
Chinese consumer electronics firm Hisense has introduced a new display technology at this year's Consumer Electronics Show, which is currently being held virtually for the first time.
The firm has developed a new RGB laser light source architecture for its 'TriChroma Laser TV' product range which offers an exceptionally wide colour gamut.
In a keynote address at CES, Dr Liu Xianrong, chief scientist of Hisense Laser Display, explained that the technology packages and controls separate lasers to produce purer colours. The new light source achieves a 128 per cent improvement in RGB colour. It also attains a 20 per cent brightness enhancement at the pixel-level with a 430-nit picture brightness, exceeding that of a regular TV. 
In addition, with the colour gamut coverage reaching up to 151 per cent of the DCI-P3 film colour standard, it is almost 50 per cent beyond that of high-end cinema.
The new laser TVs range from 75 inches to 100 inches in size. They are also equipped with AI smart cameras to faciliate interactive activities such as online karaoke and fitness.
Hisense will release more laser TV models this year, and projects a promising market share in 2021.
What is a laser TV?
Rather than comprising a single TV unit, laser TV's require both a screen and projector to operate. 
The technology has increased rapidly in popularity since Hisense introduced its first-generation model at CES 2015.
In 2020 alone, the firm's sales statistics revealed a 288 per cent rise in overseas sales of laser TV's in 17 countries, including the US, Mexico and Australia.
Last year the firm introduced its 'L5' laser TV model, which is also available in 75/100-inch sizes. For the 100-inch model, the projector only needs to be 19cm from the wall. The screen also rejects ambient lighting, enabling it to be viewed clearly in bright conditions.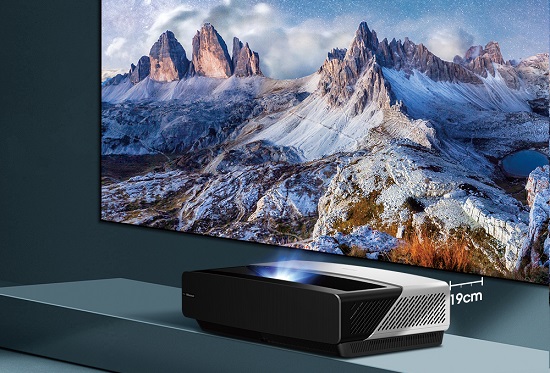 For Hisense' 100-inch L5 4k laser TV, the projector is only required to be 19cm away from the screen. (Image: Hisense)
With less harmful blue light, the L5 is certified as a low blue light hardware solution. It is also equipped with a built-in sensor that detects if an object passes too close to the light source, reducing the light's strength and automatically powering off the console to avoid damage to a person's eyes.
'Laser display technology will create entirely new scenarios,' remarked Xianrong in his keynote speech. 'Laser display is a technology with the potential for stereoscopic display. Starting from AR/VR, vehicle mounted display and other fields, we will break through flat display and move forward to spatial stereoscopic displays and eventually realise a three-dimensional holographic display.'