Laser World of Photonics invites award entries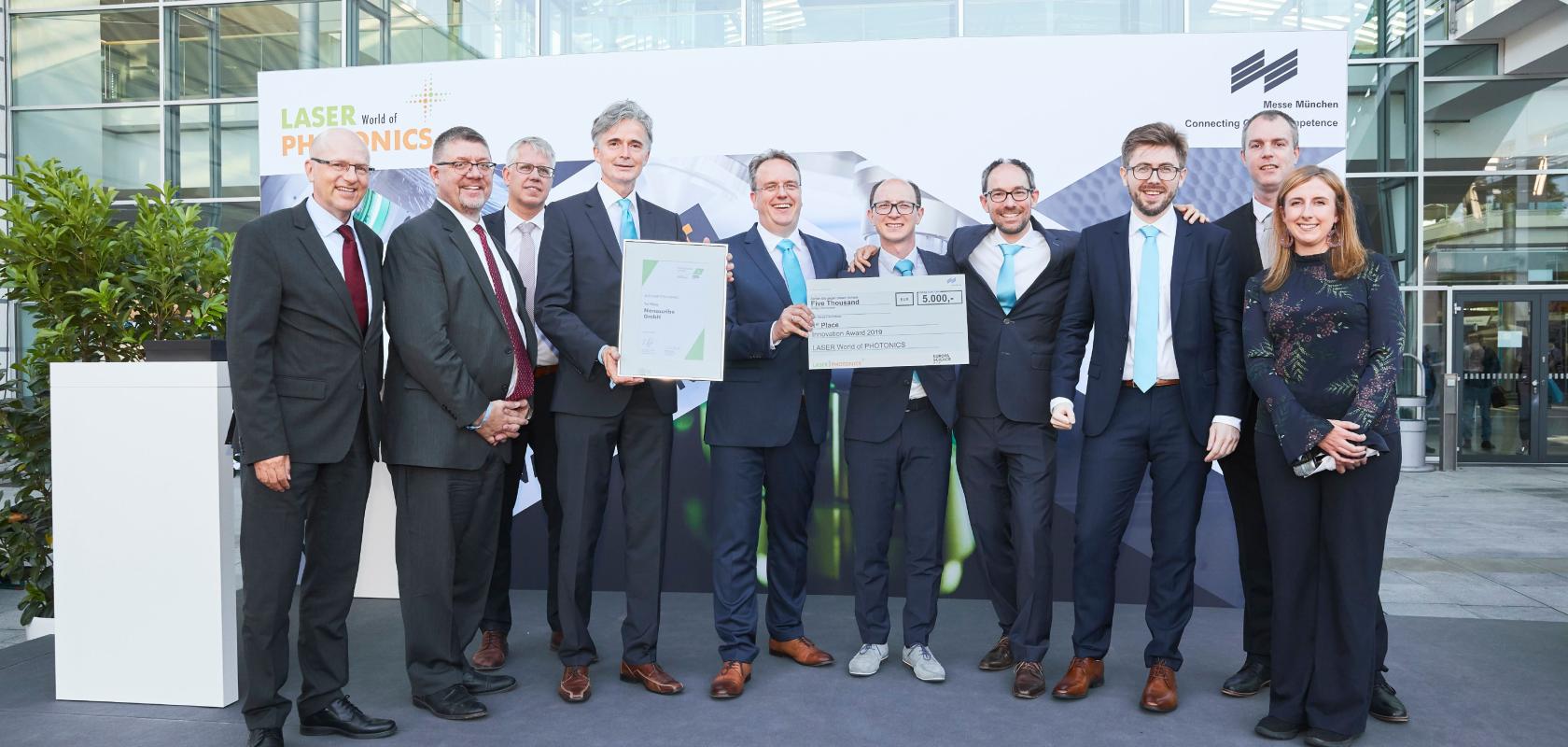 After its launch in 2019, the Innovation Award will be returning to the Laser World of Photonics event programme this April.
In collaboration with Europa Science – publishers of Electro Optics – the €5,000 award categories celebrate the best in innovation, technology and product development, and are open to all 2022 exhibiting companies.
Applicants have until the 28 February to submit an entry.
'We are delighted to support the second edition of the Innovation Awards programme. The judging panel will be looking for ground-breaking products that lead the way in product innovation and advances in photonics solutions. We are excited to be able to present the awards in-person at the 2022 event ceremony,' commented Warren Clark, managing director of Europa Science.
The application categories cover the entire spectrum of photonics, including imaging technologies. The categories are: Sensors, test and measurement, and optical measurement systems/imaging; Lasers and optoelectronics; Optics and manufacturing technology for optics; Laser systems for industrial production engineering; Optical information and communication; Biophotonics and medical engineering; and Quantum technology.
The awards are sponsored by photonics titles Electro Optics, Imaging and Machine Vision Europe, and Laser Systems Europe and the finalists in each category will be selected by a panel of esteemed photonics representatives including judges from the Association of Laser Users, Spectaris, and Toptica.
The full list of 2022 judges are:
Adam Clare - Association of Laser Users (AILU)
Tom Hausken - Optica – formerly OSA
Gabriele Jansen - Vision Ventures, Germany
Dr Wilhelm Kaenders - Toptica Photonics
Professor Peter Loosen - Fraunhofer Institute for Laser Technology
Professor Jürgen Popp - Leibniz Institute of Photonic Technology Jena
Dr Peter Soldan - VDI Technologiezentrum
Dr Ronald Sroka - LIFE-Center, Hospital of University Munich
Dr Wenko Süptitz - Spectaris
Professor Andreas Tünnermann, Fraunhofer Institute for Applied Optics and Precision Engineering
Professor Paul Urbach, TU Delft
2019's Innovation Award was won by Nanoscribe, for its Quantum X maskless lithography system.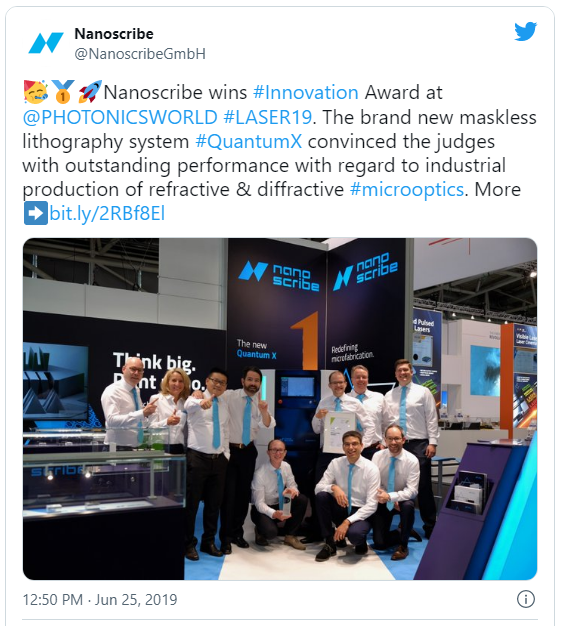 Quantum X, which was released at the Munich trade fair, is designed for industrial fabrication of refractive and diffractive microoptics, and is based on the firm's two-photon greyscale lithography technology.
The Quantum X is a Two-Photon Grayscale Lithography system for maskless microfabrication of refractive and diffractive microoptics. One of the applications the system supports is integrated photonics by 3D microprinting.
The instrument, which is based on two-photon polymerisation technology, allows users to additively print optical interfaces, waveguides and hybrid refractive-diffractive optics on various prepatterned substrates. Complex microstructures can be precisely integrated where needed.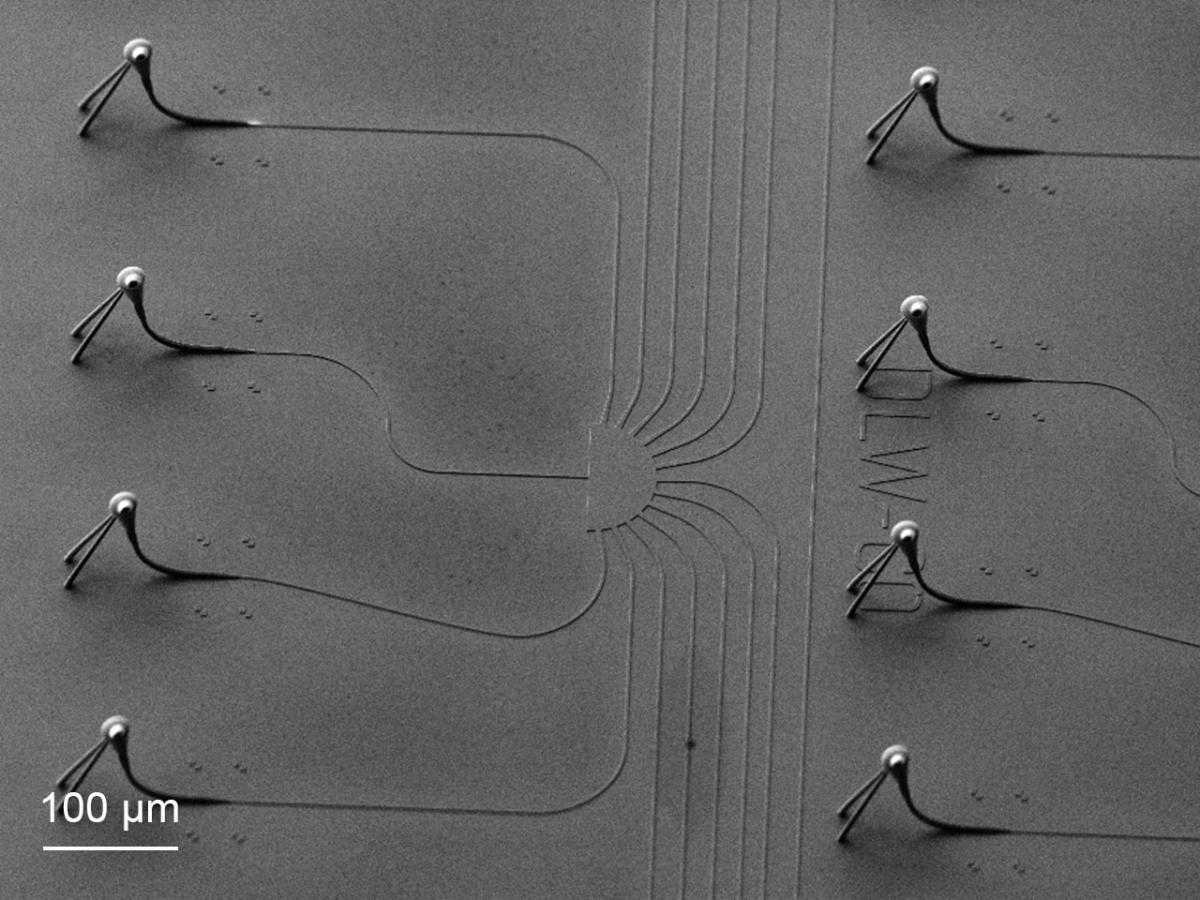 Scalable fabrication of several 3D couplers on a photonic chip. Image: W. Hartmann, H. Gehring, W. Pernice et al., University of Münster
Prior to this year's event, the jury will review all entries and select the top three in each category as the finalists.
The winner of the Innovation Award will be selected from the category winners and will receive €5,000 in prize money, presented live as part of the Laser World of Photonics event programme.
Applications must be submitted online at https://world-of-photonics.com/en/supporting-program/information/awards/.