Neural connections observed with light-sheet microscopy
A new light-sheet microscope has been used to obtain 3D images fine enough to capture neural connections. The research represents a step forward for 3D volumetric imaging and is leading to increased understanding of neuro-degenerative diseases and organ regeneration.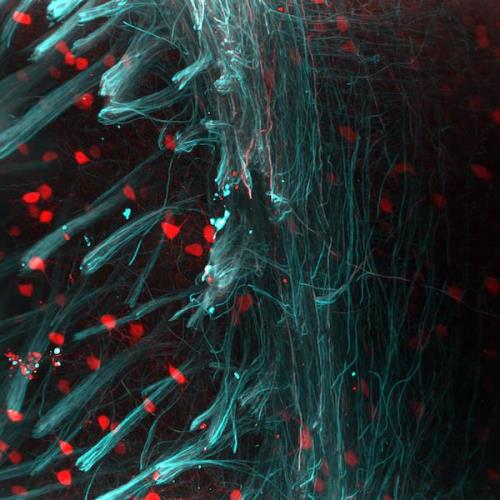 Still from a 3D image of a section of a cleared mouse brain, tissue stained with red (parvalbumin - neurons) and cyan (neurofilaments) fluorescent markers. Image courtesy of Adam Tyson, Centre for Developmental Neurobiology and MRC Centre for Neurodevelopmental Disorders, King's College London
Changes to the brain that take place throughout one's life – known as structural plasticity – are thought to govern neural circuit refinement and information storage. Certain chemicals in the brain can dramatically influence these changes, but not much is known about the molecular mechanisms by which these chemicals control these changes.
Research into these reactions could trigger further breakthroughs in understanding neurodegenerative disorders including dementia, motor neuron disease and Parkinson's disease. However, in recent years there has been difficulty in creating images of larger neural structures in the detail necessary to understand how they interact at sub-micron level.
Glasgow, Scotland-based photonics firm M Squared has been working with scientists across Europe to apply laser imaging technology and data science capabilities in order to bypass these technological obstacles of imaging living cells and tissues.
Scientists from the University of St Andrews (Scotland), the Maurice Wohl Clinical Neurosciences Institute (Kings College London), the National Physical Laboratory in conjunction with University College London, and the Niels Bohr Institute (Copenhagen), have used M Squared's 'Aurora' Airy Beam light-sheet microscope to advance their neuroscience studies.
The Airy Light Sheet Microscope has a 600 micron field of view, 20 times larger than a standard Gaussian light sheet, meaning that larger neural structures can be viewed with high resolution. This method of imaging has very low phototoxicity and photobleaching, so the specimen can be imaged for longer.
New images released by M Squared show the Aurora technology in action. The release of the images follows the Institute of Physics Business Innovation Award, recently awarded to M Squared at the Houses of Parliament, for its work on microscopy.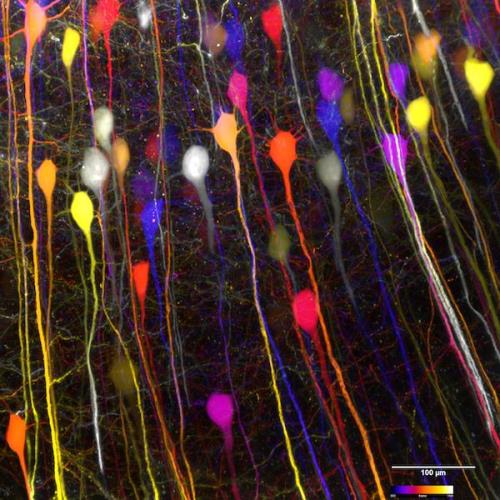 Heatmap still from a 3D image of a section of a cleared mouse brain, stained for proteins with a green fluorescent marker. Image courtesy of Dr Anthony Vernon and Robert Chesters, Department of Basic and Clinical Neuroscience, Maurice Wohl Clinical Neuroscience; MRC Centre for Neurodevelopment Disorders, King's College London
For example, neuroscience research currently being undertaken in the Neurodegeneration Unit at IoPPN is shedding new light on neurodevelopmental and neuropsychiatric disorders including autism spectrum disorders, schizophrenia and intellectual disability.
Alongside neuroscience research, M Squared's Airy Light-Sheet technology is also being used in research on neural organoids, stem cells, and how the pancreas develops in Zebrafish.
Earlier this year, M Squared was granted a Prosperity Partnerships fund with the University of St Andrews for their joint work in the diagnosis and treatment of dementia and cancer. Funding for this research comes from a new £78 million government fund from the Engineering and Physical Sciences Research Council (EPSRC) and the Industrial Strategy Challenge Fund (ISCF).