Plan with China in mind, says EPIC's Carlos Lee
Carlos Lee, director general of EPIC, notes the importance of the Chinese market for European photonics firms
The China/USA economic trade war is having a global impact on all industries, including photonics. Some EPIC members have reported a slowdown in growth. Although this is not the ideal scenario, it allows some companies to catch-up on order backlogs and to reorganise after the past few years of extensive growth. Let's just hope that the slowdown doesn't last for too long! Personally, I am convinced that the Chinese market will continue to grow in importance, which is why EPIC continues to support partnerships that our members will ultimately benefit from, both in the short and long term.
There are three main exhibitions that EPIC supports in China and recommends that its members consider attending: Laser World of Photonics in Shanghai, organised by Messe Munich; Laserfair, organised by Deutsche Messe; and the China International Optoelectronic Expo (CIOE). 
In 2020, Laserfair and CIOE will be moving to the new exhibition centre located to the north of Shenzhen airport, where construction is currently being finalised. I had the opportunity to visit the new site and it is highly unfortunate that the surrounding infrastructure is not expected to be ready in time for the first exhibitions – including the underground, hotels and nearby neighbourhood. The venue, one of the world's largest exhibition centres, is due to host many important upcoming events, and therefore numerous photonics companies will need to be there. To alleviate the pain of having to sit in traffic jams, EPIC will be organising shared bus rides for its members, which not only saves time but provides an opportunity to network and develop new connections. EPIC will be providing booth space on its international pavilion that will feature a VIP lounge, a presentation theatre, translators, and new product highlights. EPIC members will also be able to attend our traditional and highly-valued VIP networking reception. As always, we will be seeking ways to maximise the ROI of our members!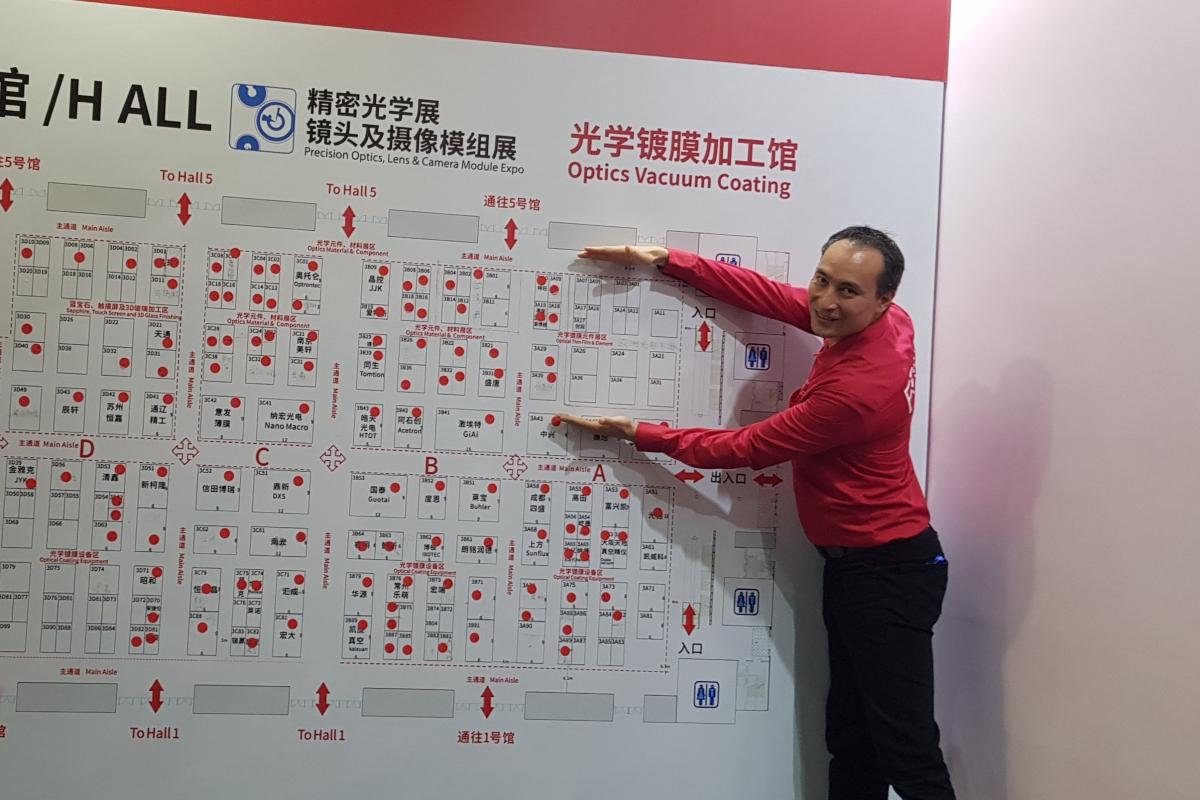 EPIC reserves a pavillion at certain Chinese events to help its members access the market
The company Vision and Action, based in the Netherlands, has a presence in Wuxi, China. V&A supports EPIC members with business development in China by acting as a distributor, organising events, and providing overall support in integrated photonics. Photonteck is a distributor with presence in Wuhan, Shenzhen, and Hong Kong – it is an EPIC member and is already working with several members. 
Shenzhen is a key location for a trade show – its GDP per capita ranks first among Chinese cities, and its export volume has been the largest in China for the past 25 years. The CIOE exhibition in Shenzhen will have almost 2,000 exhibitors and 70,000 visitors.
I hope to see you there from 9 to 11 September next year!