The latest optical sensors and detectors for 2023
An optical sensor or detector can convert incident light into an electrical signal for measurement and analysis. Optical sensors are used in a number of commercial and research applications, including quality and process control, medico technologies, metrology, imaging and remote sensing. 
According to market intelligence firm, Mordor Intelligence, the optical sensors market is predicted to grow at a compound annual growth rate (CAGR) of 6.33% between 2021 and 2026. The company cites the growth in use of smartphones as a key driver. In addition, an increasing demand for advanced security features in these devices has brought about features such as on-screen fingerprint scan, an optical sensor that detects and verifies fingerprints, driving the fibre optic sensor market. Likewise, ambient sensors can take a measure of the light in the room to adjust the screen's brightness, so increasing demand for smartphones is also expected to drive the demand for these sensors. The company says that optical sensors are also becoming an indispensable tool for manufacturers to save power, time and money, because they are able to help provide rapid and precise measurements.
Optical detectors too are experiencing growth, according to Allied Market Research, which revealed the global optical detector market accrued $3.6bn in 2021, and is predicted to garner $9.8bn by 2030, at a CAGR of 11.8% from 2022 to 2030. The company's report says the use of optical detectors in industries such as aerospace and defence and healthcare are helping to drive this growth. Massive demand for optical sensors across various sectors for their high accuracy and precision output, says Allied Market Research, will grow global product penetration. Likewise, the requirement for better production efficiency is also driving greater use of photoelectric sensors, creating new opportunities for growth. 
Sensors and detectors on the market now
Vendors that offer sensor and detector technology include AtGrating Technologies, with its packaged FBG fibre-optical sensor, designed for stress and strain measurements. One advantage is that it can be integrated with materials as a monitoring material and structure to create more promising structures. The sensors allow for measurement of temperature, strain, pressure, displacement, acceleration, tilt and even hydrostatic levels.
BAE Systems develops and manufactures low-cost visible, infrared and X-ray imaging sensors for a wide variety of commercial and military applications, including defence, security and surveillance, space, scientific, medical/dental/veterinary, X-ray, industrial and pro-video markets.
Excelitas provides photonic detection solutions ranging from Silicon and InGaAS PINs and avalanche photodiodes, hybrid receivers and photon counting modules to address high-performance and high-volume applications across a number of markets. The company's Thermal IR Sensors represent a broad range of pyroelectric detectors, thermopile detectors and IR sensor modules used for motion detection, presence monitoring, temperature measurement and gas detection.
Hamamatsu Photonics is a Japanese manufacturer of optical sensors, electric light sources, and other optical devices and applied instruments for scientific, technical and medical use. Detector products include photodiodes, avalanche photodiodes (APD), silicon photomultipliers (SiPM), photomultiplier tubes (PMT) and infrared detectors. Sensor products include CMOS, CCD and InGaAs.
HBK FiberSensing recently developed an optical sensor line, NewLight, which enables large strain measurement ranges at increased long-term stability. It is used in structural health monitoring, thanks to its fast, easy installation and resistance to environmental conditions, such as humidity, rust and even salt over extremely long distances. It is compatible with standard telecom cables, for a cost-efficient solution. Based on the Fibre Bragg Grating technology, the company offers optical sensors for measurements of strain, temperature, acceleration and tilt.
Laser Components is a manufacturer of dielectric coatings for laser optics, pulsed laser diodes, APDs, IR detectors, photon counting modules, selected laser diodes, IR emitters, laser diode drivers and related electronics, miniature laser modules, fibre assemblies and optical filters. Most recently, the company launched Flexpoint, a radial laser module for creating 3D models of pipes. It is able to create the 360° line by deploying a cone-shaped mirror that reflects the light evenly in all directions. The circular red line can be used to detect irregularities of up to 50µm that may exist on the surface of the pipe. 
Photek manufactures and supplies vacuum-based tubes and camera systems for charged particle detection and imaging (photon, electron and neutron). The company has a comprehensive range of products for most photon detection applications and works with customers to design bespoke solutions where these are required. Photek has particular expertise in the design and manufacture of large-area image intensifiers, ultrafast photomultiplier tubes (PMTs), UV detectors and advanced photon counting camera systems.
Photonis develops ion, electron and photon detectors, as well as technologies for analytical instruments and all mass spectrometry techniques. Its photonic solutions support spectroscopy applications with a variety of spectral response options. The company also offers custom design and manufacturing capabilities to provide superior detectors.
Quantar offers a collection of single-event-counting, scientific imaging detector systems for photons and charged particles (electron, ion) imaging and spectroscopy. These position-sensitive detector systems are sensitive, low noise and used in a range of applications including specialised astronomy, electron and ion spectroscopy and imaging, mass spectrometry, and optical spectroscopy and imaging.
Available from SensoPart is a portfolio of vision solutions covering a spectrum of industrial image processing. A high-performance smart camera in a compact housing forms the heart of the firm's Visor vision sensors. The hardware is optimally enhanced by the Visor software, which enables the set-up of applications in a few simple steps and the adjustment of process parameters. Thanks to the software, the process can also be continuously monitored. The company offers the Visor vision sensor with a package of integrated detectors and functions.
SmartSens Technology is a high-performance CMOS image-sensing chip design company. The firm's products include full colour night vision, DSI pixel, global exposure built on voltage domain architecture, and stack BSI processes, among many others.
Technica Optical Components offers a range of Fibre Bragg Grating-based packaged sensors in a selection of optical specifications and mechanical configurations. The company can also work with customers to provide custom OEM sensors. 
This is not an exhaustive list. If you provide products or solutions for sensors and detectors and would like your company to be included, please let us know at: editor.electro@europascience.com.

Excelitas: Featured sensor and detector product
Cost efficient, high-precise medical-grade CaliPile TPiS 1T1386 L5.5H IR Temperature Sensor with factory calibration
With high temperature accuracy, configurable "threshold" functions and low power consumption, TPiS 1T1386 L5.5H offers an ideal solution for applications in remote skin-temperature measurement and medical temperature control of liquids and gases. Fast remote over-temperature protection, mid-field human presence sensing, far-field human motion detection and passive light-barrier sensing supports people counting applications.
An isothermal TO-39 package with high-sensitivity TP-chip, confined optics and an additional "lens-hood" for stray-light suppression enables thermal stabilisation in harsh conditions. Its on-board EEPROM delivers highly precise factory calibration data storage and offers ease-of-use. The smart data processing allows the sensor to signal fast temperature changes or over-temperature via interrupt output aside from the precision temperature measurement. While the temperature calculation is done on the host based on the factory-calibration parameters, the sensor constantly monitors additional interrupt-based information such as overheating, presence and near-field motion detection. Visit the Excelitas website for further information.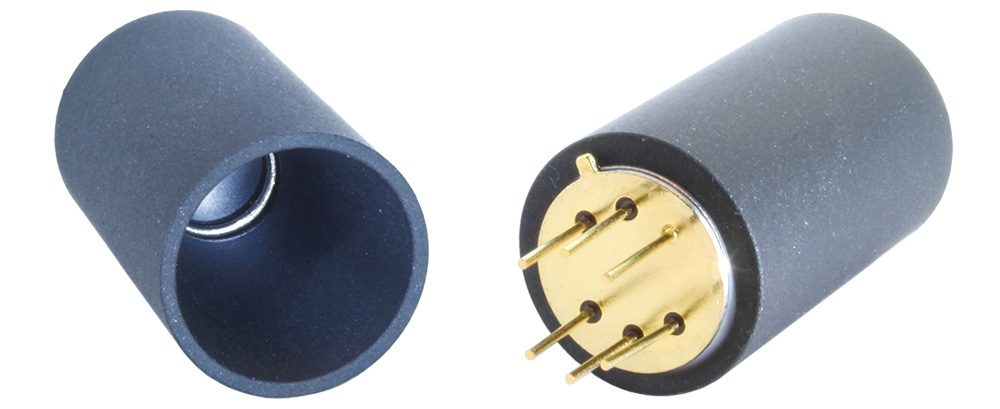 Hamamatsu: Featured sensor and detector product
New InAsSb Detector with high sensitivity in the spectral band up to 8μm
Hamamatsu has released a new infrared detector in an SMD package, the P16613-011CN. Manufactured using back-thinning techniques, it achieves unprecedented stability over a wide operating temperature range. This new detector is the latest addition to Hamamatsu's RoHS compliant mid-infrared detector family. Visit the Hamamatsu website for further information.