Coronavirus shines a light on potential of optical techniques
Left to right: Dr Weber, Dr Neugebauer, Dr Popp
Dr Karina Weber, Dr Ute Neugebauer, and Dr Juergen Popp, of Leibniz Institute of Photonic Technology (Leibniz-IPHT) Jena, spoke to Electro Optics about the advantages of optical methods in tackling global health challenges, and what we can learn from the Covid-19 crisis to advance clinical translation
In an article for Electro Optics in 2017, Dr Juergen Popp wrote that 'biophotonics methods and technologies... will allow us to detect diseases and initiate countermeasures far before their outbreak.' Could you explain this in more detail?
Biophotonic methods and technologies use light to investigate the biological samples of interest in a fast, direct and non-destructive manner. 
For example, Raman spectroscopy is a powerful tool, which uses inelastically scattered light to extract information of the overall biochemical composition of the biological material. In order to identify pathogens we pursue two different strategies. On the one hand, we isolate and identify pathogens directly. On the other hand, we are able to reveal the phenotype of immune cells, which allows us to investigate the host response. Why is this possible? The activation of immune cells (leukocytes) is pathogen-specific and therefore allows conclusions to be drawn about the underlying infection (which microorganism). Furthermore, it reflects the immune status of the patient, which provides important information for an evidence-based, personalised treatment of the patient. Moreover, as light directly interacts with the sample, hands-on-time for sample preparation and consumable costs are usually low, which – in principle – makes biophotonic technologies suitable for screening. Thus, in-depth information could be gained from a larger population which is important in the management and prevention of outbreaks. 
To sum up, biophotonic techniques give us the opportunity to diagnose and monitor infectious disease. 
How do optical techniques compare to non-optical methods currently used in rapid detection of viruses?
Currently, non-optical, rapid detection of viruses is based on molecular-biological assays. Laboratory-based molecular assays (polymerase chain reaction–based assays) are currently the reference technology. These assays can detect the virus, detect genetic modification, determine the virus load. However, they are expensive and throughput is limited. Optical technologies hold the potential to be available also as point-of-care technology at low costs and thus, enabling high throughput. There are optical-based tests currently developed and tested that could report on the immune response of patients with the aim to contribute to an early stratification of severe course of disease and mild disease progression. Other high-resolution imaging approaches are aimed at visualisation of the virus. 
Why do we not see/hear more about optical devices being used today to deal with the Covid-19 outbreak?
Recent research efforts in biophotonics have mainly dealt with bacteria and fungi detection, where they are already quite advanced by now. Only just recently, the much smaller viruses moved into the focus of research. Thus, optical technology is currently developing and evolving. 
Quite often research advances in the optical detection field are driven by research institutes and, in order to be successful, active collaboration with clinical partners is necessary. In Jena we have established those structures (Research Campus InfectoGnostics, Leibniz Science Campus InfectoOptics and the Leibniz Center for Photonics in Infection Research, recently recommended for funding) that can lead to a successful translation from laboratory development to clinical application.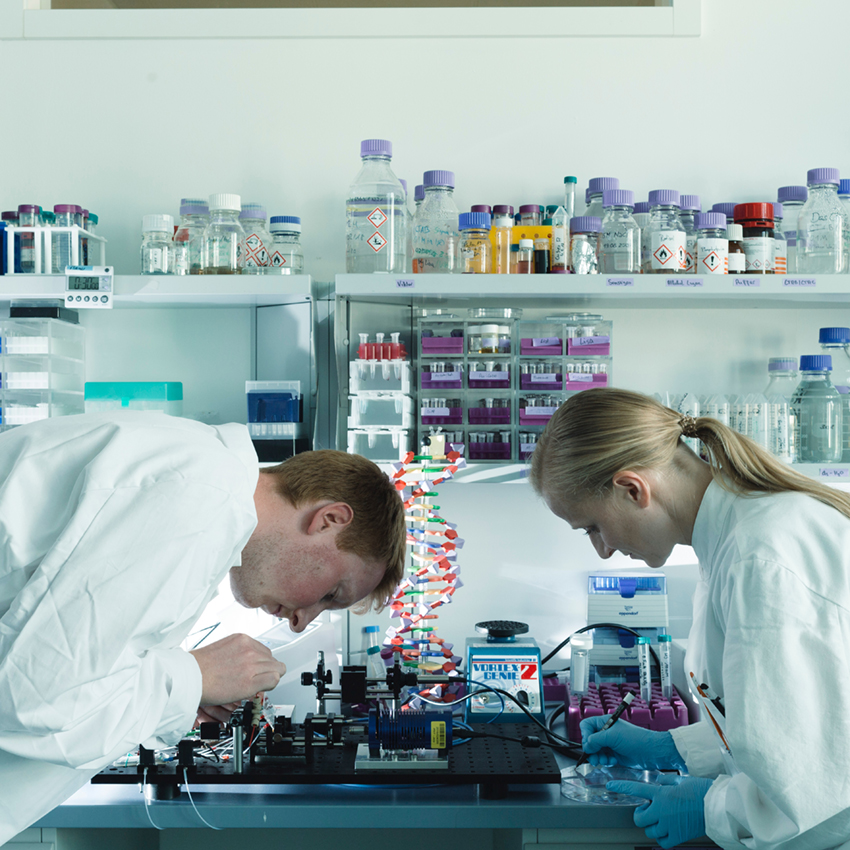 Credit: Sven Döring – Leibniz IPHT 
How could optical techniques be used to aid personalised treatment?
As mentioned above, Raman-based assays are currently being developed and tested together with the Jena University Hospital to extract valuable information on the immune response of patients. Here, the aim is to differentiate the cause of infection, thus to quickly identify if the patient is suffering from a viral, bacterial or fungal infection in order to select appropriate therapy. Furthermore, insights into the immunometabolic state of the immune cells of the patient gained with optical information could help to predict the outcome of the patient and help to administer personalised treatment. 
If a bacterial (or fungal) infection is detected, the next aim is to isolate the pathogen. Different approaches are currently developed which enable a cultivation-free isolation directly from a patient's body fluid, such as urine, to enable subsequent optical-spectroscopic characterisation including an estimation of their antibiotic resistance profile to deliver the final result within a few hours (compared to established, cultivation-based methods that need more than 24 hours). 
If a suitable antibiotic (anti-fungal) has been identified, the right dose has to be administered to achieve highest efficiency and keep side-effects low. This can be achieved with therapeutic drug monitoring where the active drug concentration in the respective body fluid is monitored. Biophotonic approaches have been reported to quantify successful antibiotics in body fluids (like urine) applying fibre-based Raman techniques or lab-on-a-chip surface-enhanced Raman spectroscopy.
What can we learn from the Covid-19 outbreak to prevent further global health emergencies – such as antibiotic resistance?
Indeed, antibiotic resistance is a global challenge and every day, 2,000 people die as a result of resistant bacteria. In the current Sars-Cov-2 outbreak we see how effective and powerful joint research efforts across the whole world are.  
What we have learned during the time of Covid-19 – a worldwide exchange through various network initiatives – has proven to be very effective in discussing the challenges of individual countries and ensuring an interdisciplinary exchange in the field of new research approaches in order to make rapid progress. 
We see a major challenge in short-term funding opportunities, especially when it comes to demonstrating research approaches to clinical feasibility. As far as we know, there is a lack of financial support in this area. In general, it should be noted that research approaches that haven't demonstrated clinical feasibility are often not implemented into the market. It will be necessary to include clinical feasibility studies more often  in funding proposals in order to bring innovative research approaches into translation and avoid the so-called 'valley of death' for a business.
What other challenges are there in translating biophotonics techniques and what should be done to overcome them?
Besides the technological challenges of integrating the entire analytical measurement chain from sample preparation to analysis and results in a compact, easy-to-use and cost-efficient set-up, one of the major challenges is to demonstrate their clinical feasibility in a validation study that proves to be compatible with clinical routine in hospitals. The overall challenge of Raman spectroscopic approaches have shown their potential to meet current diagnostic challenges in various fields of medical need (such as infectious diseases and pathology). 
One of the biggest challenges is the effective transfer of excellent research results into marketable products. Too often, innovations get stuck in the 'valley of death' on their way to the market or before reaching a clinical setting. This is caused by gaps in the research transfer process and missing handover points between partners. The challenges to overcome the valley of death to apply promising Raman approaches for clinical routine requires novel infrastructures. 
We established various infrastructures in Jena such as the Research Campus InfectoGnostics, the Leibniz Science Campus InfectoOptics, the research alliance Leibniz Health Technologies or CeTraMed. Further, we want to establish the Leibniz Center for Photonics in Infection Research, recently recommended for funding that can lead to a successful translation from laboratory development to clinical application.
In this way, innovative health technologies are guided to market maturity along an innovation chain including academia, industry, hospitals, insurance companies and policymakers.