Niche skills, keeping staff happy and retraining: Tackling the skills gap
In Electro Optics' most recent webinar, career flexibility and interdisciplinary skills were highlighted as important traits in the future workforce
While rapid growth across the photonics sector has increased the demand for highly skilled graduates, the intake for relevant disciplines at university has not matched this uptake in demand.
This has resulted in a significant shortfall in candidates for a number of roles throughout the sector in R&D, production, and even technical customer support and sales.
The challenges of this skills shortage were the focal topic of one of Electro Optics' most recent webinars, where speakers from both academia and industry came together to share their experiences with this ongoing issue, in addition to how it is being tackled.
Flexible, fulfilling careers
Professor Robert Sewell, head of academic affairs at the Institute of Photonic Sciences (ICFO), spoke of the Carla project (the European photonics CAReer LAunch path), for which he leads the students and researchers working group.
This two-year H2020 EU-funded project involves the development of a repeatable model for photonics career camps – two-day intense, multi-format events – to encourage Stem university students, PhD students and young postdocs to pursue a career in photonics. The project will see 11 pilot camps organised in 10 different countries throughout the course of the two years, and aims to reach out to more than 150,000 students and researchers while engaging 110 companies and 55 universities.
'The project aims to support the growth, leadership and innovation potential in the photonics area, and address the need that Europe has for more well-prepared professionals to enter the field,' explained Sewell. 'It will create a rigorous and tested instrument to address this need at source.'
A bottom-up approach has been taken by the project partners to develop the career camps, which has involved working directly with groups from industry, academia, entrepreneurship and innovation. For Sewell's working group, this process revealed what was important to students and researchers for their future careers in photonics.
'All of them are expecting to work on technical and research-related projects, but across a very broad range of sectors,' he said. 'People are expecting to change sectors within their career. They value joining a strong, collaborative and inclusive research/industrial team with a diversity of people and disciplines, and value having good leadership and communication, access to mentors and role models to help grow their careers, and being able to work independently and autonomously on projects. They were also very excited about international opportunities and the possibility of moving countries to pursue their careers...'
What also came across in this process was that students and researchers value work-life balance, flexibility and having a sense of fulfillment from their work.
'The biggest insight gained from the bottom-up process was that young people today are looking to tackle big, meaningful challenges in their working life,' said Sewell. 'This is something fantastic about the younger generation, and something that is very rewarding when working with them and training them for the future.'
He explained that such fulfilment could come from working with photonics technologies helping to achieve the UN sustainable development goals – for example, affordable and clean energy, 'climate action', and sustainable cities and communities.
To tackle such big picture challenges, diversity in the workforce is a key requirement – people with different training, backgrounds and perspectives who can identify new problems and work together to solve those problems in a creative way. 'For these reasons we promote diversity, and for the students and researchers we spoke to, they also identify and value this as something that is important for the future,' said Sewell.
From an educational perspective, however, addressing the desire for a career that is not only fulfilling, but also flexible and mobile, is a considerable challenge, especially considering the rate of development of new technologies.
'I'm involved in the development of a quantum master programme in Barcelona, which is a fantastic example of an unknown future,' said Sewell. 'Various new technologies are being developed and are competing among each other, and we do not know yet which of these technologies will take the lead in the future and become the standard for quantum communications, quantum computation and quantum sensing. And so we have to face a rapidly changing and dynamic environment and have to prepare our students for that. Students and researchers are aware of this and therefore value the ability to learn skills that will allow them to shift and change and be flexible in their careers. Whether that's talking about changing sectors, changing from academia to industry and then perhaps back to academia to learn further or participate in research, or moving between different countries.'
Interdisciplinary, loyal staff
Just as the desire for flexibility creates challenges from an educational perspective, it also creates challenges in industry with regards to training and retaining staff.
Such was highlighted by Martina Müller, chief executive of 3D AG, which specialises in tool development for a range of production processes.
'In-company training takes a very long time and is very costly, you also give away a lot of your knowledge,' she said. 'There is a fear of people leaving to the competition, and you hope to be able to engage with employees who have the initiative to stay with the company for a longer time. This is a risk that you have when you're in an employment process.'
She remarked that those of the younger generation in particular are harder to retain, as they have a need for perspective and change while also looking to have a very large and attractive ecosystem around them,' she said.
'There are just so many dynamics of what people want to do in their career, and I think that, in a way, the industry should enable this for young people. But on the other hand, there is the need for them to stay close to, and engage with, your company for a longer period of time, so this is actually a bit of a double-edged sword.'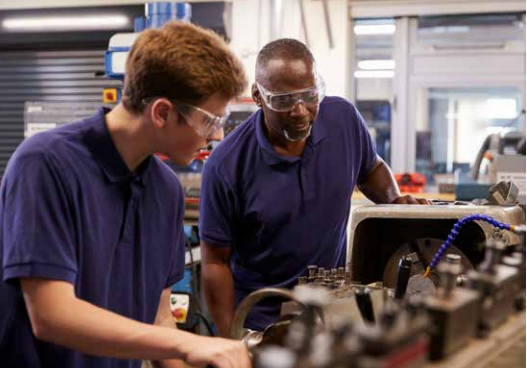 There therefore exists a bitter irony for 3D AG, as the interdisciplinary skills that enable the younger generation to switch roles flexibly are also the qualities it seeks in its own staff.
'We provide tools that enable banknotes and solar panel production, injection moulding and roll-to-roll processes,' said Müller. 'So we need employees that can understand our technologies, which range from chemical processes to materials science and optics, but they also have to understand what our clients do. Given that we are active in such a wide range of different industries it's really hard to find interdisciplinary people that are capable of switching, for example, between high security and solar applications, or between biomimetics and optics. It's one of the hardest challenges for companies to find the right people, and a company is only as good as its people.'
3D AG also faces issues due to it having very specific in-house processes that employees can't be trained on before joining the firm. 'What we also observe is that you might have really good technicians that were trained on the job, but sometimes the lack of higher education means they cannot do proper interpretations of certain processes or steps, so there's still this bridge to gap,' Müller remarked.
What she therefore wishes there could be more of is university workshops and training opportunities that companies could send their employees to.
'Companies would pay for this,' she continued. 'I would most definitely pay for this, for both myself and technicians, so that if we do come into contact with new industries we're not fully aware of, or don't fully understand, we could attend training sessions to learn more about them. For example, the topic of flat optics is getting bigger and we would like to learn more about that, there's heaps of information that would be interesting to learn about.'
Upskilling and retraining
Bill Handyside, head of manufacturing at Chromacity, shared Müller's concerns of employee retention: 'There is a growing hub of photonics companies in the central belt of Scotland, but due to the shortfall of skilled employees it's resulted in companies competing to attract and retain talent. This is often resulting in engineers jumping between companies when they get better offers, which leaves a gap in the workforce behind.'
So, while there is more work to do to encourage people into disciplines at university, this doesn't address the more immediate problem of getting bodies into the workforce in a short period of time.
'Ultimately we need to expand the potential recruitment pool quite quickly, which means moving away from the traditional mode of hiring for some positions in the industry,' said Handyside. 'While there is still clearly a requirement for highly qualified candidates with a strong theoretical background in physics to fill more R&D-oriented roles within photonics organisations, there is actually some scope to address the potential pool for production environments – like Chromacity's – where formalised work instructions have already been established. This helps reduce the burden on background knowledge gained at university for potential recruits.'
This methodology would involve upskilling or retraining individuals with technical backgrounds that are unfamiliar with optics, but do have inherent transferable skills gained from precision engineering roles with a high attention to detail. Chromacity is therefore now working in collaboration with National Manufacturing Institute Scotland and Technology Scotland to address this issue.
'This project has pulled together a number of large and small entities from academia, industry and the public sector, because it's now become recognised as a problem that's impacting the Scottish economy,' said Handyside. 'A collective approach is needed to solve it.'
As it happens, the pandemic has provided an opportunity to act on this quite quickly, he explained, because the Scottish government has introduced a scheme called the National Transition Training Fund, which aims to tackle the rise in unemployment caused by the impact of Covid-19. 'The funding is being made available to create training opportunities that provide in-demand skills in digital and advanced manufacturing, so that slots quite nicely into what we are trying to achieve here,' said Handyside.
The opportunities are available to those who are over age 25, are unemployed or are facing redundancy and are looking to jumpstart their career via upskilling or re-skilling, or are a recent graduate struggling to find work within the manufacturing sectors.
'Taking all of this into consideration, our group has decided to create a photonics skills continual professional development (CPD) programme, which will allow more people to access the industry, rather than going through the traditional groups and recruitment routes through university channels,' Handyside said.
The CPD programme itself is currently being designed to provide the key skills to allow access to entry-level optomechanical engineering roles for candidates whose qualifications would have otherwise ruled them out because of their background. The course will have a capacity of 15 students in the first instance and will last for about two weeks. It will be broken down into theoretical and practical elements to give people good experience from both aspects.
'Clearly, you're not going to cram a degree's-worth of physics knowledge into a two-week programme,' remarked Handyside, 'so the aim of this course is to give people enough knowledge and experience working with optics and a fundamental knowledge to be able to enter either a large company or SME production environment, and be able to understand how these photonics companies are operating. They will also be able to understand the equipment they are working with, as well as all of the safety aspects involved. This will allow them to fit seamlessly into established training platforms within the companies themselves. We're trying to make it as transferable as possible in terms of the skills gained during this course, so people can enter as many photonics sectors as possible.