Photonics takeaways from the Medica trade fair
Dr Wenko Süptitz, head of photonics at German industry association, Spectaris, reports on November's Medica show, where optical diagnostics, endoscopy, microscopy, medical lasers and Industry 4.0 were highlighted as important areas for photonics
Medica, one of the largest annual exhibitions for the medical industry, took place in Düsseldorf in November. The trade show figures are impressive – and tiring for the feet! Some 5,000 exhibitors from 70 nations presented their products in 17 exhibition halls. By comparison, the largest photonics fair in Europe, Laser World of Photonics in Munich, has some 1,300 exhibitors from 40 countries in five exhibition halls.
Indeed, medical technology (medtec) is one of the most interesting applications for the photonics industry. With in-vitro optical diagnostics, endoscopy, microscopy, medical lasers and image processing there is a whole range of photonic technologies at one's disposal.
The trend towards the digitisation of medical technologies also fits well with photonics, which was also made clear during the recent Spectaris forum 'Photonik 4.0 – Optical Health Technologies' in Berlin. Optical image processing, point of care and telemedicine are the hot topics where photonics is an integral part of the new digital era in hospitals and doctors' offices.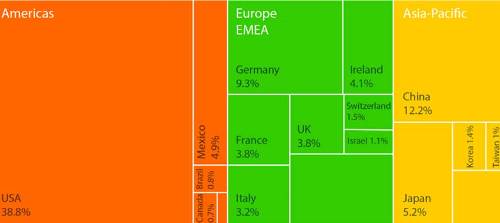 The countries suppliers for medtec solutions should look for: The world market for medical technologies by region. Source: Spectaris 2016 (calculation based on GTAI data, US Economic Service and Eurostat)
On the patient side, there are a number of factors driving growth in the health industry and its suppliers. These include a higher proportion of the global population that can afford medical treatment; the ageing population, not only in western countries; and an increase in the number of people who are spending money to stay healthy.
But there are also reasons why medtec is well-known as being a difficult market for suppliers. There is a strong price pressure that has come as a result of shrinking public budgets. And, companies that try to escape from the price pressure with innovative products face an even higher hurdle: Extensive medical device regulations, which turn every product launch into a test of strength and patience between innovators and regulators.
Only those companies that master the regulations barrier will survive in the long run. At Medica this was one of the talking points during a four-day long forum organised by Spectaris, where a large number of experts joined sessions covering the latest developments in medical device regulations.