Photonics vital for hitting climate targets, research suggests
Jessica Rowbury reports on the importance of technical light applications in meeting the targets of the Paris Agreement
Photonics could contribute at least 11 per cent towards limiting global temperature rise to 1.5°C, the threshold for which the world will be able to manage the effects of climate change. The claim is a result of a new report, Light as the key to global sustainability, produced by the German industry association Spectaris and Messe München in co-operation with Fraunhofer ILT and the Fraunhofer Group for Light and Surfaces, which was released at Laser World of Photonics, Munich, on 24 June. 
The creation of the Paris Agreement in December 2015 during the United Nations Climate Change Conference (COP 21) saw almost 200 nations come together – for the first time – to work to accelerate and intensify the actions needed for a sustainable low carbon future. The central aim of the agreement is to keep a global temperature rise this century well below 2°C above pre-industrial levels and to pursue efforts to limit the temperature increase even further to 1.5°C. Currently, the global temperature is 1°C above pre-industrial levels. 
New research released in October by the UN Intergovernmental Panel on Climate Change (IPCC) stated that limiting global warming to 1.5°C compared to 2°C would significantly reduce challenging impacts on ecosystems, human health and well-being. The Special Report on Global Warming of 1.5°C, found that limiting global warming to 1.5°C compared to 2°C would mean that global sea level rise would be 10cm lower by 2100. Coral reefs would decline by 70-90 per cent with 1.5°C warming, whereas virtually all (> 99 per cent) would be lost with 2°C. In addition, millions fewer people, particularly in developing countries, would be at risk of climate-related poverty. 
According to the UN IPCC's analysis, to limit temperature rise to 1.5°C, carbon pollution will have to be cut by 45 per cent by 2030 – compared with a 20 per cent reduction under the 2°C pathway – and come down to zero by 2050, compared with 2075 for 2°C.
Through reduced power consumption, CO2 emissions, and use of fertiliser, through saving material and as a result of new recycling processes and technologies for environmental protection, the photonics industry can claim a significant contribution to meeting these targets. According to the new report released in Munich, by 2030, 11 per cent of the CO2 savings achieved will be due directly, or indirectly, to applications in the field of photonics. This contribution to CO2 reduction represents approximately three billion tonnes by 2030. The report also estimates that for the slightly less ambitious 2°C target, photonics applications could contribute 22 per cent to the reduction of carbon in the atmosphere by 2075.  
'Climate control and environmental protection are the greatest challenges facing humankind. The technical achievements in photonics show that we already have important tools at hand,' said Spectaris CEO Jörg Mayer. 'The things we have already achieved with lasers and light sensors were still regarded as science fiction just a few years ago. Today, these technologies are part of our everyday lives and reduce climate-damaging emissions considerably – technologies such as photovoltaics, energy-efficient lighting and optical communication.' 
Three billion tonnes less CO2 
To calculate the amount of CO2 saved as a result of photonics technologies, Spectaris used figures from French research consultancy Tematys, which referred to numerous studies and consulted with experts to draw conclusions. 
The movement from incandescent lamps to more energy-efficient LEDs is expected to save a cumulative sum of 8,000 million tonnes (Mt) of CO2 by 2030, which was just one of the applications analysed in the report.  
In the 1990s, light sources mainly consisted of incandescent lamps and fluorescent tubes. In 2008, the European Union (EU) introduced legislation to gradually phase out incandescent bulbs, with many other countries adopting similar laws. Although the number of lights being installed continued to increase, the use of energy-saving lamps had a positive effect in the years that followed. For example, after peaking in 2010, energy consumption for lighting in the EU declined by more than five per cent in 2013.
Now we are experiencing the 'LED revolution', with vastly improved efficiency of LEDs compared to traditional light sources, resulting in significant energy savings and in turn significant reductions in greenhouse gas emissions.
Tematys' calculations revealed that, based on the worldwide energy consumption for lighting of 4,050 terawatts per hour (TWh) in 2012, in 2019 energy use will reduce to 75 per cent of that level (to 3,000TWh) and in 2030 to 50 per cent (2,000TWh). After that, the energy savings will stabilise as most lamps would have already been replaced by energy-efficient alternatives. 
Although the amount of light used will increase, it is expected that the proliferation of LED technology will prevent 8,000Mt of CO2 from entering the atmosphere. This calculation doesn't take into account further efficiency gains developed through research, as these will most likely not be deployed widely in the next 10 years, according to Tematys. 
The analysis by Tematys also calculated the energy and CO2 savings that photonics technology will enable in applications such as photovoltaics, data centres, fire detection, displays, recycling and wireless communications. 
With photonics set to play an important role in meeting global climate agreements, support for the sector must be strong going forwards, Spectaris' CEO Mayer said: '[The] study should also be seen as a plea to support the high importance of photonics with committed research, research subsidies, and innovation-friendly general conditions.'

New lidar instrument to reveal new information on climate
Researchers have developed a set of diode-based lidar instruments that could help fill important gaps in meteorological observations and fuel a leap in understanding, modelling and predicting weather and climate. The instruments are particularly well suited for insights on atmospheric dynamics at the mesoscale, a size range equivalent to the area of a small city, up to that of a US state.
The team from Montana State University (MSU) and the National Center for Atmospheric Research (NCAR) in Boulder, Colorado, has created five diode-based micro-pulse differential absorption lidar (DIAL) instruments – MPD instruments, for short – for profiling water vapour in the lower troposphere, the region of the atmosphere where most weather occurs. 
Diode laser-based instruments operate in the range of wavelengths from 650 to 1,000nm, mostly in the infrared spectrum. The instruments can be deployed both day and night, largely unattended, without risking eye damage to humans.
'The network of five water vapour MPD instruments was deployed to the atmospheric radiation measurement Southern Great Plains atmospheric observatory in mid-April,' team member Catharine Bunn said.  'From this three-month field experiment, we will gain insight into how weather forecasting may be impacted by continuous MPD measurements of atmospheric water vapour.'
Filling monitoring gaps
Several reports by the National Academies of Sciences, Engineering and Medicine, and other expert groups over the past decade, have identified a critical need for vertical measurement profiles of humidity, aerosols, and temperature in the lower troposphere. Experts also call for the creation of a 'network of networks' for collecting and sharing this data. To provide required coverage for improved weather and climate forecasting across the United States, one report proposed deploying an array of sensors on the ground at about 400 sites nationwide, spaced roughly 125km apart. 
However, there has been a gap in the instrumentation to meet this vision for research and monitoring, without relying on aircraft-based devices, which are expensive to deploy. Building on prior work by other teams and collaborating with NCAR scientists, the MSU instrument developers turned to diode-based MPD technology as an economical route to a profiler that could make accurate measurements and fulfill desired specifications for continuous, unattended operation and eye safety.
The researchers have developed five different instruments based on a common architecture, in which laser pulses are sent into the atmosphere and the return signal, which varies as the light interacts with water vapour, is measured with single photon counting modules. All five instruments are operational and two have been deployed in ground-based weather- and climate-research experiments.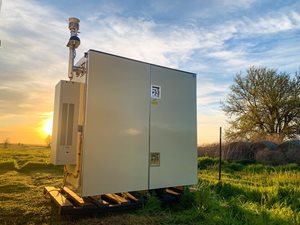 Micro-pulse DIAL (MPD) the first of a network of five, deployed at the ARM Southern Great Plains atmospheric observatory in north-central Oklahoma. (Image: Catharine Bunn)
One instrument, developed collaboratively by MSU and NCAR scientists, was fielded as part of the Front Range Air Pollution and Photochemistry Experiment (FRAPPE). The instrument measured the vertical water vapour profile, with less than 10 per cent mean error over a range of atmospheric conditions, as compared to profiles collected by airborne devices. It also ran unattended for 50 continuous days during FRAPPE with no apparent performance decline, providing about 95 per cent data coverage. 
The researchers have also advanced toward vertically profiling two other high-interest features of the lower troposphere: aerosols and temperature. Based on the MPD architecture NCAR researchers built a novel high spectral resolution lidar (HSRL) capable of profiling aerosols. Complementing this work, an MSU physicist adapted mathematical techniques from quantum mechanics to solve an equation that opens the door to using measurements of properties of oxygen molecules and other atmospheric data to create a vertical temperature profile.
Models and preliminary experiments suggest, in addition to measuring water vapour and other airborne particles, the HSRL can provide measurements for fine-grained, high frequency temperature profiling.