The road from research to business: challenges and triumphs
Following the recent publication of an article on ultrafast semiconductor disk lasers in Biomedical Optics Express, Dr Florian Emaury, CEO of MicPulse and a semi-finalist in last year's SPIE StartUp Challenge, discusses his entrepreneurial journey forming a profitable business
Coming from a physics background, setting up a business comes with its fair share of challenges, but I've also found it to be an exciting process. Compared to working in a more closed research environment, numerous issues come unexpected and must be taken into account. Researchers all too often forget that you cannot sell a 'technology', but rather a solution to a problem. Discovering the benefits that a technology invented in a university laboratory could bring to potential customers has beenexciting. A major part of this evaluation involves countless discussions with experts in the targeted application field, reviews of numerous papers and case studies, but also thorough market research to identify existing products and recognise competitors. This makes the commercialisation of a university technology a real challenge but one with many interesting aspects. 
Advancing the ultrafast world with semiconductor lasers 
MicPulse aims to commercialise ultrafast semiconductor disk lasers (also known as VECSEL, or MIXSEL) to provide affordable ultrafast laser sources to research and industrial applications. Thanks to the bandgap engineering capabilities of semiconductors, we can design an ultrafast laser for any central wavelength in the 900-1,100nm range, providing an adapted source for each customer.
Our main target is the field of bio-imaging, which requires a wavelength-defined ultrafast laser to drive the multiphoton processes used in in-vivo imaging. Currently-used sources are expensive (>$80k), thus leading to an overall microscope system price (>$0.5m) only affordable by shared facilities or by a few well-funded research groups. This is dramatically limiting the dissemination of these systems to more users or other medical applications. 
In our recent article in Biomedical Optics Express we demonstrated, for the first time, the full potential of these lasers for in-vivo multiphoton imaging in real and useful research applications (in-vivo experiments with drosophila or in the brain of living mice with structural and functional imaging). We also performed a thorough comparison with a standard Ti:Sapphire laser, showing that equivalent image quality can be achieved with our significantly less complex lasers. These experiments were performed with the research group of Professor Fritjof Helmchen (University of Zürich, Switzerland), a pioneer in multiphoton imaging for neuroscience. Figure 1 below shows an example of the type of high quality image that can be obtained with our semiconductor disk lasers, demonstrating that a simple, compact ultrafast laser is a competitive and attractive source for such imaging.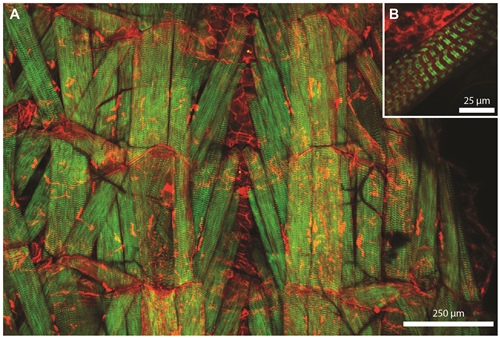 Figure 1: a) Multiphoton imaging of a Drosophila larva using MicPulse's ultrafast semiconductor disk laser. Fluorescence from mKate2 and SHG signals from sarcomeres in the muscles. b) Image of the sarcomeres at a higher zoom showing the characteristic double-band structure
More generally, our vision is to develop an easy-to-use and affordable ultrafast laser that can open up new applications. While the whole ultrafast industry has experienced around an 8 to 10 per cent price reduction every year over the last decade – driven in particular by micro-machining or eye surgery applications – ultrafast sources are still rather complex and too expensive to become integrated in large markets (>10k units a year). While it took a long time to see CO₂ or diode lasers integrated in mass-market products, nowadays, laser-based systems priced at just a few thousand dollars – such as laser 3D printers, laser cutting machines and many more – are widely available.
We anticipate that the cost of our ultrafast lasers could open up multiple applications, while mature and standardised components trickle down from high-end and high-price markets. Who would have forecast just 10 years ago that reliable femtosecond lasers are now so prevalent in industry and have a constantly growing market share?
The entrepreneurial journey
My entrepreneurial journey started almost 18 months ago, when thorough analysis showed that the semiconductor technology being developed for more than 15 years by Professor Ursula Keller's laboratory at ETH Zürich had now reached a performance and maturity level that was suited for commercialisation.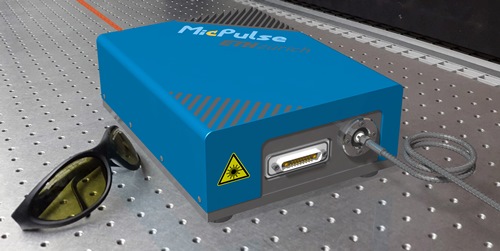 Figure 2: MicPulse's vision is to bring an air-cooled and maintenance-free laser system to the market that will allow customers to drive non-linear processes at any wavelength in the range 900-1,100nm in an easy and affordable way
With origins at the Optoelectronics Research Centre in Southampton (UK), the first mode-locked semiconductor disk lasers were realised at ETH in 2000. Since then, the performance has constantly improved, reaching the sub-100fs or watt-level milestones recently. Nowadays, more than 20 research groups are working on related topics from laser research to application development. 
In order to pursue this journey, I had the chance to receive a BRIDGE proof of-concept grant from the Swiss government. It allows researchers to start a kindof 'intrapreneurship within the university'. Coming with financial and  administrative support, it aims to help researchers develop a full understanding of the business opportunities that could be created with the technology in question. In a 12-18 month timeframe, it gives support for prototype development, travelling, and other business dealings. The grant is a unique chance for evaluating how to develop a sustainable business based on our previous research. This allows them to be prepared for the next rounds of financing through application-oriented research grants and BA/VC funding.
Looking back, I realise that, in order to develop an appropriate and convincing product, talking regularly to potential customers and researchers in the targeted application field is crucial. Doing one's homework correctly by evaluating production costs and the unique selling proposition is another important aspect of such a project.
Turning a research prototype into a product is a lengthy process, and the value it will bring to customers in the end may greatly differ from the initial thoughts. Thus, if you are to start on such a journey, do not forget to keep focus, and always keep your eyes open without assuming that past decisions and visions were always correct.