The Photonics100: Jörg Reitterer Q&A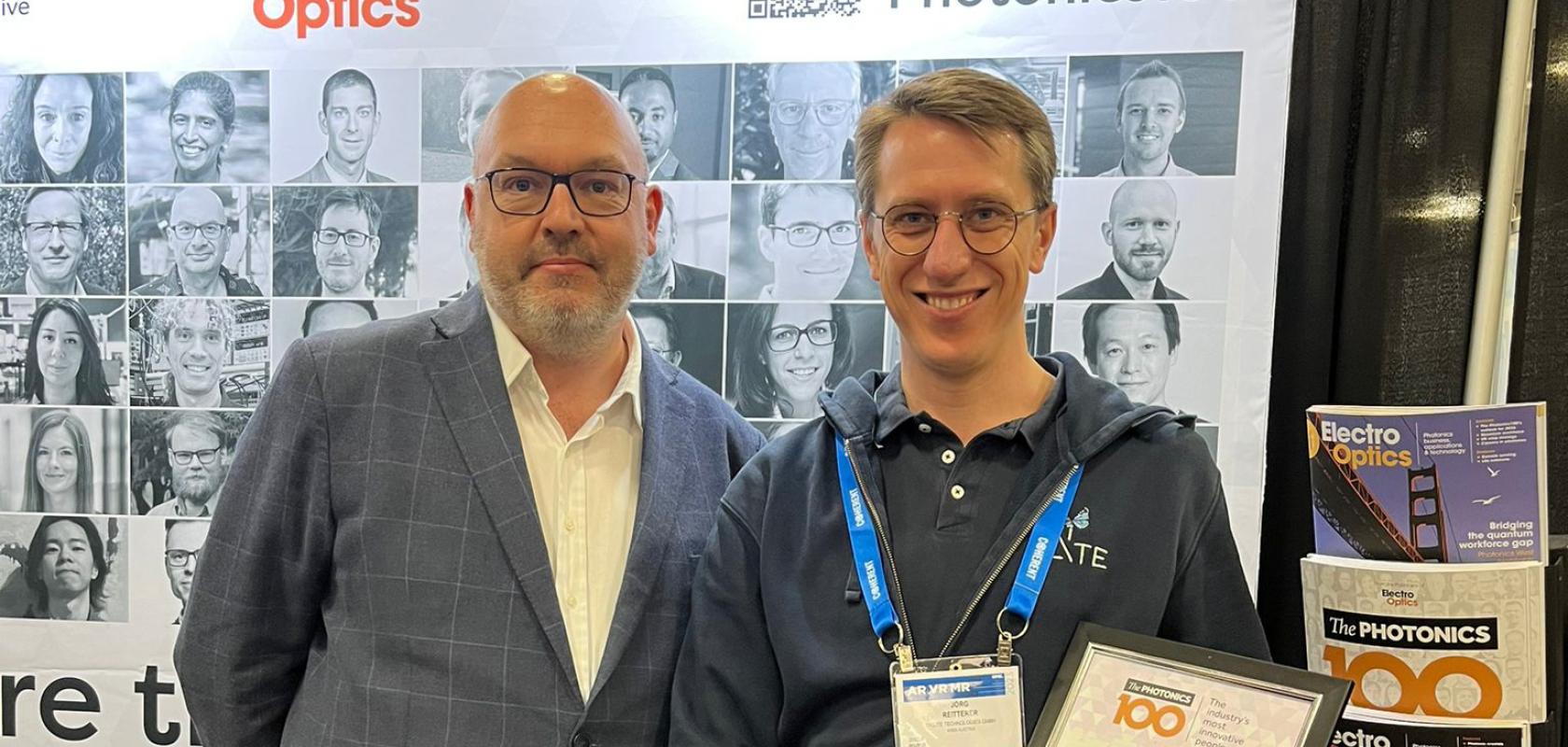 Jörg Reitterer (right), co-founder and CTO of TriLite Technologies
While the search is on again for The Photonics100 – our list of the industry's top innovators – Electro Optics spoke to previous honoree Jörg Reitterer, co-founder and CTO of TriLite Technologies, about the future of his work.
What is the next big thing in your area of photonics research?
One of the next big things in photonics is going to be the emergence of mass-market consumer augmented reality (AR) and mixed reality (MR) products.
These devices will be as lightweight as the eyewear of today, while being capable of overlaying digital content over the environment, enabling a plethora of new applications, ranging from communication and entertainment to work and education. 
This disruptive technology has the potential to replace other products, which are ubiquitous today, such as smartphones, smartwatches, headphones, and any other display systems like TVs and monitors.
What will be the biggest challenges in your area over the next year?
The biggest challenge for consumer AR is to develop next-generation optical architectures that satisfy the requirements of all-day wearable and daylight-bright devices in terms of size, weight, image quality, and power consumption. 
While AR deployment in enterprise applications is accepted, to a large degree, by trading off some of these requirements, this trade-off is not accepted in the consumer market. We at TriLite are overcoming these challenges by developing the world's smallest, lightest, and brightest projection displays for high-volume consumer AR applications.
What is the biggest personal challenge you have overcome?
Bringing an idea from a whiteboard discussion to filing patents, building prototypes, and manufacturing high-volume products is both extremely challenging and satisfying. Especially in the photonics field, one of the most valuable and necessary virtues is persistence.
What advice would you give to someone embarking on a career in photonics research?
While photonics is a very broad field on its own, I would recommend everyone embarking on a career in that area to also gain interdisciplinary knowledge in other engineering fields such as electrical, mechanical, and software engineering.
For many challenges in photonics research, it is best to look beyond just pure photonics to find the best system-level solutions. For example, to achieve an immersive, realistic display with AR smart glasses, the display subsystem must be accurate, with high resolution and low latency. 
These demands can mean that display hardware is complex and requires extensive calibration – which translates into size and cost. So, for all our products at TriLite, we follow the paradigm of shifting as much complexity as possible away from the hardware, i.e., optics, to the software domain, resulting in simpler yet better-performing systems with higher assembly yield.
Who has been the biggest help to you in your career?
First and foremost, all the extraordinarily talented colleagues from TriLite with a broad range of expertise from optics, mechanics, MEMS, and electronics to software and algorithms. I would like to especially highlight Dr Franz Fidler for teaching me how to tackle any kind of challenge in a calm and systematic way. 
In terms of academic research, I would like to mention my PhD and MSc supervisors, Prof Ulrich Schmid and Prof Walter Leeb, respectively, for their extensive expertise in the fields of microsystems technology and photonics.
Who, in your opinion, are the up-and-coming R&D 'rock stars' in your area or organisation?
Dr Chiara Greganti, the co-founder and managing director at VitreaLab and Dr Darran Milne, co-founder and CEO at VividQ.
You can make your nomination for The Photonics100 2024 here.