European supermarkets stock laser-marked fruit & veg to reduce plastic packaging
Supermarkets across Europe are introducing fruit and vegetables that have been labelled using a laser rather than plastic stickers. The laser branding process, which is being trialled on avocados and sweet potatoes, could lead to huge savings in plastic, energy and CO2 emissions.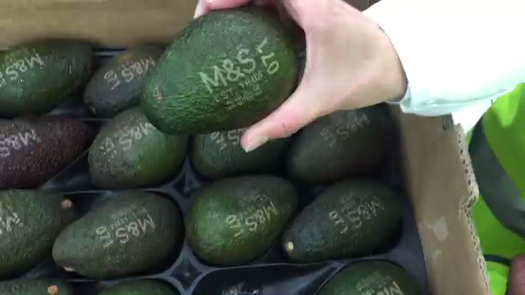 From Thursday 19 June, M&S will sell avocados bearing laser-marked best before dates. (Credit: BBC Science In Action)
Swedish supermarket chain ICA is currently working alongside Dutch fruit and vegetable supplier Nature & More to introduce laser-branded products this year, while UK supermarket Marks & Spencer has been selling such produce since 2014.
It is anticipated that this year alone, ICA will be able to reduce its packaging on avocados by 725,000 units, which equates to 217km of plastic material.
The contact-free EU certified process, also known as 'natural branding', involves the use of a low-energy carbon dioxide laser to remove pigment from the outer peel of organic products. No additional substances are needed, and the process has no effect on the product's taste or shelf life. In addition, natural branding does not create new chemical substances in the fruit and does not increase decay or micro-biotic contamination.
Marking a product this way consumes less than one per cent of the energy needed to produce the small sticker alternatives.
Laser Food, the company behind natural branding laser technology, has said that its process can be used to mark - individually - any piece of agro-alimentary product, be it for traceability control or to include logos and distinctive marks that differentiate products. For example, supermarkets will be able to distinguish organic fruit and vegetable products from their conventional counterparts without the need for plastic foil, small stickers or any other materials.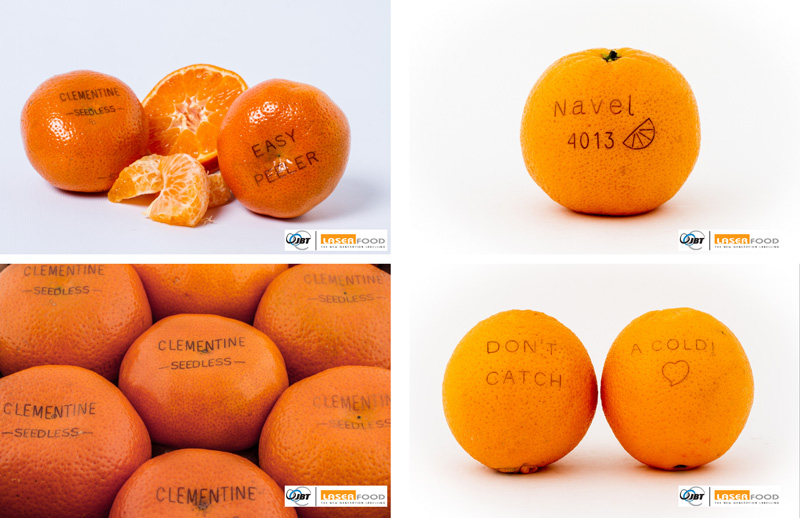 Credit: Laser Food
Laserfood's LMS-3 five-kilowatt CO2 laser-based system is able to mark up to 54,000 pieces of food an hour, proving that a high throughput is still possible in the absence of conventional plastic packaging methods.
'The most sustainable way to pack is not to pack. I have been saying that for years, but it has been difficult to bring about in the supermarket,' commented Nature & More packaging expert, Paul Hendriks. 'With natural branding it becomes a logical option. We are very glad that ICA... is taking this sustainable road with us.'
ICA currently plans to expand its use of natural branding to products with edible skin, such as apples and nectarines. 'We think... consumers will be delighted, because research shows again and again that they disapprove of plastic packaging,' Hendriks continued.
Natural branding is expected to reduce the amount of plastic and energy used in food production dramatically. In 2015, 725,380 packs of avocados were sold to ICA, and to package them required 217km of plastic foil, weighing a total of 2,042kg. In CO2 emissions, this equates to an average car driving 1.3 times around the world. The use of cardboard boxes and pallets will also be decreased with the introduction of natural branding, according to Hendriks.
UK supermarket Marks and Spencer signed an agreement to use Laser Food's technology back in 2014. Initially trialled on oranges last year, the supermarket was able to save on several tonnes of packaging, and has continued to use laser marking on its coconuts, with current plans to apply it to its other viable products. 
Laser labels have been approved by the European Union since 2013, however the technology was already in use before then – Australia and New Zealand have made use of the technology since 2009.