World's most powerful handheld laser developed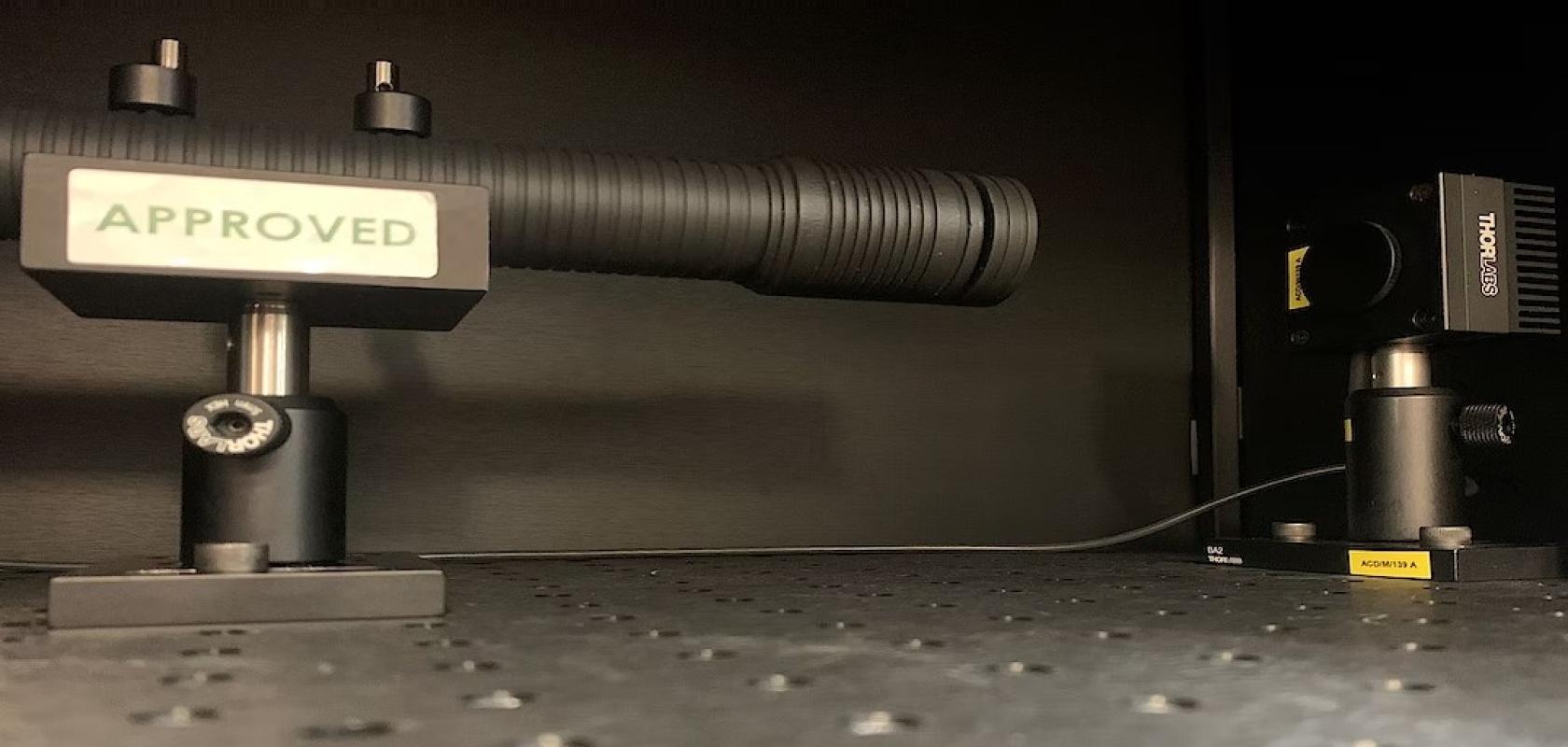 A Guiness world record has been awarded for the development of the most powerful prototype handheld laser.
The record was awarded to Daniel Black, an electronic systems innovation expert at PA Consulting, for his development of a small, handheld laser with a peak power of 7.61W (7.10W sustained) – equivalent to 8,000 conventional laser pointers stacked on top of each other.
Black broke his own record of 5.1W (4.2W sustained), which he set in April 2016.
The new laser can cut through wood, plastic and fabrics. It is custom-made and outputs 445nm (blue) light from a single diode emitter.
The diode is housed in a large internal copper structure for heat dissipation purposes and all electronics are mounted to this internal structure. The body of the device acts as a large heatsink and is made from machined aerospace aluminium. It therefore has no active cooling system, relying solely on the body to passively cool the device.
It can be powered via two 18650 batteries or two 26650 batteries in series. The rear of the laser acts as a key switch, disabling it when removed. This removable rear section contains a push-button switch which will activate the laser when depressed and the laser is not able to operate once this is removed. It operates solely in a CW configuration and is not pulsed. 
Striving for innovation
With lasers playing a key role in modern infrastructure, communications, healthcare, and engineering, PA Consulting looks to continuously make innovations in this vital technology area. 
The firm has leading innovators, technologists, engineers, and scientists working at its laser labs at its Global Innovation and Technology Centre (GITC) in Cambridge, UK, where the record-breaking laser was developed.
PA sees the title as another achievement that demonstrates its expertise and capability with laser technology.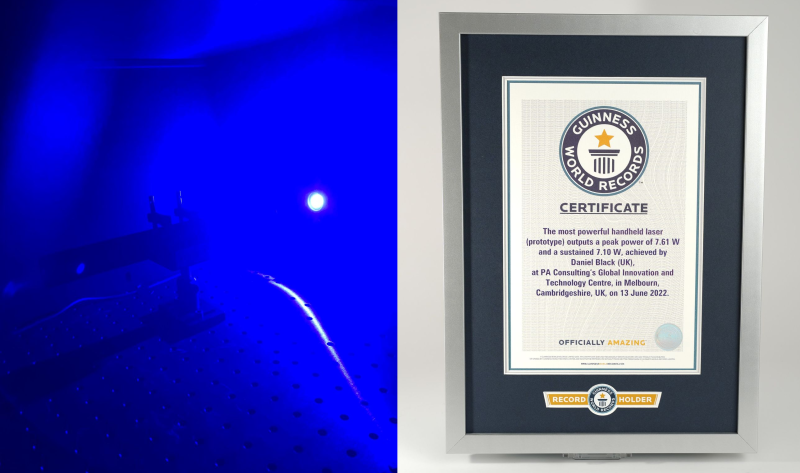 The new laser breaks the previous record of 5.1W (4.2W sustained), which was set in April 2016. (Image: PA Consulting)
"This laser has been designed and built to push the limits of what can be achieved in such a small form factor – to take the next step in making the technology smaller, lighter and more power efficient," remarked Black. "Lasers will form an ever-larger backbone to the way we communicate, shop, bank, learn, and work, so it is important for laser technology to keep evolving, and for us to push the boundaries. 
"This world record laser serves as a testbed for us to work safely with small, high-power lasers at PA. The technological progress we have made here may allow us to make more efficient and longer lasting communications networks, to look at possible new methods of wireless power delivery, to create new smaller medical devices, or even to change the way we deliver healthcare such as through portable laser tools for surgery."
Rob Lambert, Electronic Systems expert at PA Consulting added: "We believe in giving engineers such as Daniel the opportunity to innovate and create. PA provides a unique opportunity for people to shape their own careers and to bring their ingenuity to life. We hope that Daniel's achievement will inspire the coming generations to become world leading scientists or engineers."