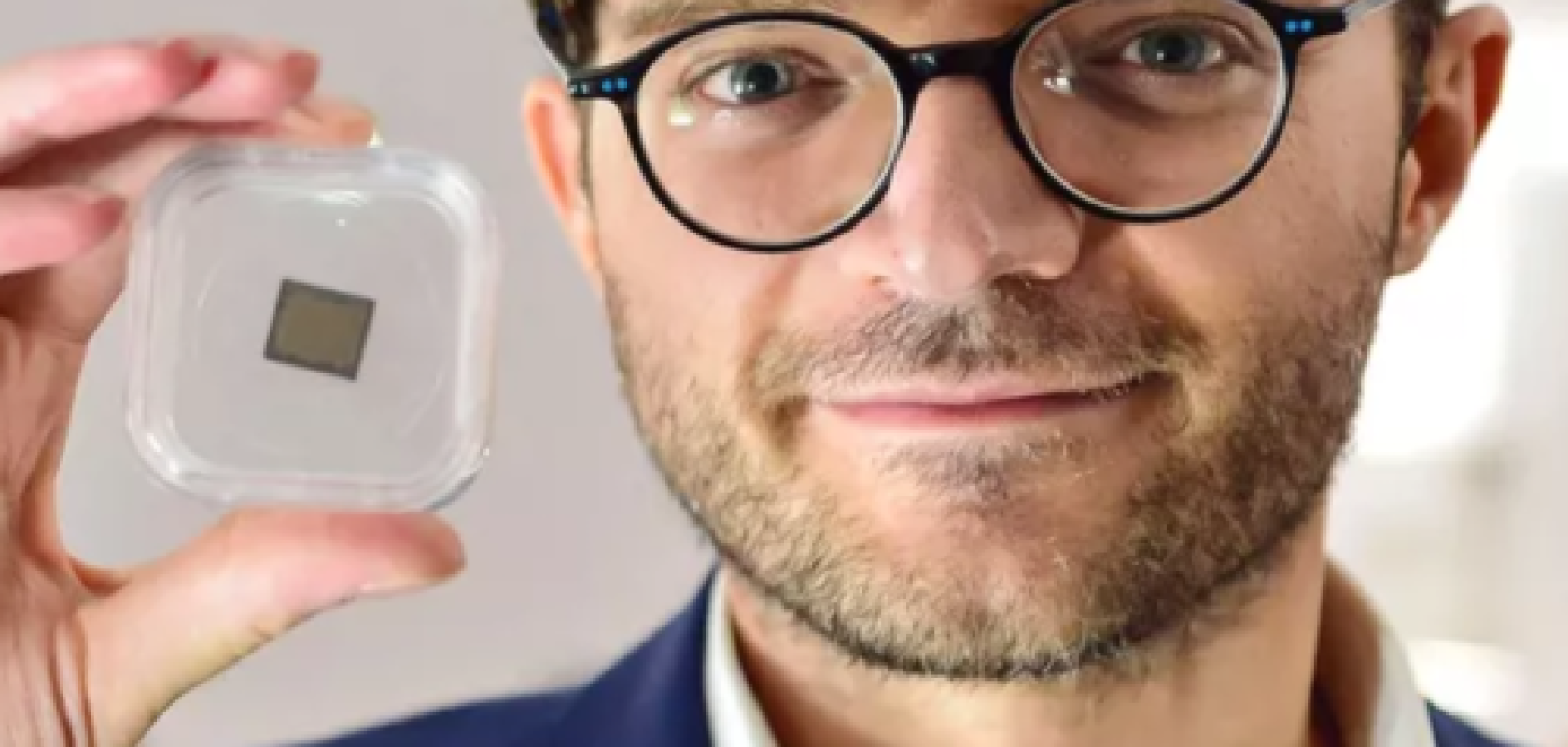 Luca Verre, CEO, Prophesee
The turning point in Luca Verre's career – a challenging time he says, but a decision that has been incredibly fruitful – is when he quit his job at Schneider Electric and started Prophesee, the company he co-founded and where he is now CEO.
Prophesee was launched in 2014. Its bio-inspired vision sensor and processing technology is based on 15 years of research at the Intitut de la Vision – the French research centre for eye diseases – into how the retina works and modelling the retina in silico, as well as efforts to develop a bio-inspired approach to computer vision.
Under Luca's stewardship, the company has now raised a total of €127m, making it the EU's most well-funded fabless semiconductor start-up, as of 2022, with investors that include mobile phone giant, Xiaomi, Sinovation Ventures, run by AI expert Kai-Fu Lee, and Intel Capital.
Based in Paris, Luca holds an MSc in physics, electronic and industrial engineering from Politecnico di Milano and Ecole Centrale de Lyon, and an MBA from the business school INSEAD, where he is Entrepreneur in Residence.
The challenges Luca faced when starting the company should be no barrier for others doing the same, he says. He wholeheartedly recommends those beginning a career in computer vision, or photonics in general, to go down the start-up route, rather than joining an established corporate firm. He feels that the experience of founding a start-up forces you to learn quickly and gives a great deal of exposure to new technology.
His other advice for those embarking on a career in computer vision is to "go unconventional" and to "play at the edge of innovation and, if you are lucky enough, define new edges".
Luca has certainly done that with Prophesee. The company's bio-inspired computer vision technology was first used to partially restore sight to a blind patient, the first reported case of this. Another milestone was the firm's collaboration with Sony, resulting in an image sensor that combines Sony's stacked CMOS fabrication methods with Prophesee's sensing technologies. This work with the world's largest manufacturer of image sensors was a big step for Prophesee to make its technology more accessible.
Luca says that there's a push at the moment in computer vision to bring sensing and image processing closer to the processor, to put as much intelligence on the image sensor itself or as close to it as possible. He adds, however, that one of the challenges for computer vision firms is getting access to advanced manufacturing technology for making small enough chips to be able to penetrate mass consumer devices.
Luca's and Prophesee's journeys have gone from strength to strength, with the firm announcing a number of partnerships and collaborations in 2022 to bring Prophesee's sensors to a wider audience. In an interview with Imaging and Machine Vision Europe, after winning the Vision Award at the 2021 Vision Stuttgart trade fair, Luca said: "Our role as a pioneer is to keep innovating, stay ahead, make sure we connect dots at the software and system level and work with as many partners as possible... so everyone in the ecosystem is able to build a full application."
He praises Prophesee's 100-strong team, saying the group "is made up of talented professionals". He also pays tribute to his brother, who he says is his "best friend and closest mentor; I wouldn't have done what I've done without his support and advice."
Prophesee will be at CES in early January 2023; at Mobile World Congress in both Barcelona and Shanghai; at Image Sensors Europe, Vision China Shanghai, the TinyML summit, and more. You can follow Luca on LinkedIn at www.linkedin.com/in/luca-verre-71b6a75.
Organisation: Prophesee 
Role: CEO
Based in: Paris, France
Education: MSc in physics, electronic and industrial engineering from Politecnico di Milano and Ecole Centrale de Lyon, and an MBA from the business school INSEAD