Commercialising medical devices: tips and challenges
Tom Harvey, healthcare photonics lead at UK catapult centre CPI, discusses how companies can successfully enter the healthcare market
Healthcare photonics can be defined as the application of light to diagnose and treat certain conditions that affect people's health and wellbeing. The key advantage of photonics technologies is that they are usually used in non-contact and non-invasive methods. This not only means that the procedure is less invasive, and therefore more comfortable for the patient, but that the recovery process is much quicker. What's more, these methods can also reduce the time for a clinician to reach a diagnosis, and therefore the time for a patient to receive the appropriate treatment.
A number of such innovative photonics technologies are currently in development at CPI's National Healthcare Photonics Centre. For example, one project currently underway is examining the use of photonics in dental imaging, focusing on the development of an optical system that enables both less invasive and quicker measurements of dental health.
The tangible differences that patients will experience thanks to these technologies are apparent, but there are also very real benefits for the UK economy. Studies have shown that £13.5bn is contributed to the UK economy every year by the photonics manufacturing sector. However, in order for the subsector of healthcare photonics to reach its full potential, a number of challenges must be overcome. 
Barriers preventing healthcare photonics from reaching its full potential
Firstly, the medical technologies sector is stringently regulated. There are a multitude of complex regulations that companies operating in this space need to consider, with these regulations differing from country to country. Different healthcare assessment systems have different reimbursement environments and different requirements in relation to safety, proof of efficacy and health economic benefits.
This ultimately leads to long and costly development cycles for new photonics products, with a typical development cycle for a healthcare product of between five and 10 years.
It is therefore not easy for firms to raise funds for a project, as venture capitalists or angel investors are reluctant to invest when such long timescales are involved.
Related stories: New UK photonics centre to shine a light on healthcare
                           Photonics vital to UK economy, research shows
Healthcare systems are generally also very risk averse, meaning the adoption of new technologies is typically very slow. It's not easy for smaller companies to introduce their new products into the market without having to work with some of the larger players, who hold quite strong positions in the supply chain. This means their profit margin is reduced, the type of business models available to them are restricted, and they often have to undergo a rigorous supplier qualification process.
Another challenge that affects the healthcare photonics market more than other sectors is that the user of the product is not the one who pays for it. Therefore, companies really need to understand who is going to be funding their new product and how they can achieve a return on investment. 
Catapult centres can help overcome these barriers
There are numerous tactics that catapult centres such as CPI can use to help SMEs operating in this space to successfully commercialise new products. One of the key offerings from CPI in relation to funding is consortium building and helping companies with grant applications. At the earlier stages of development, access to public funds is crucial for smaller companies. This is because risk is reduced if they have funds coming from public grant-assisted funding sources, in addition to money from venture capital.
Catapult centres can also help reduce the risk of these companies failing by helping them with aspects such as health economics calculations and regulatory advice. At CPI we have a number of consultants and experts who can offer advice on regulations for the introduction of medical devices, particularly in relation to the requirements around testing for new medical devices and in vitro diagnostic devices.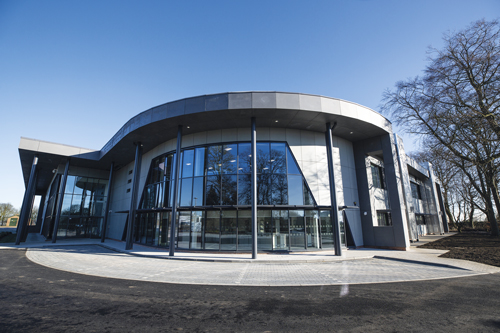 The National Healthcare Photonics Centre building, based in County Durham
In addition to this, catapult centres can also offer flexible access to specialised equipment and facilities which smaller – and larger – companies may otherwise not have use of. CPI can provide access to a dedicated suite of optics development labs that are also suitable for laser system development. We can also test new devices against patient samples, meaning companies do not have to spend time and money on obtaining specialist licenses for such testing. The same is true for the components and sub-components that may be built into a new imaging system – it saves companies time and money if they have access to a range of equipment and facilities through the catapult centre, rather than having to set up their own.
Similarly, developing a medical device is a multidisciplinary activity, and so it is vital that a multidisciplinary team is on hand to support the project. Not only can a catapult centre offer this expertise in-house, it can connect companies to wider networks for technical expertise or even clinical groups. For example, in the north-east of England, CPI works with MedConnect North. This is a network allowing companies to get clinicians to evaluate their ideas at an early stage and feedback on how they would be used, whether they are appropriate and what changes might need to be made.
Advice for SMEs working in healthcare photonics
There are a number of key nuggets of advice that SMEs working in healthcare photonics should consider. Most importantly, they need to become 'investment-ready'. There are many ways in which companies can organise themselves to become more attractive to investors and increase the likelihood of receiving investment. Ensuring that they have a strong and unique intellectual property position is one great thing they can do, for whatever area they've chosen to go into. Companies also need to have a realistic business plan; one that doesn't assume they will get a large share of the market very quickly, for example.
Assembling the right team is also paramount to the success of any commercialisation project. You need a group with the right experience, background and skills to be able to deliver the new product or process. Venture capitalists and other funding bodies will invest in people as much as they will invest in an idea, particularly in the healthcare photonics sector.
Pre-established industry knowledge is also invaluable for many SMEs working in this sector, where they may be very familiar with the photonics side of the technology but need more support in terms of navigating the medical device industry. Catapults can connect companies to European partners to help solve some of these common challenges.
CPI has recently co-organised a series of photonics roadshow events around Europe with the aim of matching companies with market sector experts. This involved presentations, business meetings and one-on-one opportunities for the experts and the companies to connect. The results of this event are available on the EPRISE YouTube channel. What's more, this is a great resource that SMEs can use to get more information, and to help them overcome some of the key challenges currently facing the industry.