Digitisation in Europe 'needs to be higher'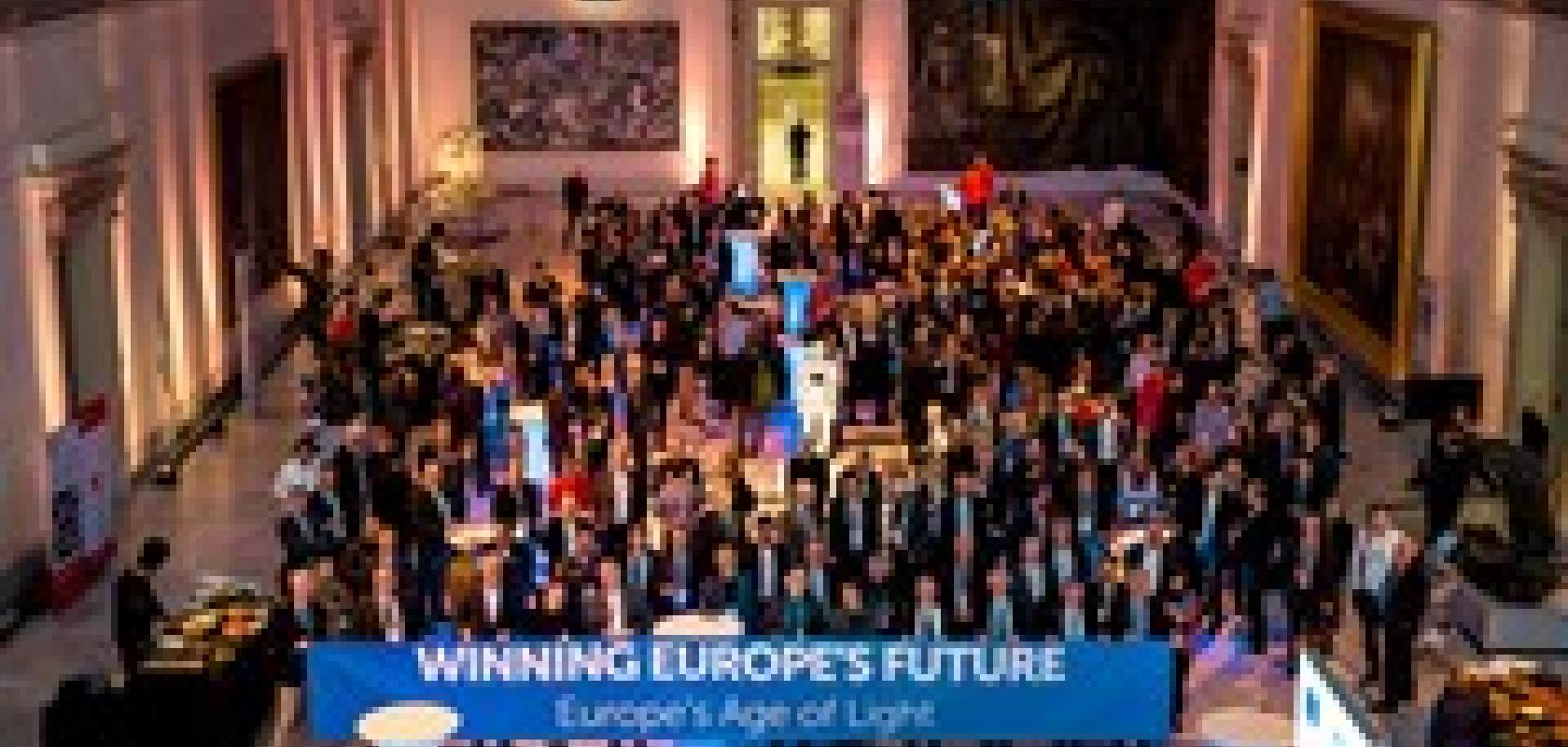 More than 300 key stakeholders were present at Photonics21's AGM, where speakers from the European Commission and photonics entities discussed how to advance digital development across Europe. Matthew Dale reports
The level of digitisation across Europe needs to be higher, it was made clear at the Photonics21 photonics public private partnership (PPP) annual meeting, which took place in Brussels on 3-6 March. At the event, the European Commission outlined plans to better facilitate digital transformation across the continent.
Set up in the framework of the European Commission's Horizon 2020 funding programme, Photonics PPP promotes collaboration between photonics stakeholders to increase investment in Europe. The partnership is controlled by the Photonics21 association.
'Only one out of five companies in Europe is highly digitalised,' stated Lucilla Sioli, the director of digital industry for DG Connect in the European Commission said during the meeting. 'The difference between the digitalisation of SMEs and larger enterprises is huge. More than 15 per cent of SMEs in Europe don't even have a website.'
Part of the European Commission's strategy to improve digitisation will be the establishment of digital innovation hubs for SMEs, which will provide testing facilities and business resources, connect companies to surrounding regions, and assist in commercialisation of products and penetration into new markets.
'[The digital hubs will] help SMEs in photonics apply their solutions to healthcare or other interesting areas,' said Sioli. 'They could use the digital innovation hubs to connect to hospitals or education establishments, or any other area that could be relevant for their particular solution.' The new hubs will be established after a funding call is published in 2020.
In addition to the new centres, it was noted that the commission in keen to invest in photonics technologies that have for potential for advancing digital development in Europe. 'Overall, we are very optimistic regarding digital funding lines, both for FP9 and the years beyond in the broader picture of the European budget,' said Carl Buhr, the European Commission's deputy head for the cabinet of Commissioner Gabriel, who is in charge of digital economy and society.
Digital solutions
The digital transformation of an enterprise focuses around five major themes: Operational excellence, new customer experience, transparency across domains, protection in the value chain, and flexibility in manufacturing and supply, according to Jean-François Herbert, vice president of sales and global accounts for high tech industry at Dassault Systèmes.
The French software firm has developed a program that allows firms to augment the innovation and product development within a company.
'The 3DExperience platform enables the modelling and simulation of ultra-sophisticated scenarios… enabling the acceleration of ideas, innovation and pure creation by removing the need to produce any sort of physical prototype,' explained Herbert in his presentation 'Digital Transformation for Industry Renaissance'.
'The transparency across domains is becoming increasingly important, this means collaboration within the company in all aspects: research, engineering, design, marketing, manufacturing, supply chain etcetera, in such a way that every innovation is going to be fast enough to be put into engineering and manufacturing and be adapted to the point of a new customer experience that is digitalised at the same time,' Herbert said.
Merging realities
Optics manufacturer Carl Zeiss intends to implement digitalisation on a much broader scale: by changing the way we perceive and interact with the world around us. 
Professor Michael Totzeck, corporate research and technology fellow at Carl Zeiss, described a concept pair of glasses that merges augmented reality, where virtual elements are imposed on the real world, and augmented virtuality, an almost completely virtual world with only a few elements – such as hands and feet for navigation – remaining real.
'There are numerous potential applications in areas such as service, health, education, gaming, sport, navigation and social interaction, where it will be beneficial to have a digital 3D display in the real world,' Totzeck said.
In addition to the enormous technical challenges associated with creating such glasses, there is one aspect of augmenting virtual images in real-world scenarios that is less obvious – the recreation of physical objects in virtual format, including their correct dimensions, their surface texture and how they reflect light.
The Fraunhofer Institute for Computer Graphics Research IGD has developed a process to digitalise cultural artefacts, according to Totzeck, which involves can measuring and categorising thousands of physical objects so they can be put into the virtual world.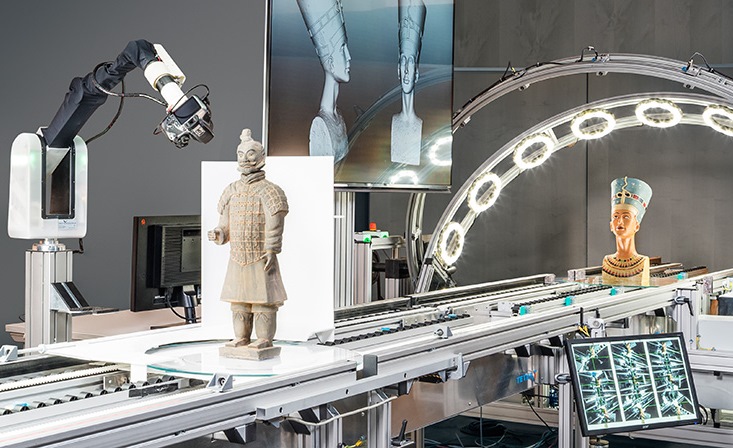 Fraunhofer IGD's CultLab3D system uses cameras, lighting and optical scanners to digitalise cultural artefacts in high resolution
The CultLab3D method uses a conveyor belt to send objects that are up to 50kg in weight, 60cm in height and 60cm in diameter, underneath a lighting arc equipped with nine 10-megapixel cameras, which capture the geometry, texture and optical material properties of the objects in high resolution. The objects are then sent past a robot-assisted optical scanning solution that refines the first scan by capturing any remaining holes, occlusions or geometrically complex surface areas in more detail. The entire scanning process takes less than ten minutes and attains accuracies in the sub-millimetre range.
'This would allow a catalogue of virtual products to be brought into the virtual world,' commented Totzeck. 'For instance, you could see how a sofa from Ikea would look in your living room.'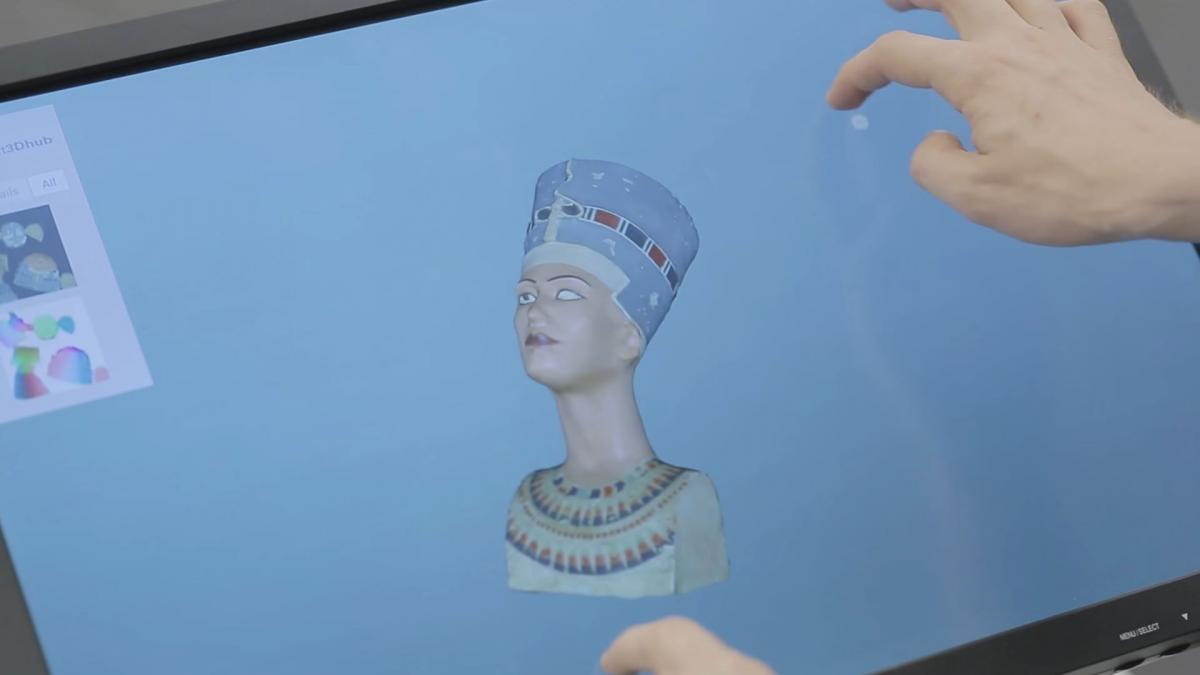 The resulting 3D model of a digitalised cultural artefact