Facilitating investment in photonics
EPIC's Antonio Raspa spoke with Electro Optics on the intentions and impact of the new photonics index
Last year, the European Photonics Industry Consortium (EPIC) launched a photonics index in collaboration with Frankfurt-based index provider Solactive. 
The 'Solactive EPIC Core Photonics Index' includes all firms that have at least half of their revenues coming from photonics manufacturing activities, and enables, for the first time, investors to target their investments towards the photonics industry. Investors will be able to back a portfolio of photonics companies – currently made up of 69 companies – rather than individual firms. 
Electro Optics spoke with Antonio Raspa, EPIC's innovation manager and the individual responsible for the Photonic Index Universe management.
What were the initial motivations behind the creation of this index? 
We started from a very basic point: how to make photonics attractive for investors and how to better prove that photonics will make a good investment. Being part of this industry, EPIC has several arguments to support such profitability, but it was necessary to prove it through an 'independent' point of view. 
Another important gap that we identified was about the perception of photonics: we know very well that photonics is everywhere and is a key technology that enables all industries to become more effective, more productive, and far more energy efficient, but such important impact is spread so widely that it becomes nearly transparent to most of the people outside our industry. Typically, the first question of any investor is to identify what photonics is, and the focus of the discussion usually deviates away from the financial aspects. In a nutshell we can say that photonics has all the characteristics to be the disruptive technology of the near future, but precisely because of its high transversality, it is still unknown to most investors: that's the gap EPIC aims to address, both with the creation of this index and as an organisation in general.
How might the establishment of this index influence the photonics industry as a whole? 
The photonics index is a tool to assess the ROI of the photonics industry, a sector that historically shows an average annual growth rate (CAGR) of 25.9 per cent over the period 2015-2021. With this index, which is currently based on around 70 companies, any investor will have a clearer view of our industry, highlighting the potential of its markets and applications. The publication of the index will very soon result in greater recognition and credibility of the photonics industry. 
The components of the photonics index are distributed, at first level, into several main categories and really spread into many specific sectors and applications, confirming how photonics is definitely transversal to multiple industries and how important its strategic role is.
It is very attractive to the financial world that there is no concentration in a specific manufacturing activity with the resulting 'balancing' of risk. On the other hand, we have learned that, because of its large cross-cutting role, it is very difficult to explain to financial operators that photonics really is everywhere and that it's a key technology that enables all industries to become more effective, more productive, and far more energy efficient. 
Therefore, a new classification has been developed that is more adherent to the real structure of the photonics industry and, at the same time, can convey in a simple and clear way how important its role is for the different current market sectors and even more for the future ones. 
The so-called Global Photonics Classification (GPC) is structured in eight categories (see table) that address the huge constellation of photonic applications that satisfy basic needs of everyday life but are often not immediately apparent.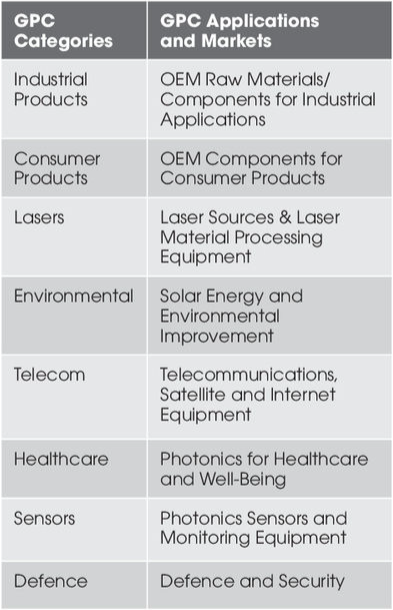 Industry consolidation will drive investment returns in the photonics sector over the next 10-20 years, and while individual company returns are potentially very high, it is difficult for investors to distinguish between winners and losers over time. This is why a thematic index approach makes more sense. 
How has the initial reception of the Index been?
The index was released on 28 May 2021 and while we are still at the beginning, so far the initial feedback has been very positive. For example, Danish company Shute Sensing Solutions has stated their intention to include the index performance graph in their presentations to investors. Moreover, the photonics index has already caught the attention of financial stakeholders: six months after the index was published, a certificate based on the index, i.e. the first financial product based on the photonics industry, has already materialised.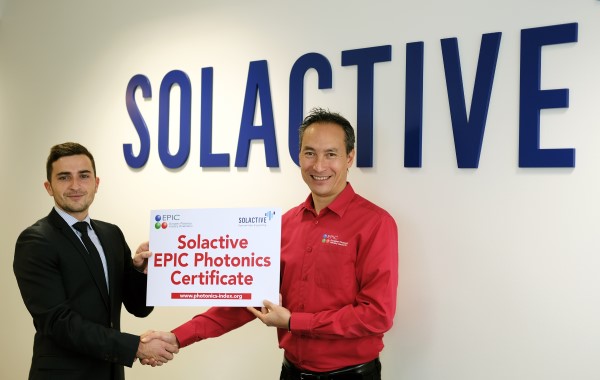 EPIC and Solactive collaborated to develop and launch the photonics index. (Image: EPIC)