Certificate to facilitate investment into world's first Photonics Index
The index will provide investors a way to invest in a diversified portfolio of photonics companies. (Image: Shutterstock/wanpatsorn)
A Certificate based on the Solactive EPIC Core Photonics Index has been launched.
The index, which was announced earlier this year, is the first of its kind to represent a global cross-section of the world's largest and most liquid public photonics manufacturing companies.
It includes all companies with at least 50 per cent of their revenues sourced from photonics manufacturing activities. 
This means that for the first time, investors will be able to specifically target their investments to the photonics industry.
The index will both demonstrate to investors that photonics is a profitable industry worthy of investment, while also giving them a way to invest in a diversified portfolio of photonics companies, rather than individual firms. The portfolio currently consists of 69 companies.
'While the investment returns on individual photonics companies are potentially very large, it is difficult for investors to differentiate between winners and losers over time.' explained Markus Barth, CEO of Anatase, who designed the Index in collaboration with EPIC and Solactive. 'EPIC's in-depth company analysis provides a diversified global basket of companies that are all key-enablers of a greener future.'
With so much of the focus on COP26 around new technologies, photonics is an important technology that will ensure a significant reduction in energy consumption because it utilises light and not electronics. Photonics will deliver more efficient manufacturing at a significantly lower cost and with a much lower impact to the environment. 
'Photonics is a major enabler of a cleaner environment across myriad industries,' confirmed EPIC's director general, Carlos Lee. 'The future of our planet depends on creating greener solutions to traditional manufacturing processes and photonics technologies facilitate this evolution across numerous industries.  We may not know what the future looks like, but we are certain that photonics technologies will take us there!'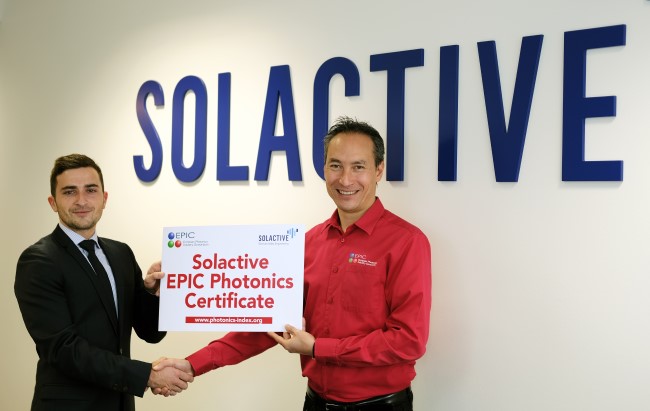 EPIC and Solactive collaborated to develop and launch the Photonics Index. (Image: EPIC)
In addition, Barth noted, 'The carbon footprint of photonics companies in the Index is, on average, 70 per cent lower than well-known equity market benchmarks. This means they walk the walk in their own operations as well as facilitating energy and resource efficiencies for their customers.'
A trillion-dollar industry
Over the next five years, the photonics industry is expected to grow by more than 13 per cent annually with a total market value in excess of $1 trillion by 2026. Over the last six years, the back-tested Solactive EPIC Core Photonics Index outperformed MSCI World by 15 per cent per year with a similar level of risk (volatility).
The new Solactive EPIC Core Photonics Certificate was launched by Cirdan Capital Management, with collaboration from C8 Technologies.
The Certificate will be listed on the Frankfurt Stock Exchange for retail and institutional investors with the ISIN Code XS2412871902 and an initial value of €1,000 per Certificate. 
Investment in the Certificates is targeted to be ready with brokers on or around 23 December 2021. In addition, the Index will be available on the C8 Technologies platform for Direct Indexing.
Following the launch, EPIC will be actively looking at how pension funds can avail themselves of this new, greener investment.
Half of the Certificate revenues will be reinvested into promoting photonics globally.