A glimpse of Jiangmen's ambitions as a laser hub
EPIC's Carlos Lee discusses his visit to a laser and manufacturing exhibition in Jiangmen, a city in the South of China who's authorities are making efforts to attract photonics businesses
I travelled to China seven times in 2017, attending all of the major photonics exhibitions and industrial conferences and visiting more than 50 companies. I can say that I'm impressed by the rapid development and growth of the photonics industry there.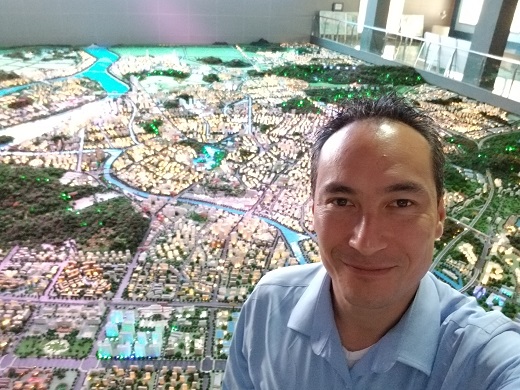 The Jiangmen technology park in Guangdon is activley attracting laser companies
Most recently, I attended a laser and manufacturing exhibition in Jiangmen, a city in the South of China, which was mainly driven by local public authorities. What really caught my attention in this area were the authorities' efforts to attract photonics companies. They took me around the city, and also showed me a plot of empty land where they intend to build an advanced industrial centre, which will include laser companies. It made me think of the development of Shanghai and Shenzhen 20 years ago.
Jiangmen is located in the Southern province of Guangdong, which is also home to the industrial metropolis of Guangzhou. With a population of 'only' 4.5 million, Jiangmen's economy is smaller compared to its neighbour Guangzhou, which is ranked third in China in terms of GDP and has a metro population of 44 million, an urban population of 20 million, and a city administrative area of 13 million. Jiangmen's GDP ranks 88th in the country.
Despite being a relatively young city, having only attained cityhood in 1951, Jiangmen has an established manufacturing industry that caters to various sectors, including furniture-making, household appliances, and motorcycle manufacturing. Last year alone, Jiangmen made more than 2.5 million motorcycle units (on my last trip I had the chance to visit to a wheel manufacturer and a bike maker). It is therefore logical for the city to attract photonics and laser companies to invest in their planned hub because manufacturing relies heavily on enabling-technologies like lasers to improve production.
It is exciting to witness the photonics industry's rapid growth in China as a whole. Europe needs to pay attention to this development; companies should ensure flexibility and speed to take full advantage of the opportunities not just in China, but globally. EPIC is prepared to take an active role in helping its members capitalise on China's fast-growing photonics industry and ensure there is mutual benefit. In addition, EPIC is also exploring the potential in other regional markets such as Taiwan, Korea, Japan, Israel, India, Russian, Brazil, and some regions in the US and Canada.