How is the photonics industry engaging young people?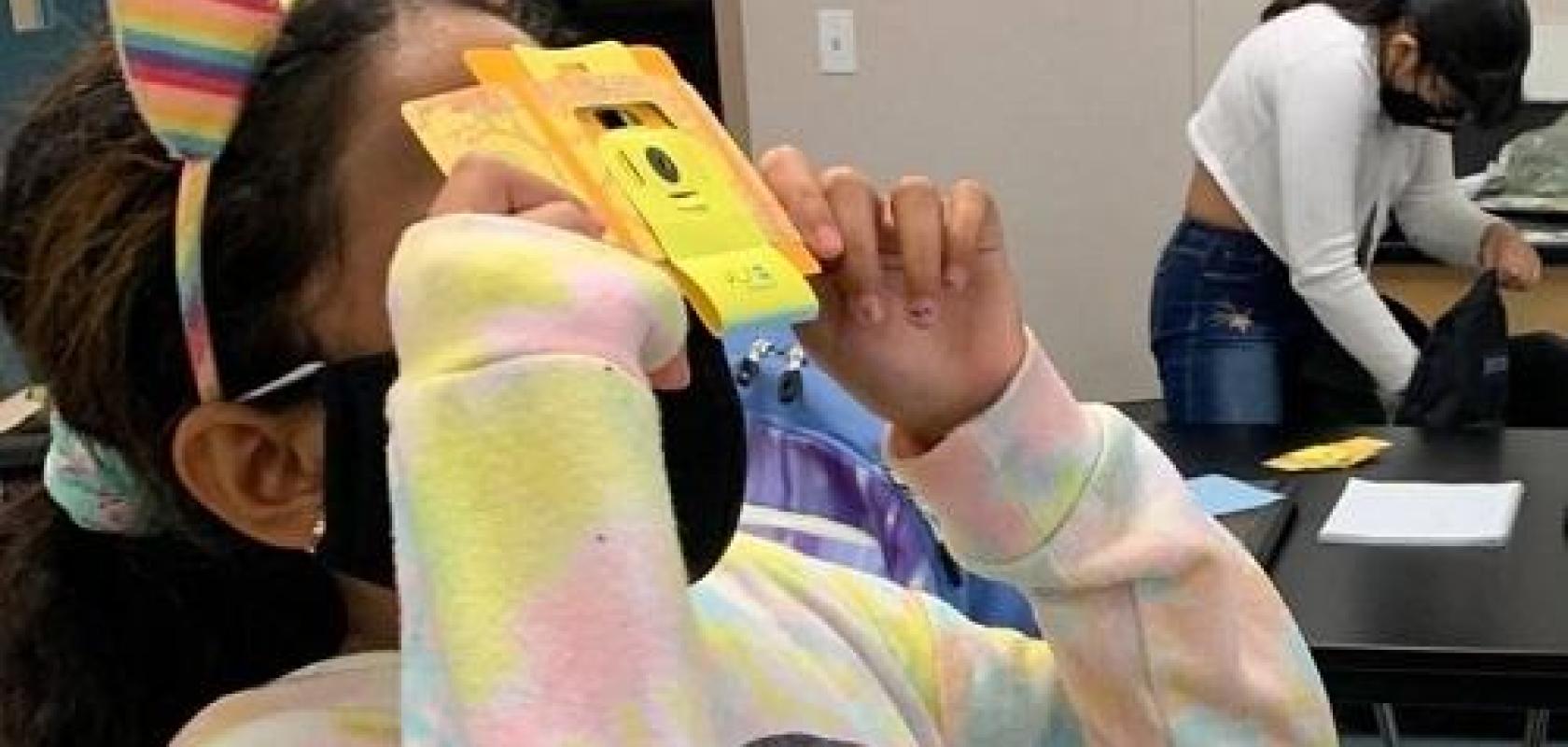 With the skills shortage an ongoing issue for the photonics industry, getting young people excited by optics and photonics careers, and equipping them with the right skills, is crucial for its future success. 
Here we highlight some of the initiatives working to engage and train young people in optics and photonics fields. 
Promoting photonics to graduates 
In 2020, an EU-funded Horizon 2020 project was launched with the aim of highlighting photonics careers to students. The project, named 'The European Photonics Career Launch Path' (Carla), is composed of a consortium of 11 partners from 10 different countries. It has designed a model for career development events, known as Carla camps, involving input from more than 80 representatives from different stakeholder groups. 
These career camps aim to highlight the broad range of career opportunities that exist in photonics to STEM undergraduates, master students and PhD students and early-stage postdocs. The stakeholder groups involved included members of the photonics industry and academia, entrepreneurs, as well as STEM university students and early-stage researchers. To ensure that diversity and inclusion permeated the events, experts from diverse backgrounds were involved in their design.
Fifty per cent of the attendees of the first camp, held in 2021, had no previous experience in photonics - and for those who had, it was primarily from within the academic ecosystem. After completing the camp, their knowledge of the career options available within photonics increased from a starting score of 2.96 to 4.02.
Here more about this initiative from Professor Robert Sewell, who leads Carla's student and researchers working group, in our on-demand webinar covering the skills shortage.
Optics education kits
A Belgian nonprofit association that aims to engage school children in photonics is shifting away from traditional teaching methods to attract more girls into engineering subjects.  
The Excite Youth for Engineering, Science and Technology (Eyest) project designs and distributes experimental kits, lessons and workshops, so that young people – aged 10 to 18 – can go beyond the theory and experiment with lasers and optics.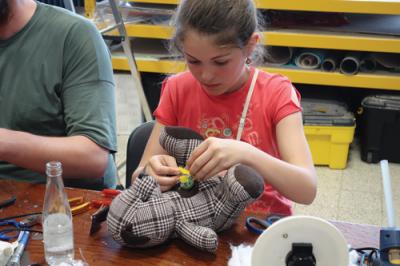 A young girl integrates a light into a soft toy. Credit: B-Phot Brussels Photonics-VUB, Eyest, PhabLabs 4.0
So far, more than 2,500 Photonics Explorer kits have been distributed to European teachers, supporting more than 125,000 European students each year.
The Photonics Explorer Kits each contain a set of optical experimental components for a class of 25-30 students, supported by a framework of worksheets, factsheets, teacher guides and multimedia material. Eyest trains science teachers how to use and plan lessons with the kit, which is available in 15 European languages. 
The kits and workshops were carefully designed to get girls and other pupils that wouldn't typically choose engineering subjects interested. This involved making subtle changes to language, promoting a more collaborative and creative work environment, and moving away from the competitive nature of conventional education. 
Along with the kits, Eyest – with EU project Phablabs 4.0 – has developed 33 photonics workshops and 11 challenger projects which can be organised in the classroom or in a fab lab/makerspace within the Phablabs 4.0 network. Challenges range from making an infrared glove to creating art using polarisation. 
One of the workshops involves children bringing a toy – a teddy bear, for example – to the classroom, and integrating lights and optical fibres to make its eyes light up. Again, language was carefully considered to encourage girls' participation. 
'You could talk about re-building or upgrading your toy, but that's more masculine,' said Nathalie Debaes, CEO of Eyest. 'However, if you say: "make a toy for a friend so they will not be afraid of the dark", then you ignite more of the feminine interest. 
'There is a shift in language there. Sometimes we are so programmed from a masculine society that it is not always that straightforward to think about ways we can word or design something – our natural way of thinking is quite biassed.
'For girls the "why" is important. How can photonics contribute to creating a better society, a cleaner environment, greater biodiversity? Or, how can it be used to help people? By highlighting the purpose behind building or taking part in something is how you ignite feminine ideas and interest.' 
Optics technician training
It's not just engineers with PhDs the photonics industry is in dire need of, but optics technicians. A university in the US is offering training programmes to help fill the gap in this area.
Monroe Community College, based in Rochester, United States, is an institution working on tackling the technician shortage specifically. It is the only university in the world that awards associate degrees in precision optics. 
Alexis Vogt, Professor of Optics at MCC who runs the programme, said: 'When we look at other trades, like plumbers, electricians, welders – they have apprenticeships and they have trade schools,' she commented. 'This is part of the reason why we have a shortage – we [academic institutions] don't have enough training opportunities to properly prepare the skilled technicians to enter the workforce.' 
Vogt pointed to statistics showing that more than 550 skilled optics technician job openings go unfulfilled in Western New York State alone every year, and referenced similar shortages in Europe. At the same time, 20 per cent of the current workforce of technicians and engineers are approaching retirement in the US.
In addition to more educational programmes, a key part of increasing the number of technicians is spreading awareness about the importance of photonics in our everyday lives – as well as what it means to be a technician. 
'People don't realise what it means to have a career in optics,' Vogt said in a webinar, available to watch on demand. 'If I say "optics" there are people who still think I'm talking about a pair of glasses - we are so far removed from that,' she said. 'We are the industry that is revolutionising the world… and we need to get the word out about that. That is how we attract new students'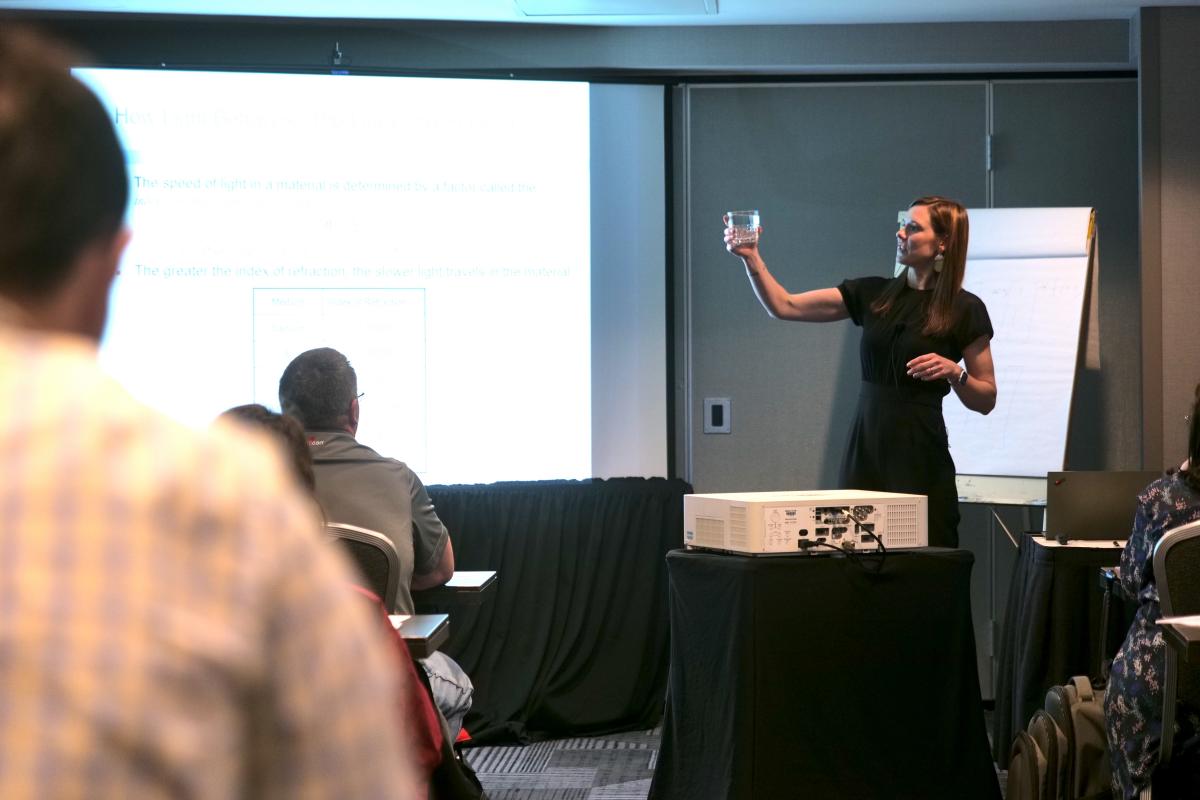 Vogt teaching her Introduction to Optics course at Photonics West 2020. Credit: SPIE
Some preconceived ideas can cause people to think technicians will just be doing the same task in a factory everyday, Vogt noted, but in reality optics technicians work closely with scientists and engineers and are involved in design, manufacturing, quality control, and testing and evaluation.   
'Getting the word out so people understand that as an optics technician they'd be working with state-of-the-art multi-million dollar equipment developing innovative technology. That's when people get excited,' Vogt highlighted. 'They realise they don't need to go to school forever, there are so many opportunities available at this level - and they're well-paying by the way - so they can have successful careers. Not just jobs, but successful careers, with a one-year certificate or two-year associate degree.' 
Insights into chip production
Last year, semiconductor manufacturer KLA set up the STEM Inspectors scheme to teach the basics of semiconductor production to school children in Silicon Valley. The aim is to inspire the next generation of engineers.
Microscopes, specifically electron microscopes, are a key quality control tool in the semiconductor industry and are incorporated into KLA's inspection and metrology solutions.
The lessons use a product called a Foldscope. Developed by Manu Prakash and Jim Cybulski at Stanford University, the paper microscope costs roughly $1 to manufacture, can magnify up to 140x and has a 2µm resolution.
In a series of five lessons, developed in partnership with Santa Clara Unified School District, students used the microscopes to find chip defects.
Environmental science teacher, Goldie Malone, and KLA marketing director, Kara Sherman, created the lesson plans to incorporate the use of microscopes and teach semiconductor basics to students.
Malone said: 'STEM Inspectors has developed organically out of a donation of foldscopes from KLA to my seventh grade science class. Over the last two years, this project blossomed into a beautiful series of lessons that covertly teach students what KLA does by using their Foldscopes to search for "defects" in a custom slide that was created by a KLA employee. The most beautiful thing about this collaboration is introducing our most vulnerable students to future career options that they didn't even know existed.'