Jessica Rowbury looks at how some of the technologies demonstrated at the Consumer Electronics Show in January will transform the driving experience
From adaptive laser headlights and lidar-controlled navigation, to interior lighting that fits your mood, cars of the future will not only be safer but will give drivers and passengers a personal and immersive experience.
The Consumer Electronics Show (CES 2018), which took place from 9 to 12 January in Las Vegas, had a number of futuristic vehicles on display, with much of the clever technology going into them relying on photonics.
Navigating with lidar
With several of the demo autonomous cars containing multiple lidar systems – such as Aptiv's self-driving BMW that had nine units – lidar was out in full force in Las Vegas, with equipment ranging from $100 to more than $70,000 in value.
Velodyne, which has dominated the automotive lidar market in recent years, showed its new VLS-128 system, which features a wider field-of-view and improved resolution compared to previous models. It has 128 scanning channels and four times the data density of its predecessor. The instrument is also 70 per cent smaller in size than the HDL-64, with double the range and four times the resolution. The price of the new unit isn't widely advertised, but given the $70,000+ price tag on previous top-end models, it will probably cost more than most cars seen on the road today.
Luminar's 1.5µm lidar system stands out because of its 200-metre range and high resolution, which is made possible because of the longer wavelength of light. Operating at 1.5µm is deemed less damaging to the eyes and means higher power lasers can be used. The longer range allows for more reaction time in the case of any road incidents, increasing safety.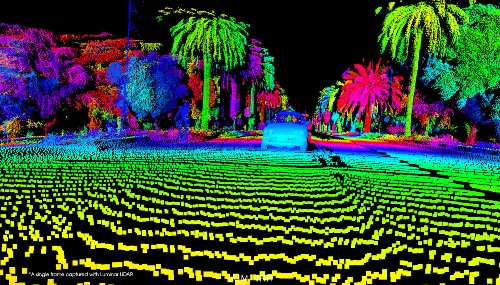 (Image: Luminar)
Compared to the cheaper 905nm wavelength used by Velodyne and many other lidar companies, 1.5µm lasers are relatively expensive, which limits how many can be integrated while still being competitive. Compared to Velodyne's new system, which uses 128 lasers and 128 photodetectors to capture the scene, Luminar's lidar has just two modules, each containing a single laser, detector and a mirror that sweeps the beam over the surrounding environment many times a second to create a 3D image.
These optomechanical scanners also increase the price of the overall system, and it has been suggested that the mirrors can be replaced with optical versions of phased-array antennas – common in radars and in mobile phones – to increase affordability. These arrays have slotted elements arranged side by side, controlled via electric signals rather than moving mirrors.
Toyota's latest self-driving research vehicle employs eight lidar systems, four of which come from Luminar.
California-based AEye also employs a 1,550nm laser in its lidar system, which the firm says will be available to OEMs and Tier-1s this summer. The AE100 MOEMS lidar includes a low-light HD video camera, distributed artificial intelligence, and software-definable and extensible hardware.
Quanergy's eight-line solid-state lidar instrument has a lower resolution and field-of-view than other brands; however, the firm's big advantage is that it has already started production – meaning that, if there are no delays, the systems could prove popular with automakers. The 905nm system contains no moving or vibrating parts on either macro or micro scales, the company says.
Velodyne now sells its cheapest 16-laser lidar for $4,000, after halving the price in January, but some companies are marketing systems at a fraction of that cost. LeddarTech presented its new LeddarCore LCA2 chipset for autonomous cars, which, according to the company, is the first 3D solid-state lidar integrated chip that can be manufactured at scale for under $100 apiece. The firm is geared toward mass production by Tier-1 manufacturers for deployment by automotive OEMs as early as 2020.
Dynamic displays
In a world where every surface inside a vehicle could become a screen, cars of the future will make commuting feel like less of a chore – giving the same kind of interactive experiences of personal electronics and visuals comparable to a cinema.
Harman, a Samsung company, showed a concept dashboard featuring a range of organic LED (OLED) and quantum dot LED (QLED) screens. Built into a Maserati GranCabrio, the displays project personalised information and customisable controls to the driver and passengers.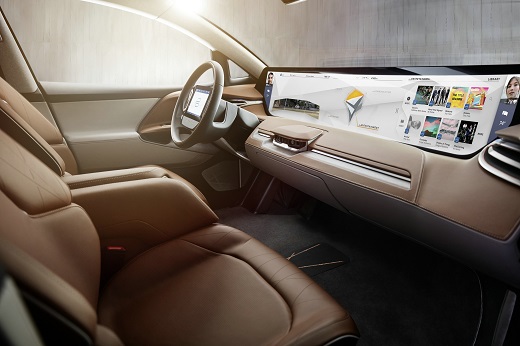 Byton's 49-inch LCD screen stretches across the entire dashboard. (Image: Byton)
Taking advantage of the flexible nature of OLEDs, a display running through the centre of the car blends in so that it doesn't look like a screen, but presents touch controls that the driver can personable.
The QLEDs' direct-lit backlight technology gives improved power savings, which Harman has said can lead to increased range and efficiency in electric vehicles. The technology works in a similar manner to Samsung's QLED televisions.
The company also demonstrated its QLED 'mood roof', which presents a choice of immersive visual landscapes on the inside of the car's curved top, complemented by a range of environmental sounds played through the speakers.
The atmosphere inside the vehicle can also be enhanced by lighting, as shown with Osram's interior luminaires that can match, or boost, a passenger's mood. Through biometrics, the vehicle can measure stress levels and adjust the lighting colours and levels automatically to encourage relaxation and aid safe driving.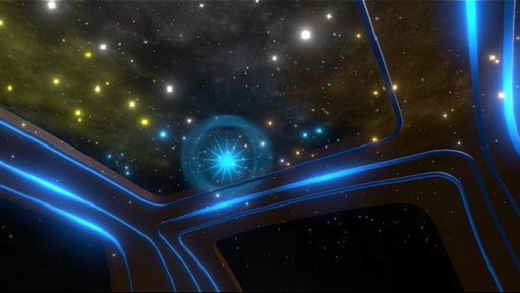 Interior lighting from Osram can help enhance a driver's or passenger's mood, or even help alleviate jet lag. (Image: Osram)
Harman's dashboard concept demonstration presents automotive OEMs with a cost-effective way of placing curved screens on any surface to give the driver useful information or immersive experiences.
Chinese start-up Byton goes so far as to refer to the inside of its electric SUV concept car as a 'personal lounge'. The model has a 49-inch LCD screen that stretches across the entire dashboard, which can present health information, as well as being a communication and entertainment system. Through facial recognition, gesture control and touch screens, the display reacts intuitively to its passenger's needs and recognises faces to present tailored information to each person.
Toyota's autonomous shuttle vehicle, called e-Palette, features large screen-window displays on its exterior. The e-Palette has been designed to function for various applications, for example as an autonomous delivery unit or mobile market place, so the displays offer the opportunity for digital advertising. 
Smarter and brighter
A range of smart headlight concepts were demonstrated at CES, including a unit containing a DLP chip from Texas Instruments that can alter how light is reflected in front of the car, reacting to pedestrians and the road ahead.
For autonomous vehicle applications, for example, the chip is able to track a pedestrian's location and angle the illumination above the person's head to avoid dazzling them.
In non-autonomous cars, the smart technology could prove useful by projecting directions onto the road in front of the car, or highlighting lane lines when it's dark.
SLD Laser, formerly SoraaLaser, showed its LaserLight source for automotive applications. According to the company, the sources deliver more than 10 times the luminance of LEDs, and can alter the beam pattern on the road. A SPIE Prism Award finalist in 2017, SLD Laser's light sources use patented semi-polar GaN laser diodes, incorporated with phosphor chip technology, and high luminance packaging. The technology was originally developed by SLD Laser co-founders and blue laser pioneers Shuji Nakamura, Steven Denbaars and James Speck at the University of California, Santa Barbara.
Osram presented its DMD laser light source, which is suitable for both light and symbol projection on the road ahead. The adaptive headlight has more than one million individually addressable pixels that can communicate with other drivers, passengers and road users, and even entertain by projecting the latest movies when the car is parked.
LEDs and lasers convert front and rear windows into information-rich screens for conveying marketing messages or communicating with the vehicle's surroundings. LED license plates can be customised with the driver's information to accommodate future car sharing regulations.