Case Study: Measuring on the microscale for levitated nanophysics breakthroughs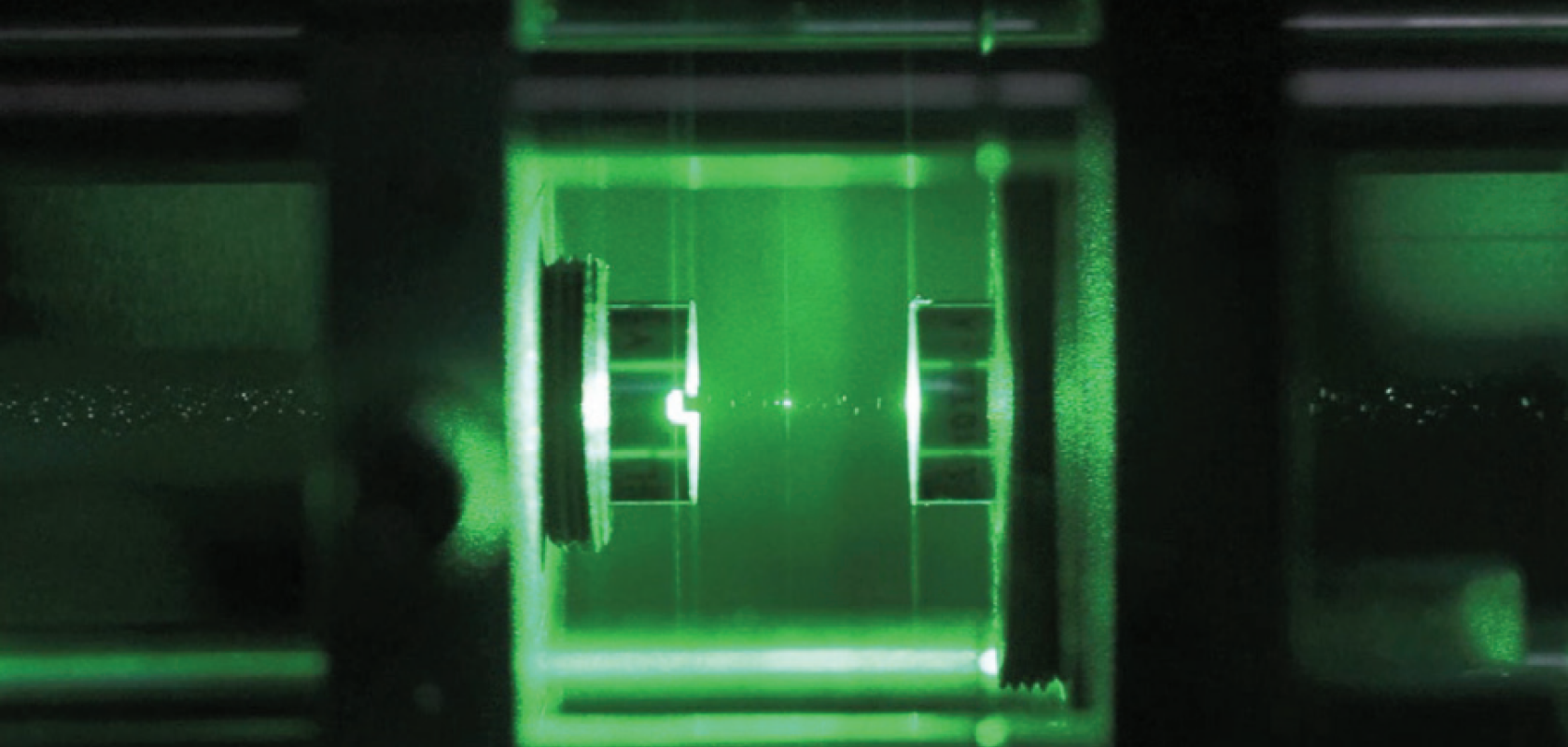 The team's research involves levitating nanoparticles (credit: James Millen)
The Levitated Nanophysics group explores the interface between quantum physics and nanotechnology, with a focus on elements such as photons and nanoparticles. The team, headed up by Reader in Advanced Photonics, Dr. James Millen, is engaged in research that involves levitating such nanoparticles and controlling their motion, to discover quantum effects and inspire new technology. 
Millen said: "We're interested in building tiny mechanical devices – microscale objects that can move for applications in sensing, and also for fundamental physics and quantum communications. A mechanical object that is vibrating can be measured very well and we have many techniques for measuring the vibrations to detect frequency. There are many industrial applications, with a move into use cases such as investigating dark matter, for which the effects are tiny, so there is a need for the technology to be increasingly small." 
The miniaturisation challenge
The challenge here, says Millen, is that the smaller the sensors become, the less efficiently they vibrate: "The smaller you make your sensor, even though in principle it may become more sensitive, it also becomes noisier, so it can be hard to use in a precise way." Millen and the team's research seeks to address this challenge by levitating the nanoparticles and controlling their motion. "We levitate them in space," he explains. "There are lots of ways you can do this, but we lift them up using, for example, laser beams, or magnetic fields or electrical fields. They then vibrate in space and, since they're not connected to anything, they can't lose their energy. In this way, they can become incredibly precise sensors, even though they're very small." 
This is a relatively new field of research; however, the underlying logic behind it has been around for some time. In 2018, American scientist Arthur Ashkin was joint-awarded the Nobel Prize in Physics for the invention of optical tweezers, which use laser beams to capture and manipulate very small objects. More recently, the King's College London team received funding under the UK's Engineering and Physical Sciences Research Council for the Levitation Network for Advanced Quantum Technologies (LeviNet) project. The team's work involves the suspension of these microscale objects in a vacuum, where they vibrate. Millen says: "Even though they're small, we can detect them using light and then sensitively record that motion and look at how they're moving." 
A perfect partnership
The optical components such as the lasers and test-and-measurement instruments provide vital functions for this project, and Millen and the team have a partnership with UK value-added reseller, Laser 2000, which has been supplying world-changing photonic technologies to academic institutions and OEMs since the 1990s. 
Laser 2000 supplies much more than lasers alone to King's College London, as Millen says: "We buy a lot of lasers from Laser 2000, and so I would always go to them for advice." 
Laser 2000 is also the exclusive UK value-added reseller for Liquid Instruments, a global supplier of test and measurement technology. The experts at Laser 2000 recommended and supplied Liquid Instruments' Moku branded test-and-measurement devices to Millen and the team, for whom the multi-functionality has been invaluable. He continues: "We use Moku devices to record motion, and the spectrum analyser function allows us to look at how the objects are moving in frequency. Then, if we want to control the objects and get rid of the signal that is just noise, we can use the filters in the device. Sometimes, we want to create some kind of control based on how they're moving; we can do so using the lock-in amplifier function." 
The Moku family benefits researchers such as Millen and the team by allowing them to save that much-needed space in a lab environment with one easy-to-use test platform that can perform the functions of more than 12 instruments. The FPGA-based approach has led to the development of a true software defined instrument-on-chip with hot swappable software modules, and it allows the user to maximise their test and measurement capabilities without having to compromise on performance. 
Trust is integral in a partnership and, in this case, it has proven to be beneficial for all parties – with the King's College London team initially using the Moku:Lab solution for a range of applications. More recently, it has invested in Moku:Pro, which comes complete with Multi-Instrument Mode and Moku Cloud Compile. The former allows the user to run up to four instruments on one device, turning it into a fully customisable test station rather than simply a reconfigurable device, and the latter offers the ability to program the onboard FPGA to deploy custom digital signal processing. 
Millen says: "Because we'd been using Moku:Lab for test and measurement tasks for a while, for one of our more recent experiments, we bought the Moku:Pro as well. The new device is going to be permanently installed into an experiment to perform tasks as a fully customisable test station. We use it both for tests, and also as an integrated system control device, having built confidence in it over working with Laser 2000 and the Liquid Instruments devices for some years."
Further information
To find out more about UK-based value-added reseller of photonics and networks solutions, Laser 2000, visit: www.laser2000.co.uk. 
For a live demonstration of the Moku devices (also available for loan upon request), meet the team on booth 308 at Photonex, where the Liquid Instruments team will also be in attendance.