The backbone of smart cities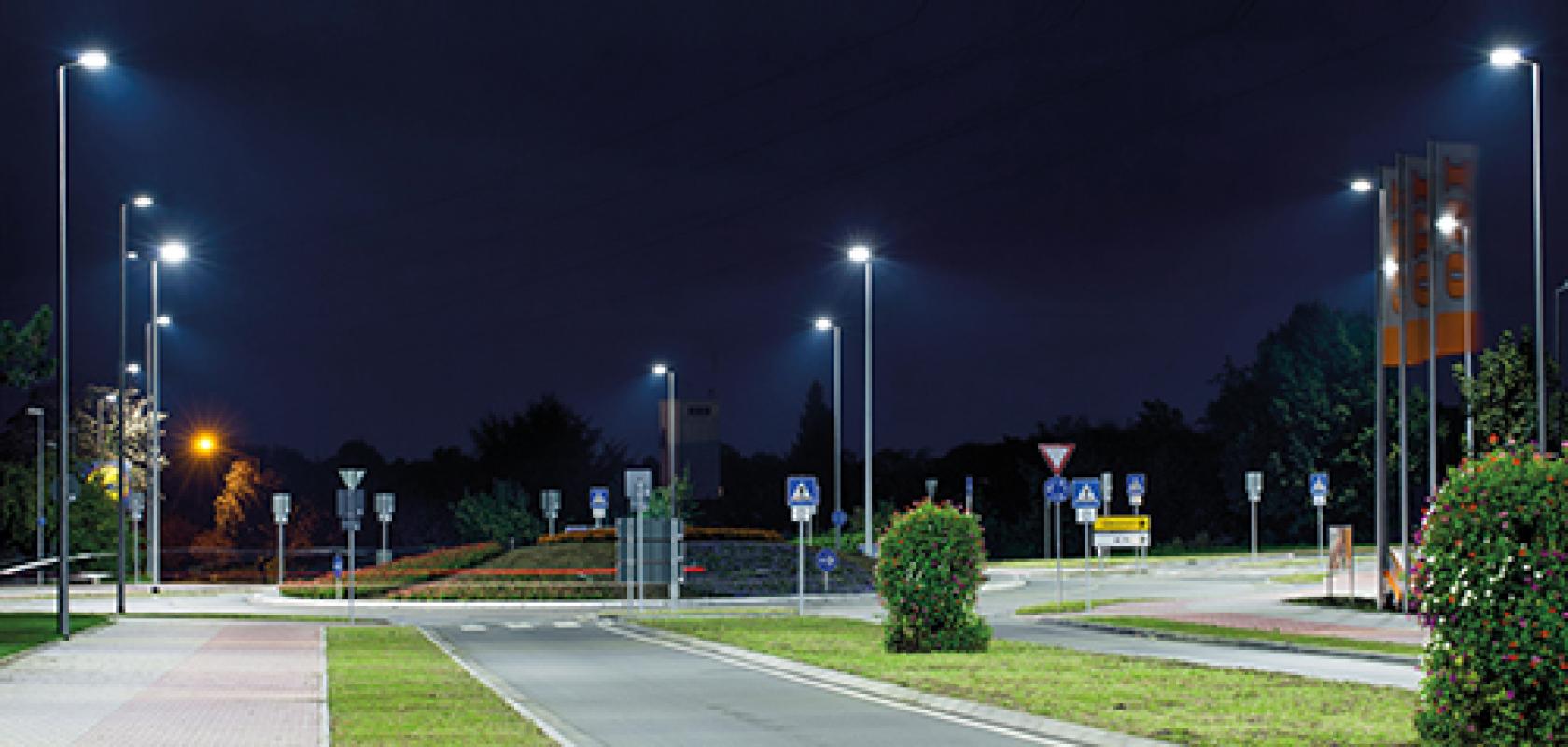 In the ongoing global effort to reduce energy consumption, entire cities have now committed to switching from using high-pressure sodium or metal halide street lighting to more efficient, more reliable white-light LED alternatives.
As part of the 'smartification' of infrastructure, intelligent street lighting solutions are now available offering complete control of a city's illumination from a central hub. The US city of Chicago has installed more than 18,000 smart LED lights along its major south and west side streets as part of a project to improve the safety and quality of its neighbourhoods. The Chicago smart lighting programme, launched last year, plans to replace 270,000 street, alley and viaduct lights within four years.
Meanwhile, Cardiff, in Wales, UK has installed 1,000 Luma LED street lights from Philips Lighting, with plans to install more than 14,000 in total, all controlled via Philips' CityTouch street light management system.
There's also work on the LED luminaires themselves – an EU Horizon 2020 research project called 'Re-usable and re-configurable parts for sustainable LED based lighting systems' was launched in January, with aims to implement a new modular luminaire architecture, a smart production scheme, and also the development of a reconfigurable customised LED luminaire.
But perhaps the most significant opportunity that smart street lighting presents is its ability to act as a backbone network for futuristic smart cities – conceptualised highly connected urban areas that use a multitude of sensors, monitoring systems and broadcasting equipment to optimise the efficiency of available operations and services. With many cities already making the switch to LEDs, now more than ever presents the perfect opportunity to incorporate this additional smart functionality into street lighting.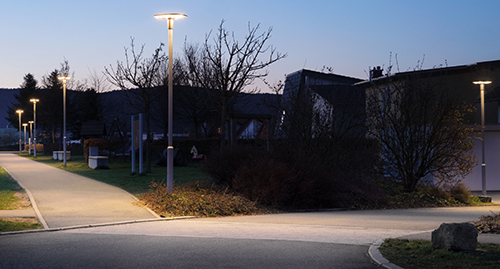 Siteco's DL30 luminaires bathe parks in Balgheim, Germany with uniform white light
'Outdoor lighting being the backbone for smart cities is the future,' said Jeremy Ludyjan, senior director of global field marketing for lighting firm Fulham. 'Outdoor lights provide power for various sensors, are in most places you would need sensors, and provide you with a place to put the sensors; they are also tall enough to easily communicate with each other, to the gateway, and ultimately to the management software.'
Ludyjan will be at the LED show in Long Beach, California on 13-15 February presenting the session 'Intelligent outdoor lighting – empowering end users to utilise lighting as the backbone to smart cities'.
Such a backbone could offer sensing opportunities for applications such as weather monitoring or pollution detection, as well as data collecting services such as traffic monitoring, people counting and noise detection, whose analysis could aid in the overall planning of a city.
'Smart lighting will be a part of the "smartification" of cities,' agreed Jörg Kupferschlaeger, specialist for outdoor lighting at Osram. 'In the future, sensors or cameras for movement detection and other purposes may also be included in the luminaires of city lights or attached to the mast to improve the lives of not only the public, but also the people who work with and maintain these systems.'
Such improvements have already been introduced in the town of Wipperfürth in Germany, where modern LED City Light pillars equipped with Osram's own Street Light Control system and Einstone beacon technology were installed as part of a smart city project. The luminaires transmit useful data via a Bluetooth signal that can be viewed by smartphone users around the town using an app, giving them access to a diversity of information about local companies, retailers, locations and landmarks.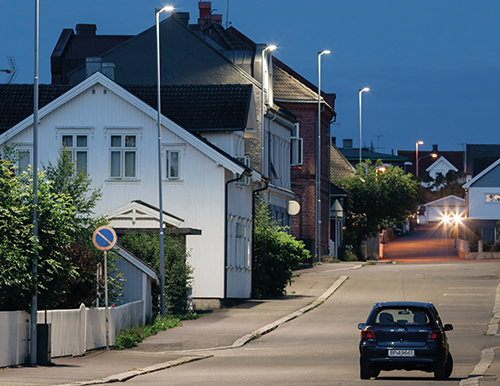 Norway's town of Horten uses Siteco's Streetlight 20 LEDs to illuminate its roads with white light
'We also have projects working with cameras for parking and safety applications,' commented Kupferschlaeger. 'Retailers are interested in using this to find out when non-paying customers are using their car parking spaces for free. This could also help when customers are searching for parking.'
According to Kupferschlaeger, while this added opportunity of smart lighting is now one of its most promising aspects, it hasn't always been the case.
'We brought up the possibility of incorporating other functionality in lighting in the past, but this was something our customers were not interested in at the time,' he said. 'Now its generating a lot more interest, perhaps because the lighting industry is putting a lot more pressure on it and because we now have this 'smart city' term, so everyone wants to know what's behind it. We are getting lots of questions and pilot project requests to try out certain things. This is all still in the early stages though.'
Osram recently acquired a 47.5 per cent share of Dutch firm Tvilight, which specialises in the software of intelligent lighting and the potential for it to be used to communicate and interact with other systems.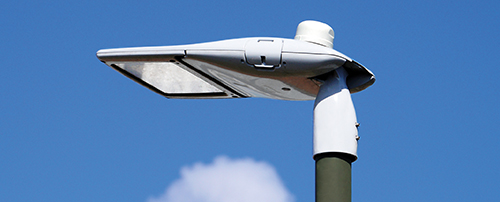 Telensa's apple-sized telecells fit to the top of streetlights and enable full remote control of their operation
Through the partnership, Osram is able to work with Tvilight's additionally smart lighting technology such as CitySense – a sensor that can be attached to street lights in order to detect the presence of road traffic and enable responsive dimming in quiet periods.
Tvilight has also partnered with Fulham, which is integrating the firm's software and radio technology into its own smart lighting drivers, according to Ludyjan.
Partnerships in photonics
This increasing adoption of smart lighting bodes well for the photonics industry, as not only do the smart lights themselves contain luminaires, lenses and sensors, but so do the additional smart city sensing opportunities that are enabled through their installation.
'This work is all being done with various partners such as sensor and camera manufacturers,' said Kupferschlaeger. 'As well as the LEDs, smart lighting also contains a number of other photonic components. Tvilight's CitySense uses infrared sensors to detect movements – which, when coupled with software, specifies whether that movement is from a vehicle, human or animal. Lidar sensors, which are already used in autonomous cars, could also be included in a smart lighting system. The matrix LEDs used in the car industry could also be used in future lighting applications.'
Osram's own LED lighting solutions, such as its subsidiary Siteco's Streetlight 20 family, use efficient lens technology to redistribute the light of the luminaire more evenly compared to traditional street light sources, which often have bright spots under them and darker spaces between each installation – around 50 per cent of their light is directed inefficiently.
'LED lights are much better for light distribution in that they don't feature as much light directly under the luminaire and re-direct light out to the sides where it is also needed,' explained Kupferschlaeger. 'The success of LED luminaires is down to both the efficiency of the diodes as well as the optics involved, areas we are continuously working on. For area lighting it is very difficult to illuminate big areas uniformly with a traditional light source. With LEDs it's much easier.'
According to Kupferschlaeger, the efficiency of LED luminaires is improving at roughly one lumen per Watt per month, and currently stands at around 130 lumens per Watt.
Osram uses poly-methyl-methacrylate for its LED street light lenses; however, Kupferschlaeger said that silicon can also work well. 'Lots of companies develop their own lenses, while others obtain them from lens manufacturers,' he added. 'There is no real standard lens. We have lenses for street lighting applications, and other lenses we use for area lighting. Different illuminations require different lenses.
'While we do purchase some of these lenses from manufacturers in the photonics industry, we also manufacture lenses ourselves as well.'
For additional smart light sensing applications, Osram will rely on other photonics companies for their sensor technology in the future, Kupferschlaeger noted, although Osram's own semiconductor branch will also research and develop sensors for these applications as well.
These partnerships, while being one of the beneficial trends of smart cities, according to Kupferschlaeger, could be one of its main challenges as well. 'There is not one company that can accomplish everything, and different companies have varying philosophies and techniques,' he said. 'Working out the right solution that is a good business case for everyone is a real challenge.'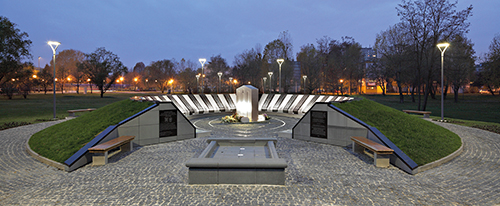 Croatia's capital of Zagreb uses DL20 LEDs from Siteco and linear Liner XB LED strips from Osram's Traxon to illuminate a circular memorial in Park Bosnjaci
For Fulham, its focus is not in the commodity lighting business – a race to the lowest price – rather the business of adding value to its components to create clever lighting. Smart cities will therefore benefit photonics firms such as Fulham as they 'create markets for lighting that extend beyond just price', according to Ludyjan. 'There will be new demands for smarter, tuneable, longer-lasting components.'
Kupferschlaeger explained that other sectors, such as the voltage protection industry, have gained a new branch of business from LED lighting. 'This is great for them because electronics are now very sensitive to over voltage and we have to protect the luminaires in a lot of applications. This positive effect will also be seen by sensor and electronics manufactures when additional functionalities such as LiFi get integrated into smart lighting.'
Light fidelity
The possibility of also using smart street lighting to broadcast internet, a technique known as LiFi, is also being discussed by lighting firms such as Osram. LiFi, standing for light fidelity, promises much as a way of transmitting data. With speeds in excess of 100Gb/s conceived, all communicated through LED lighting, the technology seems to be superior in many ways to the slower WiFi networks based on radio frequency.
'This would lead to more photonics components being used in both the lighting involved and the smart devices receiving the data,' said Kupferschlaeger. 'LiFi could enable a faster and higher-quality internet connection for those within smart cities. This is still in the very early stages; however, it's important that we do not miss the point where this becomes industry standard, as it fits very well into what Osram is looking to achieve.'
LiFi is already becoming a commercial reality, with Edinburgh-based firm, PureLiFi, offering a LiFi USB dongle and a LiFi-integrated luminaire, but there is still a long way to go until every LED light can be produced with LiFi capability.
'The lighting industry is in a competition for smartification with the automotive and mobile phone industries, and it could be that mankind has enough smartification already. However, with additional opportunities such as LiFi, weather, population and traffic sensing available, smart lighting could have a huge benefit to smart cities,' Kupferschlaeger concluded.
Smart savings
Automated lighting is of course nothing new; in an attempt to save energy cities already use photocells on top of their street lights to switch them on and off at appropriate times of the day. These, however, can be notoriously inaccurate, according to Keith Day, vice president of marketing at smart lighting firm Telensa, who explained that a smart light could provide a much more precise measure of when to turn on and off.
'Even if this only results in five minutes of extra downtime, across an entire city over the course of a year this results in huge energy savings,' said Day. 'The possibility of smart lighting is to make lights responsive, allowing them to provide the right level of illumination at the right time.'
Day explained that, using smart controls, energy savings of around 30 per cent can be achieved by ensuring that only the required level of light is being delivered at any one time. This is achieved by – in addition to responding to daylight levels using more sophisticated photosensors – using radar to monitor traffic flow on roads, which enables large portions of street lights to be dimmed at quieter times.
'When our systems use radar sensors to dim lights on a highway if a stretch goes quiet, it does so gradually over a period of time, so much so that if you had no prior knowledge of it you wouldn't know it was happening – the adjustment is made very gently so as not to distract anyone.'
While LEDs are more efficient and much less prone to faults than traditional street lights, they are known to decrease in brightness over time – by approximately 20 per cent over the course of 25 years, according to Day. Adding smart capability, rather than sending out crews to replace the degraded lights, enables street lights to alter their output to match this natural degradation. 'As a result, LED street lights often begin at 85 per cent power capacity, and as they degrade over the years their power usage is increased to maintain their brightness,' Day explained.
The multiple savings in energy and maintenance enabled by using a smart lighting system allow it to pay for itself in approximately four to six years, according to Day.
Telensa's own smart light offering, the Public Lighting Active Network (shortened to PLANet), consists of three components and offers complete control of a city's street lighting. The first component is the Telecell, a small, wireless node that fits onto the top of each street light and acts as an energy measuring and compute device that monitors and controls all the light's operations.
The second PLANet component is a laptop-sized base station that fits to the pole of a central street light and connects to up to 5,000 surrounding Telecells within a 10-mile radius. The third component is a cloud-hosted central management system that provides a complete map-based view of all the street lights in the smart network and enables complete remote control of them through functions such as manual dimming, automated timed dimming, activation time adjustment, fault reporting and faulty component flagging.
Currently Telensa's technology controls approximately 1.5 million lights worldwide, with its biggest project taking place in the US state of Georgia. 'That is the biggest smart street light system in the world,' commented Day. 'Telensa's systems are also in control of one in every 10 street lights in the UK. We cover entire counties and whole metropolitan boroughs, as well as some highways.'