LEDs drive change in automotive lighting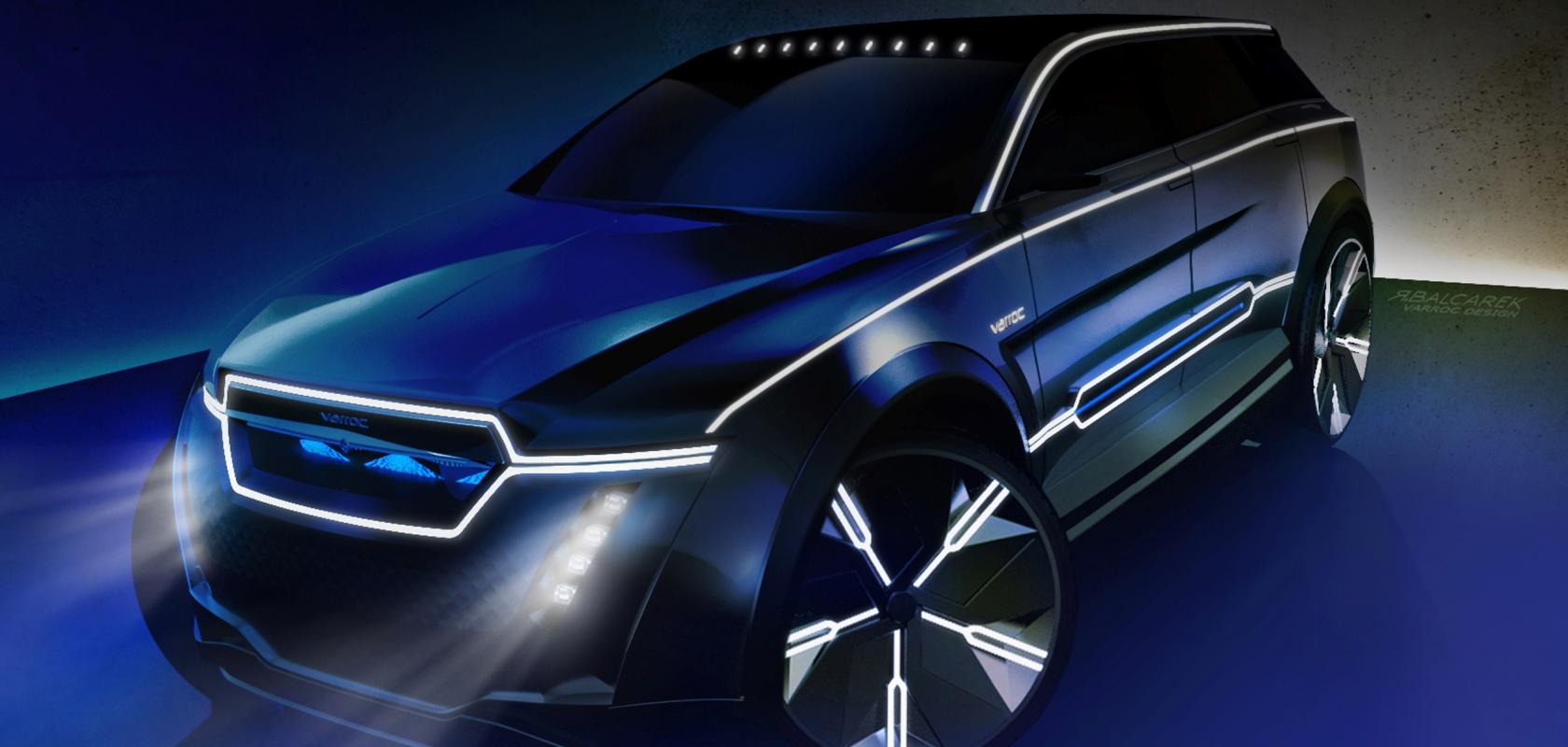 Andy Extance explores optical design for vehicles, including the headlamps that you've been seeing in your rear view mirror 
When the first LEDs appeared in the rear combination lights (RCL) of cars in the early 2000s it was the trigger for today's distinctive automotive lighting products. Just a few years later, LEDs started being used not only to enhance a car's aesthetics but for main light functions.
With the latest vehicles employing advanced imaging and computing technology, in combination with sophisticated illumination systems, new features such as glare-free and adaptive front lights are now possible. Vehicles are becoming safer and more stylish than ever before, but this has also required innovation in optical design. 
According to Stefan Seidel, senior marketing manager, automotive, for Osram Opto Semiconductors in Regensburg, Germany, 'Today there are lots of advantages for LEDs compared to other lighting technologies for automotive lighting – especially in regards to performance, including efficiency and brightness, reliability and design flexibility,' he said.
In addition to offering excellent  efficiency, light output, robustness and resistance to many environmental influences, they offer designers new possibilities, Seidel explained: 'The long service life is complemented by lower energy consumption, which plays a central role in electric vehicles in particular,' he said. 
'Overall, the way LEDs allow for light to be concentrated as a single high output device, or spread out in an array of low power devices, provide a range of narrow and broad band colours and emit into a single hemisphere, they've revolutionised the way automotive exterior light is done,' added LTI Optics president Mark Jongewaard. 'Vehicle signature and accent lighting has also become extremely popular, as LEDs work very well with light guides for creating all types of visually interesting features that just weren't practical with halogen lamps.'
Producing LEDs that can make such functions and features possible has required innovations across the entire spectrum of technology building blocks, Seidel said. That starts with epitaxial growth of semiconductor materials and chip technologies. However, it also required innovative packaging and conversion technologies, Seidel added. 
Todd Morgan, senior vice president, global product development at Varroc Lighting Systems, stressed LEDs' design potential. 'The portfolio of LEDs available today… allows us to deliver an incredible level of innovative styling for our customers,' he said. 'LEDs themselves are becoming increasingly efficient and the thermal management systems are becoming simplified.' Varroc is an automotive exterior lighting product manufacturer based in Michigan, United States.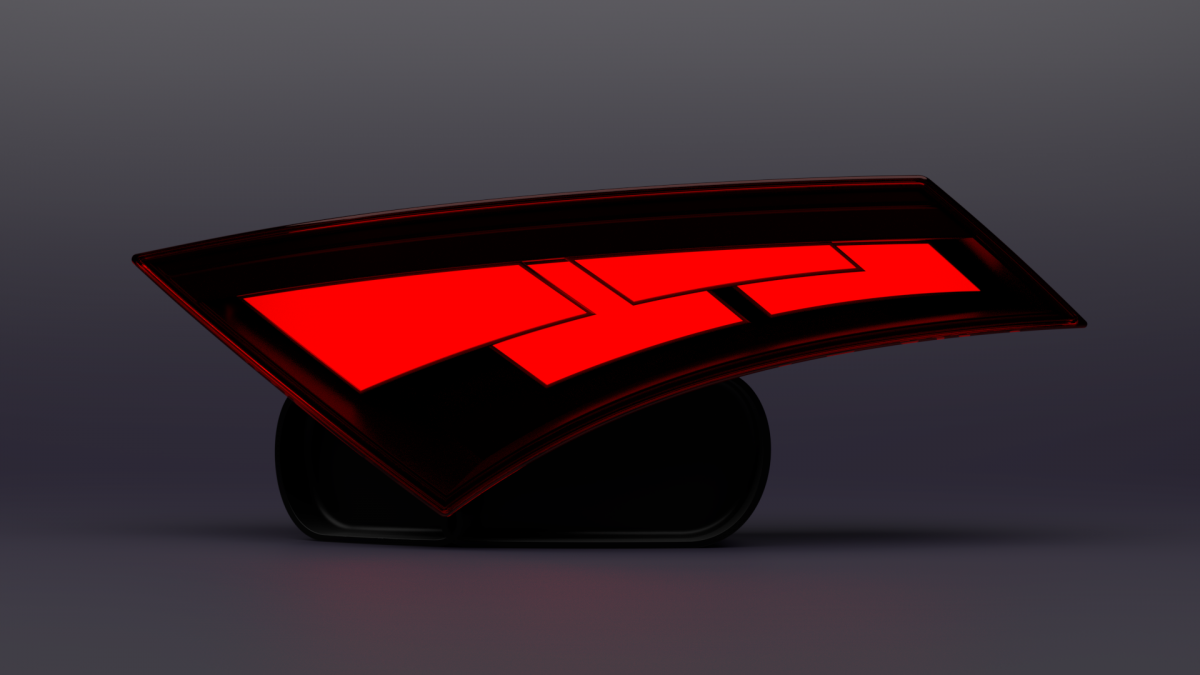 Varroc Lighting Systems' Suface-Led technology uses thin layers of micro-optic filters and conventional LED light sources to achieve the homogeneous appearance generally associated with OLEDs
Consequently, there is now more light on the road than ever, while lamp size has remained the same. 
With automotive requirements for reliability being exacting, LEDs and components need to meet stringent demands. 'Our products need to be designed for the life of the vehicle, and it's absolutely critical that we use LEDs that are validated for automotive conditions,' Morgan explained. 'The chips need to withstand extreme temperatures, humidity, vibration, and electrical conditions. At Varroc, we also design the LED driver modules that drive the LEDs, so we need to consider all potential situations to protect the chips and ensure optimal performance.'
Part of Varroc's approach involves using passive cooling, with no cooling fans inside the lamp, and minimising the power consumption without compromising the performance of the lamp. 
Ryan Kelley, senior optical engineer and vice president at Colorado-based LTI Optics, highlighted other automotive lighting design challenges. 'The key variables and considerations for LED forward and rear lighting are the size of the optical source, the overall size of the headlamp and the required beam precision,' he said. 'With the strict cutoff requirements above and to the sides of the beam for headlights, there is a minimum amount of space necessary to achieve the required beam control.'
Meeting automotive reliability standards requires innovations beyond general lighting LEDs, like gold-plated connectors to improve corrosion and vibration resistance, Kelley explained. 'For this reason, you'll see that companies such as Lumileds and Osram have unique product lines for automotive,' he said. A further consideration is that LED spectrum/colour coordinates must meet special requirements. These are specified by the SAE, primarily in the US, the United Nations Economic Commission for Europe (ECE), and Japanese Industrial Standards (JIS).
The LEDs used for forward lighting are generally flat, undomed emitters, observed Jongewaard, who is also an adjunct professor at the University of Colorado, Boulder. 'This keeps the luminous area as small as possible to improve light control, since the hemispherical dome lenses often used in general lighting LED packages actually magnify the effective size of the chip,' he said. 'Furthermore, the LED chips are often packaged in groups with very small gaps in between, to again keep the source size as compact as possible to improve beam control.'
Meanwhile, obtaining unique styles requires various optical control strategies, added Jongewaard. 'Designers care a lot about the luminous appearance, in addition to the optic simply meeting the required intensity distribution,' he said. 'This is evident by the wide variety of taillights you see on modern vehicles.'
Lighting the way
The recent use of matrix LED systems, combined with camera and image processing functions, is bringing new lighting functions like glare-free and adaptive front lighting. They provide unparalleled safety, said Varroc's Morgan. 'You are basically driving with high beams on, but your lights are not causing glare for other drivers,' he explained. 'The camera detects objects and the lighting system using the information, in combination with other sensors on the vehicle, to control the headlamps. The algorithm that is sitting on the Headlamp Control Module (HCM) is telling the headlamp how to alter the beam by turning on/off or dimming various LEDs.'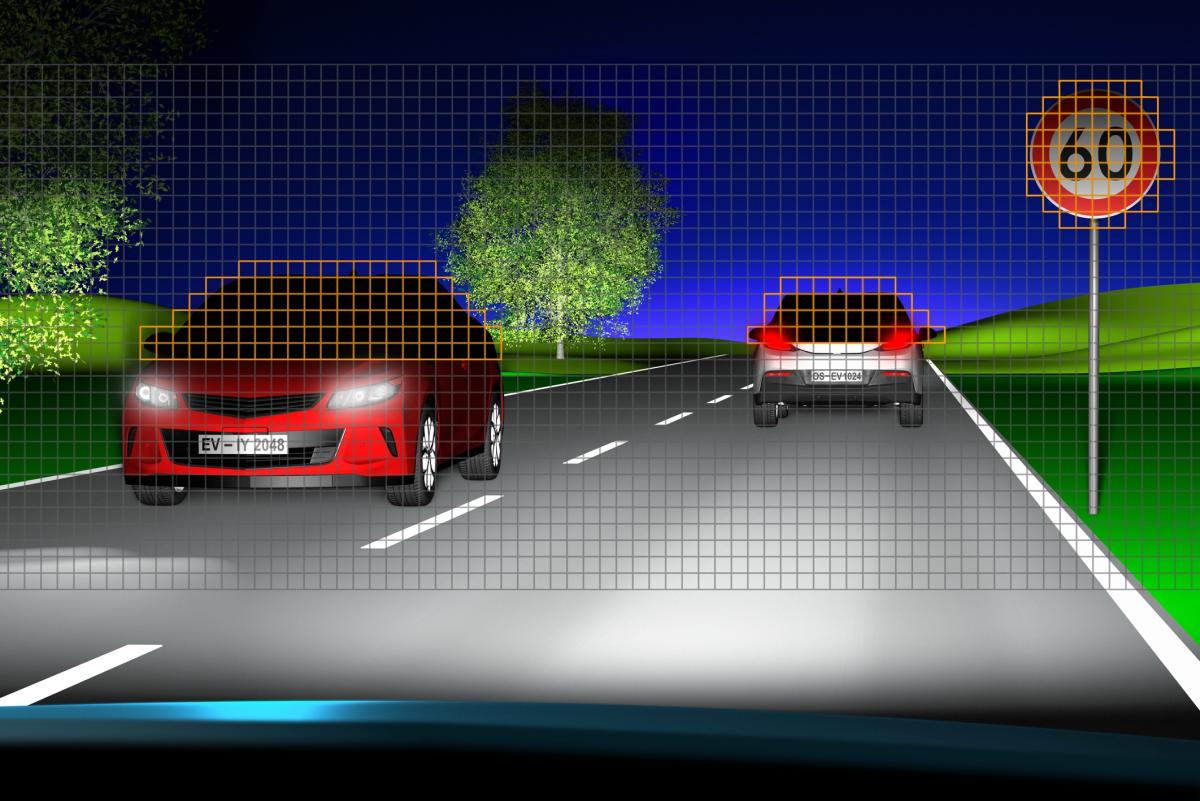 Matrix headlamps exploiting the Osram Eviyos system can selectively illuminate different parts of the road
Such headlamps are separated into segments, with debate surrounding how many segments are optimal, Morgan added. 'The more segments, the smoother the transition can be – as we place a shadow around the on-coming or following vehicles – but generally speaking, the higher the cost.'
The most efficient and cost-effective option is a reflector solution, according to Morgan. For example, Varroc's OPTI-Matrix design activates individual LED chips that are shining on an indirect reflector that form the beam. It's more common to use designs that turn individual LED chips off, exploiting primary and secondary optics to create the beam. 'This tends to also deliver a better quality and more homogenous beam, but the complexity also comes with a price,' Morgan said.  
More complex still is what Morgan calls 'high-definition matrix systems,' with 1,000 to 1.3 million pixels. 'These systems allow for precise control of the beam, and we can start to think about projecting images onto the road,' he said. 'We can theoretically project a movie onto the road. All of these systems utilise an LED light source. We are also looking at a MEMS-based system, and here we consider the use of a laser. In this case, you have virtually an infinite number of pixels. There are still some technical hurdles for this system to be put on the road, but we are not that far away.'
Enabling matrix systems specifically requires components that offer suitable luminance and contrasts when seen from far away, Seidel explained. Active LED arrays have different benefits to microdisplays that modulate light passively, like reflectors, he added. 'Advantages of the active solutions are the outstanding efficacy, as well as small and compact light engines,' Seidel said. 'Passive systems offer higher pixel counts.' 
Osram's Eviyos active solution has a total of 1,024 pixels, which are all accommodated in a footprint of 4 x 4mm. 'Every single pixel can be switched on and off with different currents more than one hundred thousand times a second and can therefore be dimmed,' Seidel said. 'Drivers no longer have to keep switching the high beam on and off after dark to avoid blinding oncoming traffic. Eviyos takes over the function of previous LED matrix solutions — but with considerably finer resolution and therefore much greater precision.' High resolution concepts with more than 80 pixels are already available in the premium car models, but basic Adaptive Driving Beam (ADB) functions will penetrate down to the smallest A-segment vehicles, Seidel stated.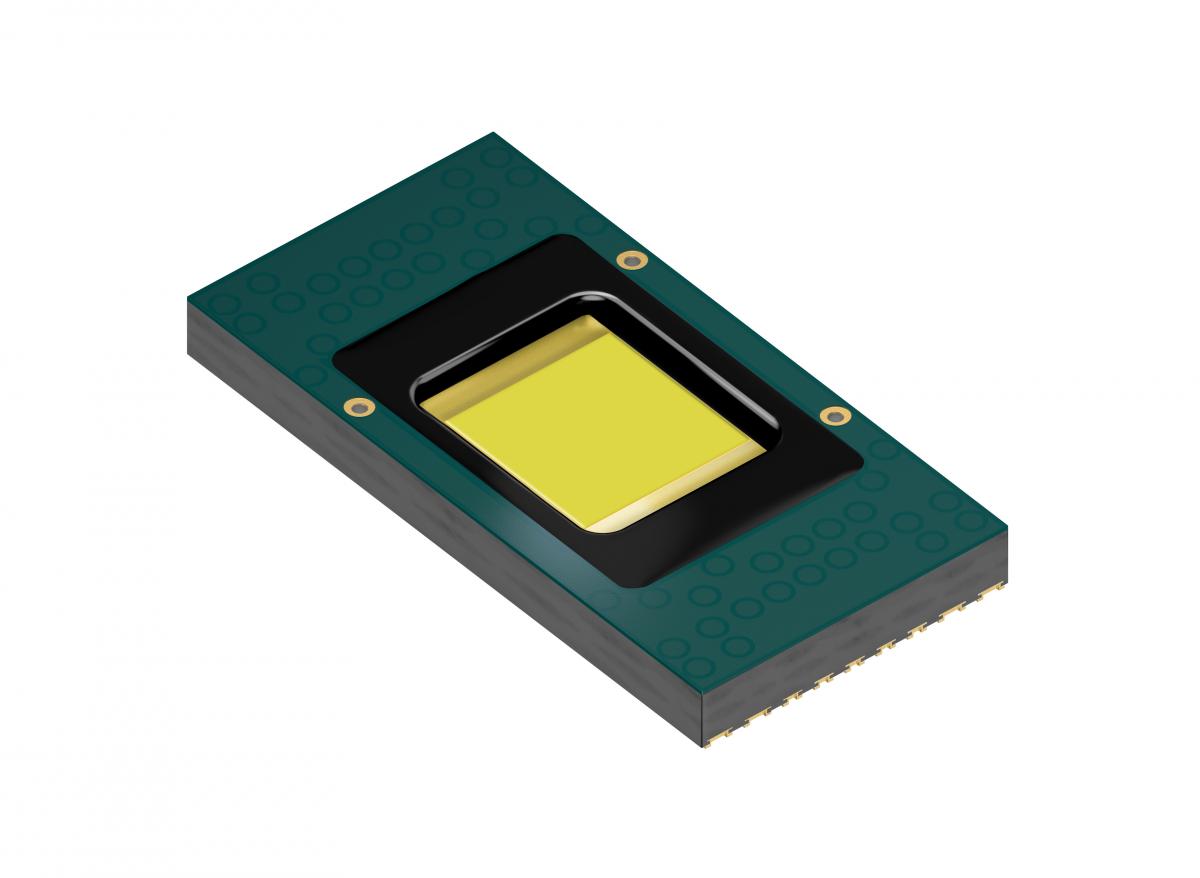 Osram's Eviyos light source
LTI Optics supplies an optical design software tool called Photopia that enables engineers without PhDs to rapidly produce virtual designs much cheaper than physical prototypes. 'Photopia can be used to help develop the required reflector and/or lens optics to meet the industry requirements', Jongewaard said. '[It] would be able to show how the pixel density can control how many beam pattern variations are available, or how precise those patterns can be.'
Photopia achieves this using a combination of optical design features, raytrace simulations and output relevant to the industry. 'The optical design features develop reflector or lens shapes based on how the light needs to be aimed,' Jongewaard explained. 'The tools are flexible so they can be used with a wide variety of optic styles.'
Adaptive headlights entering the mainstream market

 
So far, most of LTI Optics' involvement with LED headlamps and taillights has been with static, non-adaptive, products, Kelley said, since these still dominate the industry. Cost has largely kept adaptable beam devices off the road, he asserted. 'The majority of new LED headlamp and taillight designs done today are still for static devices, and those designers require tools to make the design process as fast, flexible and accurate as possible, so that they can generate a range of optic styles and know their tooled parts will meet their requirements.' 
Nevertheless, Osram's Seidel predicts that LED-enabled automotive lighting technologies will continue to evolve, and highlighted that those can bring big safety benefits. 'The risk of serious accidents in the dark increases significantly compared to well-lit conditions during the day,' he stressed. 'Automated, intelligent and adaptive headlamps improve visibility, and can thus further increase driving safety at night. Because, here too, errors or omissions are more frequent when the drivers have to activate lighting functions themselves. With the aid of adaptive lighting systems, the road can be illuminated automatically and with precisely controlled light distribution, adaptively and brightly, without blinding other road users.'
Beam control flexibility in some matrix headlamp systems is already getting down to pixel resolution, Jongewaard noted, 'which is beyond what is likely needed in most cases'. 'One of the tradeoffs in these types of design is optical efficiency, since that is sacrificed significantly for the sake of optical control,' he explained. 'While people don't generally take notice of the optical efficiency of their headlamps, more power does ultimately result in more fuel or battery consumption, so it does have an impact on global energy usage and pollution. Reducing the system complexity, which might mean reducing the system resolution, to only that which is proven to be beneficial, would ultimately reduce system cost and get these systems in more vehicles. I feel as though current systems are proving what can be done, more so than doing what needs to be done.'
Varroc's Morgan noted that LED and matrix lights are now starting to enter the mainstream, with Opti-Matrix designed specifically for small- and medium-sized, B/C-segment, vehicles. Efficiency improvements help make LED headlamps accessible beyond just luxury vehicles, he stressed. 'There is a lot of effort to get as many pixels as possible at an affordable cost,' Morgan added. 'The size of the modules will also decrease, and this is where lasers will likely come into play.'
From now on, automotive lighting needs may change further, Morgan added, as autonomous vehicles take to the roads. 'We may be more focused on complementing the needs of sensors and cameras, than the need of the human driver,' he said. 'We are also working closely with partners in radar and lidar, to see how these technologies could work together in a headlamp or rear lamp, to provide even more safety.'
Related stories
Modernising the motorcar: Jessica Rowbury looks at how some of the technologies demonstrated at the Consumer Electronics Show in January will transform the driving experience