Giving fingerprint security a helping hand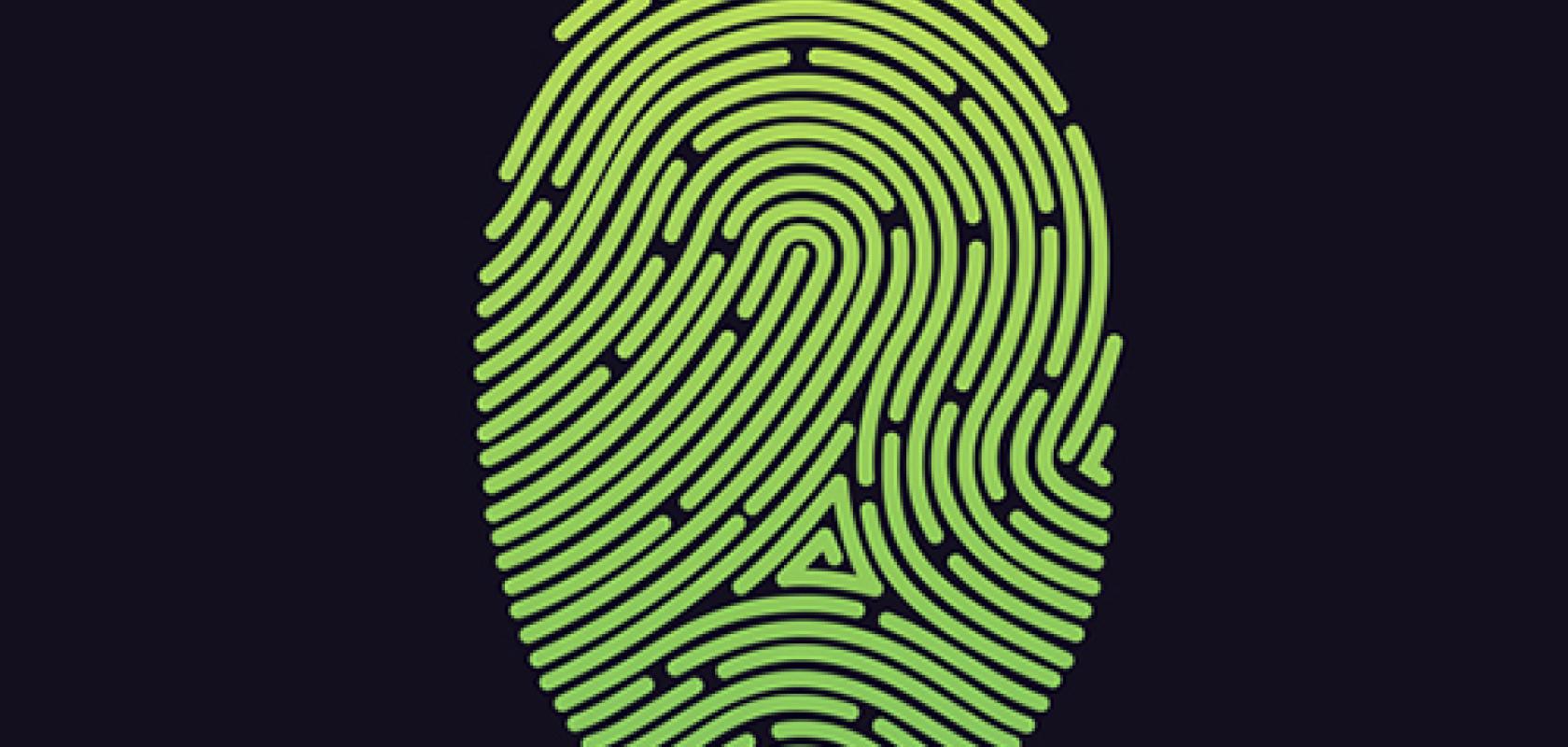 When it comes to fingerprint security, even the world's leading nation is vulnerable. India's voluntary Aadhaar system is by far the world's most extensive biometric identification system. Each Indian resident has a 12-digit unique identity number, linked to their photograph, their fingerprints and their iris scans. As of March, there were 1.3 billion Aadhaar numbers, covering more than 99 per cent of the Indian adult population. Yet in February, Indian police arrested six people for hacking hundreds of bank accounts using cloned fingerprints. A report in the National Herald said all it took was a 'glue gun and adhesive', costing just five rupees per fingerprint, around seven cents. 
Despite such threats, fingerprint-based identification using optical techniques is expanding across the world. 'We are seeing growth in the use of optical fingerprints by civil authorities and commercial organisations,' said James MacLean, business owner of Biometric Identification Solutions at French security giant Thales. 'Optical fingerprint capture is a proven technology. In Latin America, Africa, India and Asia fingerprints are still the preferred biometric.' 
However, MacLean recognised the threats the technology faces. 'Criminals continuously try to hack security systems using new approaches, violating the software structure or through the use of new material able to replicate real skin,' he said. Thales is therefore working on identifying 'new materials that could be used to simulate a fingerprint and how to detect these materials', added MacLean. Similarly, many other companies offer fingerprint detection technologies that promise robust security, and are developing new ones. 
Thales' main optical fingerprint detection system is the DactylD20, a compact single-finger scanner with a built-in fake finger detection system. It was developed by Italian firm Green Bit, which Thales acquired in 2019. To operate it, a user must place their finger on a prism illuminated by LEDs emitting two wavelengths of ultraviolet light which is minimally scattered by skin. Any light that is scattered is directed by the prism and lenses into a sensor to form the fingerprint. 
The LEDs are positioned in a special arrangement, creating patterns that can be analysed by 'an advanced fake finger detection software algorithm', said MacLean. 'The strategy of image acquisition of the fingerprint has two steps. The first acquires the image of the fingerprint. The second measures the characteristics of the skin. Real skin has a different response than artificial materials.' MacLean claimed that this functionality isn't necessarily expensive to buy, thanks to the sophisticated algorithms that the DactylD20 uses.
The DactylD20 is designed both to record and verify fingerprints. Captured fingerprint images 'are converted to templates for easy matching', he said. 'The images and the templates are stored with the client's records,' MacLean explained. 'On subsequent visits, the client will use the DactylD20 to capture a new fingerprint image. The newly captured image is matched with previously recorded fingerprints to ensure that it is the same person.'
The DactylD20 can also be used together with smartcards that carry a previously-recorded version of a person's fingerprints. 
Scanners go large
Fake finger detection makes the DactylD20 an ideal choice for unattended applications such as self-service kiosks and ATMs, MacLean said.
'In China, the DactylD20 is used by provincial governments to verify citizens' ID cards when accessing various government services in the territory. It can be used by financial organisations to prevent account takeovers and identity theft.'
Thales is now set to expand its offering in the second quarter, with two new palm scanners, the CS500q and CS1000q. These are designed for law enforcement agencies that need very detailed high-quality images for fingerprints and palms, MacLean added.     
The most common traditional fingerprint sensors found in consumer devices – capacitive and optical sensors – have important shortcomings, explained Hakan Persson, head of sales and strategy at Next Biometrics, in Oslo. 'They are very small, so you capture just a partial fingerprint. You need to roll many times to create the full template of the fingerprint by stitching.'
That stitching process is inherently less secure than capturing the full fingerprint at one time. Larger fingerprint sensors are therefore more secure. However, large capacitive sensors would require large areas of monocrystalline silicon, making them more expensive, explained Kevin Hung, Next Biometrics' director for field application engineering, adding that optical fingerprint sensors can be quite bulky. 
To resolve these issues, Next Biometrics has developed Active Thermal technology for fingerprint sensing. It uses arrays of silicon-based PIN diodes as thermal sensors to differentiate the ridges and valleys of the human fingerprint, since heat transfer in these two areas is different. It makes the sensors using low temperature polysilicon thin film transistor (LTPS TFT) technology commonly used in display manufacturing. 'For other fingerprint technologies, the cost of a bigger size sensor will increase dramatically,' said Hung.  'However, since Next uses LTPS TFT technology, one TFT glass produces several hundred of our sensors. Active Thermal technology makes a costly technology affordable.'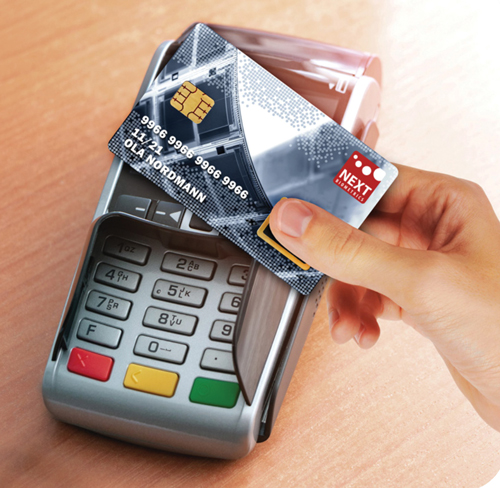 Next Biometrics' thermal fingerprint sensors could enable smart bank cards 
As such, Next Biometrics' sensors are competitively priced enough to use in consumer devices, with the company having supplied close to 10 million sensors, primarily for PCs and notebooks, to customers including Dell and Fujitsu. The price point also allows them to be used in point-of-sale devices in shops. 'And because it's also very durable, the technology can sit outside and have a good temperature range that allows it to work in harsh conditions,' he continued. 'Also, it is not impacted by direct sunlight, for instance, which optical sensors might be. There are also some smartcard opportunities, as we also have a flexible version of the sensor.' 
Next Biometrics' technology is also well suited to high-security applications, including locks, said Persson. 'Most locks are based on more or less the same type of technology that is used in a mobile device,' he said. 'You don't get high security. Our FAP20 sensor is personal identity verification (PIV) certified by the FBI.' 
Beyond digital security
Paul Ramsay, general manager of UK-based CDVI, noted that external fingerprint-secure door locks tend to have major shortfalls. 'Anyone requiring the use of enhanced security utilising fingerprint technology, is more than likely going to need this at the perimeter or external entrance of the premises,' Ramsay said. Consequently, fingerprint technology must work externally and in harsh environments. Most products on the market that claim to be an external product can't do this, and struggle with problem fingerprints from skin conditions, wet fingers, dirty fingers and ambient light issues, Ramsay asserted. 'The products themselves need to be secure and able to not only operate in these conditions, but ensure they remain secure,' he stressed. 'Most products have everything built into the reader, meaning if removed or stolen it contains all of the user data on the reader itself, and in some instances the door will open. The readers are also rarely vandal resistant.'    
CDVI brand Ievo has designed its ultimate fingerprint reader to avoid the issues, with multispectral imaging to collect surface and subsurface biometric data from multiple angles. Multiple LEDs emit blue, green, red and white light, exploiting polarisation and total internal reflection properties to detect different fingerprint characteristics. As such, the reader's algorithms combine multiple images per light colour, to create a single best image as a fingerprint template. 'The readers hold up to 50,000 users, and average identification time is around two seconds, dependent on features used,' said Ramsay. 
Yet to provide robust security also involves more general engineering considerations. The Ievo ultimate reader is therefore certified to prevent ingress of moisture and dust, and be vandal resistant. It also has a built-in thermostat controlled heating system, enabling the reader to operate from -20˚C to +70˚C. 'The reader head itself contains no data,' explained Ramsay. 'This is held on the secure side of the premises and can be up to 90 metres away. The data from reader head to Ievo interface board can be encrypted.' The reader also offers certified spoof detection and can scan through dirt, dust, grease, oil, water and even some latex gloves, he adds. The ultimate has been approved for use by the UK Centre for the Protection of National Infrastructure.
Subsurface biometric data are important because two-dimensional fingerprint images are more susceptible to spoofing said Giovanni Milione, a researcher at NEC Laboratories America, in New Jersey. He adds that fingerprints can change, for example through physical or chemical abrasion in the course of work in construction, or even in offices. Milione and his colleagues at the University at Buffalo, are seeking to get under people's skins, scanning the blood vessels in their fingers using photoacoustic tomography.   
Here to stay
Photoacoustic tomography is already commonly used for cancer detection and other disease diagnoses that analyse the density of blood vasculature. 'Photoacoustic tomography is less harmful than x-rays, not as expensive as MRIs, and gets better imaging resolution than ultrasound,' Milione said. But no one had thought about putting biometric authentication and photoacoustic tomography together, he added, in part because it seemed likely to be more expensive than a conventional fingerprint biometric authentication device. 'We're always thinking about biometrics. So, using photoacoustic tomography for biometric authentication was natural.'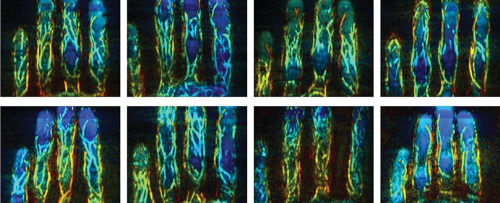 Finger vessel images from eight different subjects, with colours that represent different depths (Jun Xia/SUNY Buffalo)
Photoacoustic tomography scans tissues with lasers, heating up their blood vessels, which creates ultrasonic shockwaves. They detect the ultrasonic signals, and use an algorithm to work out where they came from. 'This algorithm is not too different from what your brain and ears use to determine if a sound comes from your left, your right, in front of you or behind you,' he said. 'Putting all that together, a 3D map/image of the finger can be obtained' in just a few seconds. 
Researchers had previously captured photoacoustic tomographic images of the blood vessels in fingertips. 'The ability to get biometric authentication results anywhere near what is needed for commercial use was something that we were not sure of,' Milione says. 'Our work proved it is possible. We measured very impressive authentication accuracy and anti-spoofing. We also proved it with a photoacoustic tomography device that was less expensive than those that are typically used for other biomedical applications, such as cancer detection.'
The NEC team could produce economical devices because lasers and ultrasound are already used for many applications. 
'The costs of those things are steadily decreasing due to continued development and mass production,' said Milione. 'For example, lidar is now standard on some models of the latest generation of iPhones.
'Therefore, it is reasonable to expect the cost of a photoacoustic tomography-based biometric authentication device can be made to be much closer to the cost of conventional finger biometric devices in the not-too-distant future, and maybe economical enough for consumer devices.'
In the near future, the NEC team is 'almost certain' that it can develop a photoacoustic tomography based biometric authentication device whose cost is reasonable for certain non-consumer applications. These might include border control, access control to critical facilities, and government applications that need high levels of security.  The team will also continue to reduce the costs of the approach, and seek to deploy the technology in a wider range of people and environments. 
This advance comes as fingerprint authentication in some consumer devices, such as iPhones, has been replaced by facial recognition. But Next Biometrics' Hakan Persson doesn't think that means the technology is under broader threat. 'Fingerprints are here to stay,' he said. 
While fingerprints are perhaps the most effective and secure way of capturing the identity of an individual, he expected to see them increasingly used with other recognition schemes.
'We already see that with face and fingerprint working in conjunction. You will use different modalities, like for instance, fingerprint, face, you can use behaviour. They have different advantages. In order to create an always-authenticated situation, depending on what kind of use case and what kind of situation you actually are in, you will use one or several modes in combination.' 

Sponsored content
Clear sight: better visibility for helicopters on rescue missions
Ocean Insight and Sikorsky, a Lockheed Martin company, engineered a robust, adjustable camera system for helicopters capable of scanning the horizon and identifying ships during life-saving flights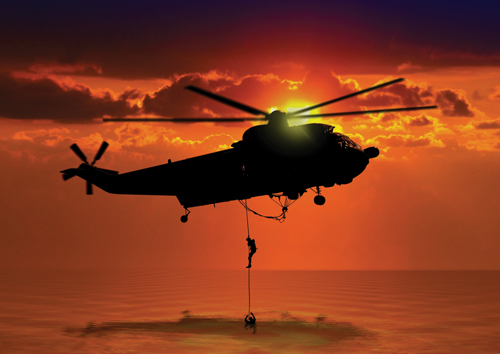 Search-and-rescue operations present coastguards worldwide with the critical task of saving lives and recovering property. By some estimates, the US Coast Guard carries out nearly 20,000 such missions each year. 
The challenge of navigating successful search-and-rescue (SAR) missions continues to intensify, as increasing traffic from commercial vessels and pleasure craft clogs our seas and waterways. Helicopter rescue teams depend on simple, effective, reliable tools that meet demanding regulatory standards, have minimal maintenance needs and operate safely.  
Engineering solutions to real-world challenges
Although cameras have been used on aircraft for decades, until the last few years no such option for helicopters existed that met stringent flight certification standards for rotary wing aircraft. This gap presented an additional burden for Sikorsky's government, military and commercial customers involved in SAR, where every available resource has the potential to save lives.
With Ocean Insight's experience in designing customised systems for rigorous industrial environments, and familiarity with engineering customised solutions to exacting standards, the firm believed that they could develop a simple, flightworthy camera setup for helicopters to help save more lives.
'We knew the biggest challenge of this project would be the pace of the testing,' said Matt Kremens, Ocean Insight director of engineering for applied systems. 'We had to be prepared to rapidly engineer new solutions as problems arose, without invalidating previous testing.'
Ocean Insight worked with Sikorsky to define the parameters of the camera system, which needed to scan the horizon for ships, zoom in and identify them, and record images. Regulatory standards for airworthiness imposed additional physical and electronic requirements.
Within those constraints, plus development timelines and budget considerations, Ocean Insight re-engineered off-the-shelf components originally designed for stationary use – a high-definition camera with pan-tilt gimbal and joystick controller – into a system certified to aircraft testing standards and environmental conditions. From project inception to delivery of a fully qualified system took less than a year.
'With this project, we took a unit that was designed as a land-based vision system and quickly adapted, tested and integrated it for something that was outside its original design intent,' said Kremens. 'The moral of the story is that with clever systems engineering, you can do novel things in spaces that aren't usually considered.'
Expanding horizons to save lives
Although Ocean Insight is best known for its spectroscopy and multispectral sensing products, the company is well equipped to engineer solutions across a range of industries and applications. Many of its customers are aware of its expertise in the basics of spectroscopy, but don't realise that they have the application ability necessary to provide a full solution. 
The Sikorsky project was undertaken by Flux Data, which in 2019 was consolidated into Ocean Insight. The solutions engineering acumen exhibited with that project – and most of the original project team, which made the transition to Ocean Insight – has further expanded and strengthened in just the last year.
After dozens of missions, hundreds of hours of flight time and many lives saved, only two of the camera systems have ever needed maintenance, and those setups were involved in natural disasters. Sikorsky's first customer for the system had such a positive experience that other coastguard organisations expressed interest in the life-saving technology.
For those responsible for keeping us safe – at security checkpoints, at screening locations and throughout our daily activities – an effective combination of robust sensing equipment and solutions engineering expertise can meet the challenge.