EPIC partners with Russian Laser Association
The European Photonics Industry Consortium (EPIC) has partnered with the Russian Laser Association (LAS) to help encourage cooperation between the consortiums and its members. 
A memorandum of understanding was signed on 27 February 2018 during the 14th international exhibition for laser, optical and optoelectronic technologies at the Expocentre fairgrounds in Moscow, Russia. 
The agreement will provide a platform for members of each consortium to reach the other's relevant government representatives, public funding bodies, as well as other entities in the region, and will facilitate delegate visits of each association's businesses and industry events.
Established in 1990, the Russian Laser Association is an international scientific-technical organisation that unites institutions and individuals in the laser markets of countries within the commonwealth of independent states (CIS). According to its statute, LAS is a self-sustained, non-profit association dedicated to advancing knowledge and practical use of laser-based technologies. More than 420 corporate members have joined LAS in 1990-2017.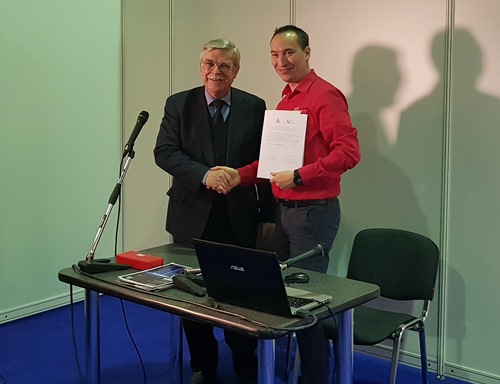 Ivan Kovsh, president of the Russian Laser Association, and Carlos Lee, director general of EPIC 
'The members of our association have expressed high interest in engaging with the members of EPIC... we are pleased to sign the collaboration agreement,' said Ivan Kovsh, president of the Russian Laser Association.
'I am pleased to support and work closely with an effective organisation such as EPIC to increase collaboration between Europe and Russia,' said Dr Viacheslav Artyushenko, CEO and founder of Art Photonics in Berlin, and an active member of EPIC.
Carlos Lee, director general of EPIC, added: 'EPIC's model of connecting the European photonics community worldwide is through collaboration and partnerships. There is so much that can be done to further promote photonics technologies, no single organisation can properly do this single-handedly. It's a privilege to work with the Russian Laser Association.'
EPIC is an industry association that promotes the sustainable development of organisations working in the field of photonics. Its members encompass the entire value chain from lighting, photovoltaic, photonics integrated circuits, optical components, lasers, sensors, imaging, displays, projectors, fibre optcs and all other photonics related technologies. EPIC fosters a vibrant photonics ecosystem by maintaining a strong network and acting as a catalyst and facilitator for technological and commercial advancement. EPIC represents 370 companies across 34 countries.