Fraunhofer develops cheap, sensitive organic photodiodes on silicon
The Fraunhofer Institute for Organic Electronics, Electron Beam and Plasma Technology FEP will be will be introducing a new generation of organic photodiodes on silicon substrates (OPD-on-silicon) at the SEMI European Imaging & Sensors Summit 2017 taking place in Grenoble, France on September 20-22.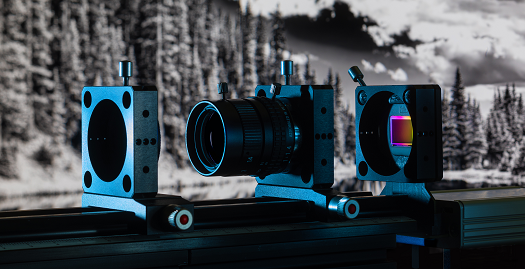 The new organic photodiodes are fabricated at wafer-level and offer high sensitivity outside the visible wavelength. (Credit: Fraunhofer FEP)
The new organic photodiodes provide an economical alternative to conventional silicon-based CMOS sensors, which are limited to a restricted wavelength – usually in the visible spectrum – and hybrid near-infrared sensor solutions, such as InGaAs/CMOS combinations, which are considerably more costly to fabricate and prone to defects than standard CMOS processes.
Fraunhofer FEP's new photodiodes are instead fabricated economically at wafer-level and offer high sensitivity outside the visible wavelength region.
'It is sensitive at wavelengths up to 1,000nm,' commented Philipp Wartenberg, head of the IC and system design department at Fraunhofer FEP. 'We are able to develop customer- and application-specific organic photodiodes with optimised properties… through appropriate adaption of material.'
This allows the new photodiodes to be employed over the entire bandwidth of conventional applications in industry, automotive, and medicine. They can also be used for the quality control of foodstuffs, as fingerprint sensors, or in biomedical tests.
'We will be debuting an organic photodiode array with SVGA resolution at SEMI European Imaging & Sensors Summit 2017,'  Wartenberg continued. 'That means 800 × 600 pixels available for detection applications. We have demonstrated that it is fundamentally feasible to fabricate a high-resolution organic photodiode matrix at this order of magnitude.'
The scientists are now making the new technology available to industrial partners in order to jointly develop and produce optimised organic photodiodes and arrays as image sensors for their respective applications.
Related news