Kyocera to acquire SLD Laser
An application of SLD's laser light source
Japanese electronics manufacturer, Kyocera, has concluded an agreement to acquire 100 per cent ownership of SLD Laser, a developer of visible laser light sources for automotive, mobility, medical, li-fi communication, sensing, speciality lighting, and consumer applications.
Under the agreement, SLD Laser plans to begin operating as a Kyocera group company upon approval of regulatory authorities.
California-based SLD Laser was co-founded in 2013 by a group of pioneers in solid state lighting, including Dr Shuji Nakamura (2014 Nobel Laureate in Physics), Dr Steve Denbaars, Dr James Raring, and Dr Paul Rudy.
The independent spin-off from Soraa Inc holds an intellectual property portfolio with more than 500 patents. The company's recently released products are more than 10 times brighter than today's LED lights, capable of illuminating objects 1km away while using less power than traditional technology.
Related story: A new type of solid state sources for speciality lighting - Dr Paul Rudy explains the latest developments in GaN laser diodes and laser pumped phosphor architectures
In an article for Electro Optics, Dr Paul Rudy wrote that progress in the integration of GaN laser diode pumped phosphors has enabled a new category of solid-state light sources that deliver advanced illumination effects in ultra-compact form factors. 'These droop-free light sources combine the benefits of solid-state illumination – such as minimal power consumption and long lifetime – with point-source-like high luminance, thereby enabling safe and incoherent directional output that has, up until now, only been possible with legacy technology,' he wrote.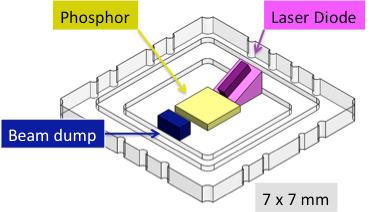 An example of laser light source architecture: high optical power blue laser light is focused to a small spot on a phosphor and converted to high luminance white light
In February, SLD Laser announced an investment of $50 million from TDK Ventures, to further expand its business. 
By integrating SLD Laser's advanced GaN expertise with its own production technologies and R&D capabilities in fine ceramic-related businesses, Kyocera hopes to enter new markets and industries.