L'Oréal and UNESCO recognise young women researchers
Fifteen young women researchers have been recognised in the L'Oréal-UNESCO 'For Women in Science awards for their contributions in disciplines such as ecology and sustainable development, physics, pharmacology, epidemiology, medical research, neuroscience and evolutionary biology.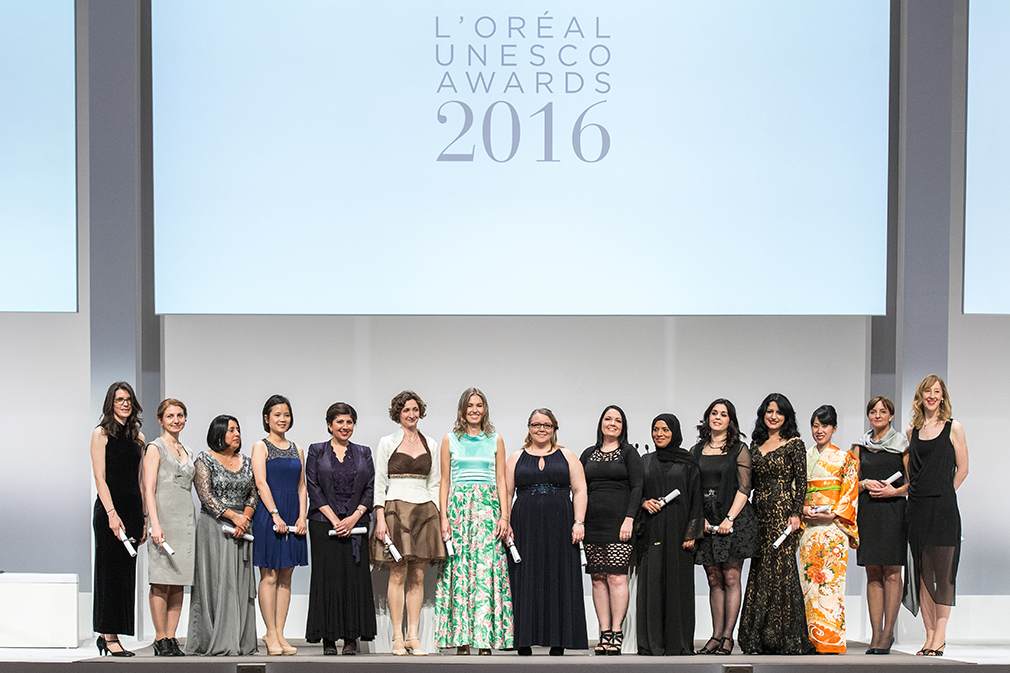 Last year's winners at the L'Oréal-UNESCO award ceremony. Credit: L'Oréal-UNESCO 
The winners will each receive a fellowship in order to support and encourage them to pursue their scientific careers. Together with the five laureates of the 2017 L'Oreal-UNESCO For Women in Science awards, they will participate in a week of events, training and exchanges that will culminate with the award ceremony on 23 Marchin Paris. 
According to UNESCO statistics from 2014, women account for only 30 per cent of the world's researchers. Since 1998, the L'Oréal-UNESCO For Women in Science programme has highlighted the achievements of outstanding women scientists and supported promising younger women who are in the early stages of their scientific careers.
The 2017 International Rising Talent are recognised for their work in the following five categories:
Watching the brain at work
·  Doctor Lorina NACI, Canada
Fundamental medicine
In a coma: is the patient conscious or unconscious? 
·  Associate Professor Muireann Irish, Australia
Clinical medicine
Recognising Alzheimer's before the first signs appear

On the road to conceiving new medical treatments
·  Doctor Hyun Lee, Germany
Biological Sciences
Neurodegenerative diseases: untangling aggregated proteins.
·  Doctor Nam-Kyung Yu, Republic of Korea
Biological Sciences
Rett syndrome: neuronal cells come under fire
·  Doctor Stephanie Fanucchi, South Africa
Biological Sciences
Better understanding the immune system.
·  Doctor Julia Etulain, Argentina
Biological Sciences
Better tissue healing. 
Finding potential new sources of drugs
·  Doctor Rym Ben Sallem, Tunisia
Biological Sciences
New antibiotics are right under our feet.
·  Doctor Hab Joanna Sulkowska, Poland
Biological Sciences
Unraveling the secrets of entangled proteins.
Getting to the heart of matter
·  Ms Nazek El-Atab, United Arab Emirates
Electrical, Electronic and Computer Engineering
Miniaturizing electronics without losing memory.
·  Doctor Bilge Demirkoz, Turkey
Physics
Piercing the secrets of cosmic radiation.
·  Doctor Tamara Elzein, Lebanon
Material Sciences
Trapping radioactivity.
·  Doctor Ran Long, China
Chemistry
Unlocking the potential of energy resources with nanochemistry.
Examining the past to shed light on the future – or vice versa
·  Doctor Fernanda Werneck, Brazil
Biological Sciences
Predicting how animal biodiversity will evolve.
·  Doctor Sam Giles, United Kingdom
Biological Sciences
Taking another look at the evolution of vertebrates thanks to their braincases. 
·  Doctor Ágnes Kóspál, Hungary
Astronomy and Space Sciences
Looking at the birth of distant suns and planets to better understand the solar system.