PhotoniCare raises $7.2 million for OCT middle ear imaging
PhotoniCare, a developer of OCT devices to diagnose and monitor middle ear infections, has announced an oversubscribed $5.2 million Series A financing round. 
Combined with a $2.1 million Phase II Small Business Innovation Research grant from the National Institutes of Health in the United States, the company has now raised $7.2 million.  
The Series A financing round was led by i2E Management Company, with co-investment from OSF Ventures, Sony Innovation Fund, and Dreampact Ventures. 
The funds will be used to expand PhotoniCare's executive team, ramp up manufacturing, execute on the company's sales and marketing plan, develop artificial intelligence to enable real-time decision support for the Tomi Scope, and expand reimbursement activities and customer support.
In January, PhotoniCare was granted clearanced from the US Food and Drug Administration (FDA) for its Tomi Scope for non-invasive imaging of the middle ear. 
The device can see through the eardrum to assess middle ear fluid directly, helping to detect the presence or absence of fluid in the middle ear and to characterise the type of fluid.  
Cross-sectional images of the middle ear are shown on the system's screen, alongside high resolution video of the surface of the eardrum (as shown in image below). The healthcare provider is able to evaluate the OCT images of the middle ear while viewing the the otoscopic view of the eardrum surface simultaneously. Both the OCT and otoscopic Images can be saved for later analysis.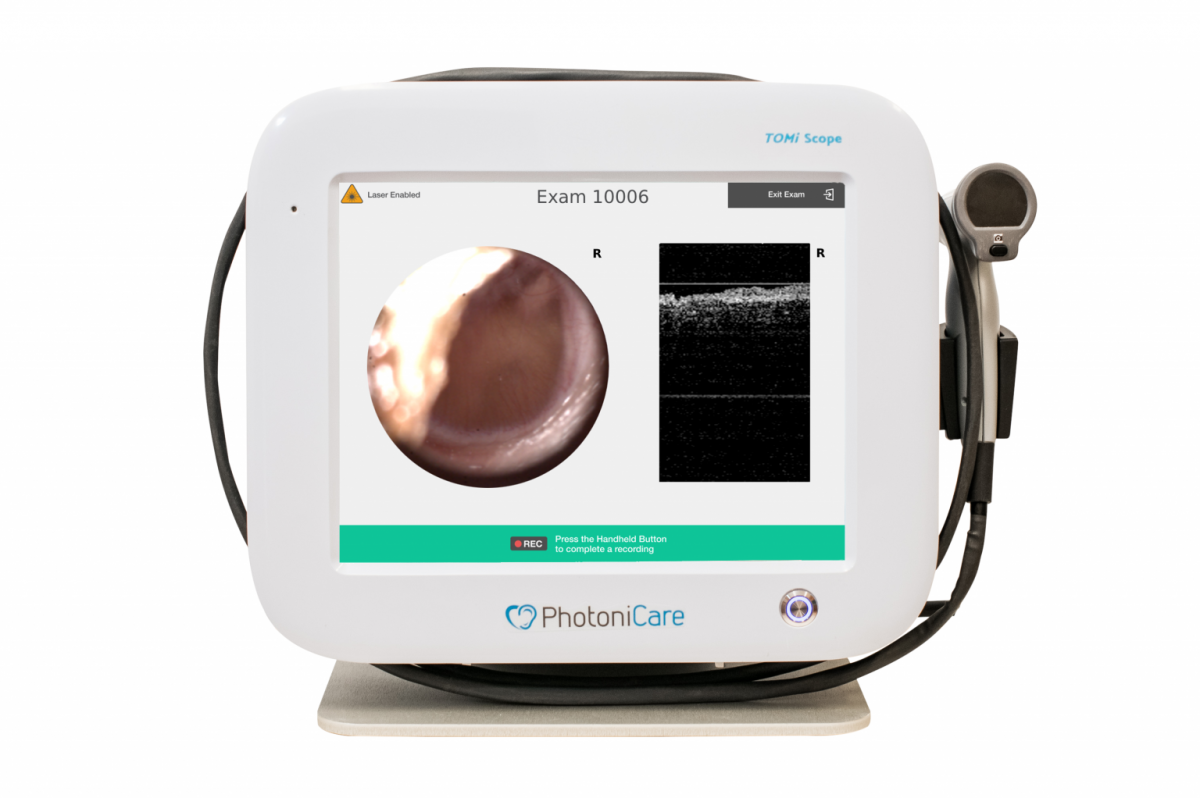 The presence of fluid in the middle ear is a primary indicator for determining ear infection, which is the leading cause of hearing loss, surgery and antibiotic use, especially in children. More than ten million children per year experience ear infections in the US alone; however, the current gold standard of otoscopy is a rudimentary tool that looks only at the surface of the eardrum, leading to misdiagnosis rates as high as 50 per cent.
The Tomi Scope allows physicians to visualise fluid in the middle ear where ear infections reside, and to measure the fluid's density – providing objective data upon which to base their decisions. A recent 70-patient study with Children's National Health System in Washington, DC, demonstrated 91 per cent sensitivity and 90 per cent specificity for Scope's technology for detecting fluid through the intact eardrum.