Photonics outstrips growth of UK economy
The UK photonics sector is growing at twice the speed of the rest of the UK economy, according to new research carried out by the Knowledge Transfer Network (KTN) and the Photonics Leadership Group (PLG).
According to the analysis, photonics manufacturers in the UK contribute £12.9 billion to the country's economy, a figure that has risen by £2.4 billion – or 5.4 per cent – since 2013.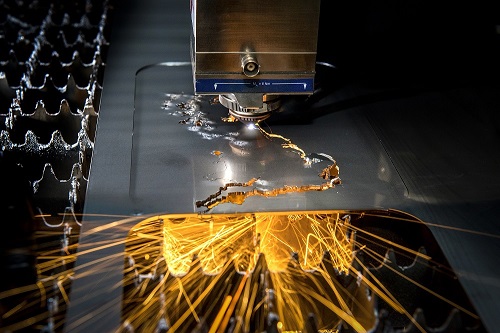 An industrial fibre laser cuts steel at SPI Lasers, which originated as a spin-out from the University of Southampton's Optoelectronics Research Centre. Credit: University of Southampton and SPI Lasers
The research also found that photonics exports are more than 75 per cent of its manufactured output, one of the highest export fractions of any UK manufacturing industry.
In the UK, more than 65,000 people are employed in some 1,500 photonics companies across the country. Moreover, the UK photonics workforce contributes £62,000 gross value added (GVA) per employee to the economy, which as a measure of productivity is almost three times the national average.
The report utilises a fully revised company list and expert industry input on apportionment of revenues of diversified companies to enable UK photonics industry figures to be updated on an annual basis.
The data will also provide the basis foundations for of a new online map of the UK photonics landscape. The map, to be published by the KTN later this summer, will allow visualisation of the industry by sub-sector and region, which confirms to demonstrate the broad wide geographical reach of this key enabling technology.
KTN and PLG were supported by the Future Photonics Hub and Cobalt60 in the preparation of the data.