Quantum dots to overtake OLEDs in TV market, new analysis suggests
In the next few years, quantum dot displays are likely to take a significantly larger share of the TV display market than OLEDs, according to recent analysis by market analysis firm Display Supply Chain Consultants (DSCC). 
By 2021, quantum dot displays are expected to take 34 per cent of the market for TV panels, growing from four million in 2016 to 95 million in 2021, at a CAGR of 88 per cent, whereas OLED TV panels will represent 2.4 per cent of the TV market in 2021, growing from 0.9 million to 6.8 million at a 50 per cent CAGR.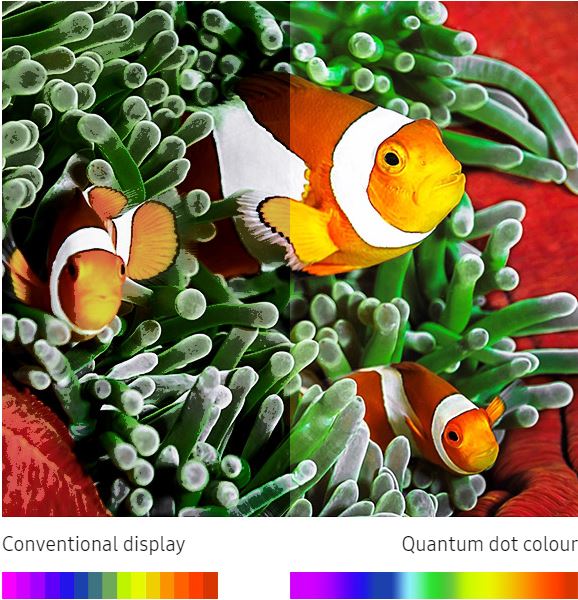 Samsung says that its quantum dot displays express more than one billion colours compared to its conventional high-definition displays that deliver 17 million colours. Credit: Samsung 
Although QD LCDs are set to take a larger market share, both technologies are anticipated to grow faster than the total market for TV panels, which will grow slowly from 261 million in 2016 to 282 million in 2021, at a CAGR of 1.6 per cent. 
The battle of the two technologies has been apparent at this week's consumer electronics show (CES 2017), with South Korean tech giants LG and Samsung launching TVs based on OLEDs and quantum dots respectively. Samsung launched a 190cm QLED 4K TV featuring the latest version of its quantum dot technology, whereas LG released an OLED 4K TV just 2.57mm thick that can be fixed almost flat against a wall. 
Although currently liquid crystal displays (LCDs) dominate the display industry in all applications, OLEDs have managed to capture an important part of the premium space in both the smartphone and TV markets, whereas the recent introduction of quantum dot (QD) technology has allowed QD LCDs to equal the performance of OLED TV in some areas, and surpass it in others. 
According to DSCC's research, the reason QD LCDs are set to overtake OLEDs is because they offer an equivalent – or better – wide colour gamut (WCG) and high dynamic range (HDR) performance, but have significantly lower fab and material costs and support much higher volumes than OLEDs. These WCG and HDR performance factors are frequently paired together in TV sets at the high end (and increasingly migrating to the mainstream) of the market, and a growing amount of content includes both features. 
Quantum dots are tiny crystals with the ability to convert light from one colour to another very efficiently. Their ability to convert and tune a spectrum of light precisely makes them ideal for LCD displays, and can be integrated within the backlighting system of an existing LCD. 
Until now, the white light produced by LCDs had a broad spectrum in the red and green space. In contrast, with quantum dots the green and red portions of the white light have a narrow spectrum, and therefore less light gets removed by the colour filter, improving both the colour and the energy efficiency of the display. 
QD LCD panels are expected to reach 88 per cent penetration of the 70+ inch market, 71 per cent of the 60-69 inch market and 64 per cent of the 50-59 inch market. The growth of quantum dot TV will start with premium products, DSCC's analysis predicts, which in TV means the largest sizes, and migrate steadily towards smaller sizes. 
Because QDs can be used across the gamut of LCD capacity, they will be introduced at a wide variety of screen sizes and by almost all brands. 
The largest volume of QD LCD panels will be in the 55 inch size category, since this size is made very efficiently with a 6-cut on Gen 8.5 fabs, which represent more than 50 per cent of LCD industry capacity. The 65 inch category will also see tremendous growth.  
DSCC's research also expects that OLED TV penetration will be highest at 65 inches, reaching 11 per cent of the 2021 60-69 inch market. 
Related stories
Driven by design: Although OLED displays are now available commercially, the technology has not been as prevalent in other markets. Jessica Rowbury looks at the potential for using OLEDs in other applications
Further information