UN proclaims 2015 as the International Year of Light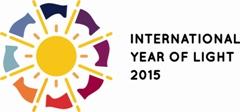 The year 2015 has been named the International Year of Light (IYL 2015) by the United Nations General Assembly. The initiative will aim to raise global awareness of how light-based technologies promote sustainable development and provide solutions to global challenges in energy, education, agriculture and health.
The initiative, announced on 20 December 2013, is the result of work undertaken by a large consortium of scientific bodies together with UNESCO, and will bring together many different stakeholders to promote and celebrate the significance of light and its applications during 2015.
A number of preparatory actions have already been planned for 2014, including coordinated outreach by the European Centres for Outreach in Photonics via the GoPhoton! project, and many other local, regional and international events to raise awareness of photonics in 2015.
The GoPhoton! project will officially launch in 2014 and will include a wide range of activities that will run in eight different European cities. The activities, all revolving around light, will include entertainment events, exhibitions, talks, congresses, and the possibility to visit centres devoted to frontier research in photonics.
2015 will also mark a number of significant anniversaries in photonics, from the first studies of optics 1,000 years ago during the Islamic Golden Age to discoveries in internet optical fibre technology in 1965.
John Dudley, chairman of the IYL 2015 steering committee, said: 'An International Year of Light is a tremendous opportunity to ensure that policymakers are made aware of the problem-solving potential of light technology.'
SPIE president-elect, Philip Stahl, added: 'SPIE is delighted with the United Nations proclamation and excited about this powerful opportunity to help further greater understanding of photonics. The International Year of Light will help raise awareness of the possibilities inherent in light-based science and engineering.'
'Civilisation would not exist without light; light from our Sun and light from the focused and coherent lasers which now have become an important part of our daily lives – from scanning packages at supermarkets, to eye surgery, to IT communications across oceans. The International Year of Light will surely raise awareness of these powerful discoveries and their present wide-ranging, light-based technologies which are significant contributors to the world market,' Nobel Laureate Ahmed Zewail of the California Institute of Technology said in a statement. Zewail was awarded the Nobel Prize in Chemistry in 1999 for his work using femtosecond spectroscopy.
The IYL 2015 resolution was submitted to the United Nations Second Committee on 6 November 2013 by the nation of Mexico, with delegates from Mexico and New Zealand speaking in support, and co-sponsorship from 35 countries. Endorsed by numerous international scientific organisations and the International Council for Science, IYL 2015 will be administered by an international steering committee in collaboration with the UNESCO International Basic Sciences Programme and a Secretariat at The Abdus Salam International Centre for Theoretical Physics in Italy. National and regional committees and contact points that are currently being established will ensure all nations of the world can participate in the event. 
The Founding Scientific Sponsors of IYL 2015 are: the European Physical Society (EPS); the international society for optics and photonics, SPIE; the Optical Society (OSA); the IEEE Photonics Society (IPS); the American Physical Society (APS); and the lightsources.org international network.