Winner of 2017 Young Investigator Award announced at Photonics West
The winner of Ocean Optics' annual Young Investigator Award has been announced at SPIE BIOS/Photonics West this week in San Francisco.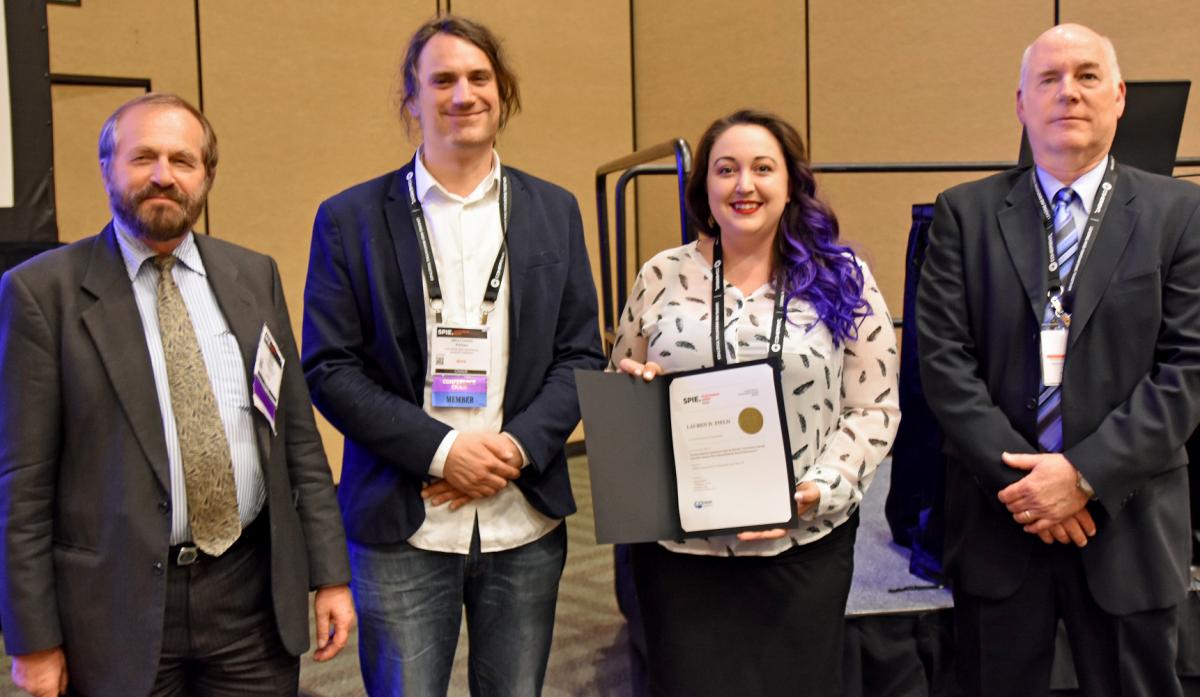 Lauren Field of the United States Naval Research Laboratory was honoured for leading the winning article. (Credit: Ocean Optics)
The Young Investigator Award is presented to a researcher who is a current or recent graduate student and is the primary author of the best juried paper submitted as part of the 'Colloidal Nanocrystals for Biomedical Applications XII' symposium.
Lauren Field of the United States Naval Research Laboratory was honoured for leading the winning article 'Semiconductor quantum dots as Foerster resonance energy transfer donors for intracellularly-based biosensors'. The award was presented by the co-chairs of the Colloidal Nanoparticles for Biomedical Applications conference Dr Wolfgang Parak and Dr Marek Osinski, along with Ocean Optics' director of sales, Alan Wells.
Cash prizes were presented to the winner and runner-up of the award, with grants of Ocean Optics equipment made to the laboratories where their work was performed.
Co-authors of the winning paper included Scott Walper, Igor Medintz and James Delehanty from the US Naval Research Lab, along with Kimihiro Susumu and Eunkeu Oh from Sotera Defense Solutions.
Thorben Badur from the Philipps-University Marburg was the recognised as the runner-up of the award for leading the paper 'Photochemical generation of antimicrobial Ag-nanoparticles in intraocular lenses'.
Wentao Wang from Florida State University was the recipient of the award last year for the paper 'Design of a multi-coordinating polymer as a platform for functionalizing metal, metal oxide and semiconductor nanocrystals'.
Ocean Optics has sponsored the Young Investigator Award since 2005 and has long supported young scientists from around the world through sponsorships, grant programmes and partnerships. 'It's very exciting for us to collaborate with researchers at the forefront of new developments in nanotechnology and life sciences applications,' said an Ocean Optics spokesmen at Photonics West last year.