The latest optical fibres in 2023
Optical fibres are widely used in laser technology to deliver and manipulate laser light. The laser light is typically generated in a laser cavity and then directed through the optical fibre to its desired location. The fibres are made of a thin, flexible glass or plastic core, surrounded by a cladding layer that reflects light back into the core, and a protective coating.
There are two main types of optical fibres used in laser technology: single-mode and multimode fibres. Single-mode fibres have a small core diameter and are designed to propagate a single mode of light, which makes them ideal for applications that require high precision, such as telecommunications and scientific research.
Multimode fibres, on the other hand, have a larger core diameter and are designed to propagate multiple modes of light, making them suitable for applications that require higher power delivery, such as industrial laser cutting and welding.
In addition to their high precision and power delivery capabilities, optical fibres have several other advantages, including flexibility, compact size, and the ability to transmit light over long distances without loss of signal quality. These characteristics make optical fibres a popular choice for a wide range of laser applications, from medical equipment and scientific research to telecommunications and industrial manufacturing.
Optical fibre products on the market now
Advanced Fiber Tools is a manufacturer of fibre optic products for medical, industrial and scientific applications. The company's main business is the production of multimode and single-mode fibres as well as special fibres. Its core competence includes the manufacture of medical laser probes for minimally invasive surgery, therapy, diagnosis, industrial cables, fibre bundles and OEM products.
Avantes develops and manufactures spectrometers, light sources, software, fibre optic cables, and accessories. Products are highly customisable, adaptable to any specific application. The company's products are widely used in OEM applications and markets, as well as in science and industry.
AMS Technologies provides an exceptionally large portfolio of fibres and fibre optics, ranging from optical fibres, patch cables, fibre bundles and assemblies to a broad variety of fibre components.
AFL is a supplier of optical fibres for lasers used in telecommunications, aerospace, and other industries. The company offers a range of single-mode and multimode fibres with high power handling capabilities.
CSRayzer provides a number of fibre-optic components, including polarisation-maintaining and single-mode fibre couplers, WDM couplers, isolators, circulators, filters, phase shifters, collimators and hybrid components. These components could work in full temperature conditions, and suitable for special applications such as aerospace and military.
Edmund Optics offers a variety of optical fibres, including jacketed or unjacketed optical grade or communications-grade fibre. Optical grade optical fibre is used for general industrial lighting or short distance data transmission, while communications grade optical fibre is designed for optimal visible light transmission for digital or analog links. The company also offers components, including patch cords, collimators, faceplates, or the tools needed for cutting or stripping the fibres.
Fibercore is a UK-based company that specialises in the design and manufacture of specialty optical fibres for use in lasers and other applications. The company provides a wide range of fibres for both single-mode and multimode applications.
Fujikura is another major manufacturer of optical fibres for lasers. A range of single-mode and multimode fibres for use in industrial, medical, and scientific applications are available from the firm.
Guiding Photonics produces fibre-optic beam delivery solutions for mid-infrared, high-power and UV sources. The product range includes standard products, custom cables, and fibre bundles.
iXblue offers a wide range of specialty optical fibres, either for lasers and amplifiers or sensing applications. Hundreds of fibre designs are available from stock  and custom versions are also available. Most of the fibres are also available in radiation-resistant versions, either for nuclear environments or for space missions.
NKT Photonics says that optical fibres are at the heart of everything it does. It embeds functionality into fibres to make its systems upon which they are based simpler and more reliable. The company's Crystal Fibre portfolio spans from nonlinear fibres for octave-spanning supercontinuum generation, over single-mode ytterbium gain fibres for high power lasers and amplifiers, to advanced hollow-core fibres guiding the light in air.
OFS provides fibre optic solutions to several areas including communications, medicine, industrial automation, sensing, aerospace, defence, and energy. For fibre lasers, the company offers TrueLase active and passive optical fibres, combiners, Raman fibre laser modules, and VLMA amplifier modules.
OZ Optics offers a variety of specialised optical fibre products for telecom, scientific, and educational applications. Products include patch cords, splitters/combiners, polarizers, isolators, fused/PLCS couplers, test equipment; laser/laser diode to fibre delivery systems and more.
PhotonTec develops, manufactures, and markets fibre-coupled laser diodes and DPSS lasers from 266 to 1550 nm. Additionally we provide optical fibre cable for laser beam delivery, high power fibre combiner, UV-IR spectrometer, and customised optical components.
Thorlabs is a well-known supplier of optical fibres for lasers, amongst other optical components. The firm offers a variety of single-mode and multimode fibres with a range of core diameters and numerical apertures.
This is not an exhaustive list. If you supply optical fibres to OEMs and want your company included, please email: editor.electro@europascience.com.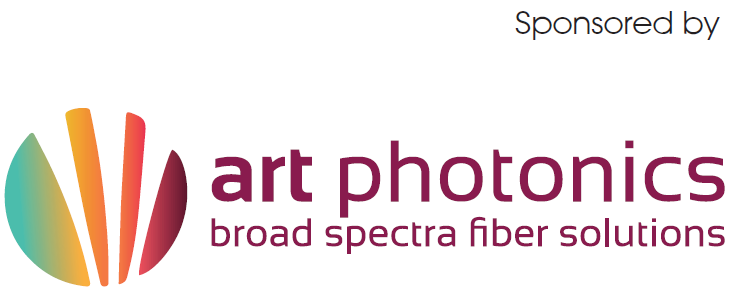 art Photonics: Featured optical fibre product
Broad Spectra Fiber Solutions from art photonics: Introducing FlexiRay, the ultimate solution for light coupling and delivery. From lasers to LEDs, ICLs and QCLs, its unique fibre solutions provide a high transmission from 180nm up to 18 micrometers, enabling synergy
with any possible light source.
art photonics offers UV-VIS and VIS-NIR Silica, Hollow Glass Waveguides, Chalcogenide (CIR), and Polycrystalline (PIR) fibres, which are not limited to power delivery but can be used for a range of applications including fluorescence and Raman spectroscopy, laser
radiation delivery, remote monitoring, and more.
The FlexiRay fibres allow for coupling and stable transmission of light, while FlexiRay bundles enable the combination of radiation from multiple sources into one cable, making it easy to create customisable spectral systems.
art photonics's team of experts is dedicated to delivering the highest quality fibre products at competitive prices, and the company's credo is always to find the best fibre solution and tailor it to meet your specific needs.
Choose art photonics for all your fibre optic needs and experience the ultimate in precision and reliability. Contact art photonics today to learn more about its products and services.