The latest optical filter technology for 2023
Optical filters are used to selectively transmit or reject light of different wavelengths. They can usually pass long wavelengths only (longpass), short wavelengths only (shortpass), or a band of wavelengths, blocking both longer and shorter wavelengths (bandpass). 
Types of optical filters include absorptive, interference and dichroic filters. They are used in applications such as optical imaging, photography, test and measurement, lighting and illumination, astronomy, as well as fluorescence applications such as fluorescence microscopy and fluorescence spectroscopy.
Absorptive filters are simpler filters that are generally used to absorb specific wavelengths of light. The more complex interference or dichroic filters, on the other hand, can comprise multiple optical coatings with precise thicknesses designed to transmit the desired wavelength range and reflect unwanted wavelengths. The latter can be high-pass, low-pass, bandpass, or band-rejection filters.
Advances in optical coatings over the years have generated explicit applications, which, according to Verified Market Research's latest report, are leading to an upward trend in the market. The company says the global optical filters market size was valued at $1.46bn in 2021 and is projected to reach $3.32bn by 2030, growing at a compound annual growth rate (CAGR) of 7.81% from 2022 to 2030.
In particular, according to the Global Optical Filters Market Size By Product (Coloured Optical Filter, Bandpass Optical Filter), By Application (Medical Equipment, Household Electronics), By Geographic Scope And Forecast report, the Asia-Pacific market is expected to grow at a significant growth rate. It is likely that large construction projects to improve infrastructure, especially in Indonesia, Vietnam and India, will boost demand for the optical filter in the construction industry market, which is predicted to become the most significant market for optical filters during the projected period.
Optical filters on the market now 
Vendors that offer optical filters include Alluxa, an ISO 9001:2015 certified manufacturer of high-performance optical filters and thin-film coatings. Its Ultra Series of optical filters and thin-film coatings are rigorously tested to ensure the highest possible performance and quality for each filter type, and all are designed and specified to exceed the performance of any comparable optical filters on the market. The company's ultra-narrow bandpass filters achieve greater than 90% transmission, along with sub-nanometre bandwidths, wide-range out-of-band blocking, and steep edges.
Artifex Engineering offers custom absorption filters and dielectric filters, including bandpass, longpass, shortpass or neutral density.
CeNing Optics provides a variety of optical filters, including coloured glass, narrowband interference and bandpass. 
Delta Optical Thin Film provides specialised, custom designs, as well as volume manufacture of high-performance custom optical filters for OEM customers. Homogenous bandpass, edge and blocking filters and beam splitters are available, as well as continuously variable filters. 
Ecoptik produces glass filters of different types for selecting certain radiation bands. The company can also make many different types and custom optical filters, such as optical comb filters, high-/low-pass filters and linear variable filters.
Edmund Optics offers a variety of optical filters, including bandpass interference, notch, edge, dichroic, colour substrate or neutral density. 
Incom is a manufacturer of glass and polymer-fused fibre optic faceplates and tapers, as well as polymer and glass microstructures. The firm has designed and developed large format tapers for X-ray crystallography, microwell arrays for genome sequencing, large format faceplates for medical X-ray, and microcapillary arrays for TOF and neutron detection.
Iridian Spectral Technologies' optical filters cover the spectral range from UV 300nm to LWIR 10μm. Its product range includes narrow bandpass filters, steep-edge long- or short-pass filters, dichroic-edge filter, notch filter, multi-zone filter and other special coating filters.
IRD Glass custom manufactures optical filters that are designed to expand the applications and improve the capabilities of optical components. IRD works with a variety of filter glass materials from well-known filter glass manufacturers. IRD Glass also has the capability to apply thin-film optical coatings, from UV through the IR spectrum.
iXblue offers a broad range of fibre bragg gratings to address applications in industries such as telecommunications, sensing, harsh environments, research and development and more. 
Laser Components offers different designs, including beam splitters and bandpass, band-stop, short-pass and long-pass filters, with wavelength ranges from the UV to the FIR. 
MKS Newport's optical filters range from fluorescence filters for DNA analysers, to notch filters for laser safety eyewear. 
Materion offers bespoke filter designs for applications such as space, science and astronomy, defence, process control, gas sensing and flame detection, thermal imaging, display, automotive sensing and medical instrumentation. 
Ocean Insight's filters absorb light energy in certain regions of the spectra for a variety of applications, including fluorescence and Raman experiments. 
Omega Optical specialises in filters for OEM customers all over the globe. The firm prides itself on being one of the pioneers of optical filter manufacturing. With more than 50 years of experience, Omega's team of engineers can provide feedback on applications ranging from PCR to high-tech farming, quantum computing, machine vision and satellite-communications.
Spectrogon designs and manufactures optical interference filters for several applications, such as medical, process industry, thermal imaging, power distribution and surveillance and defence. 
Thorlabs' optical filters include dielectric-coated filters, coloured glass filters, neutral density filters, spatial filters, and a tuneable optical filter based on liquid crystal technology. 
UltraFast Innovations (UFI) offers spectral filters for ultrashort pulse applications – for example, for preserving the pulse duration of reflected or transmitted pulses. 
This is not an exhaustive list. If you provide optical filters and would like your company to be included, please let us know at: editor.electro@europascience.com.

Omega Optical: Featured optical filter product
Omega specialises in filters for OEM customers all over the globe. We pride ourselves in being one of the pioneers of optical filter manufacturing. We can easily accommodate any order, whether you need 1, 25, 100, or 5,000 interference filters. This kind of capacity allows for high-volume lots, helping our customers achieve low prices. We offer a variety of filter types including bandpass, narrowband, wideband, longpass, shortpass, rejection band, beamsplitters and mirrors in any of the following configurations:
Protected & Surface coatings
Wavelengths: 190nm - 2,500nm
Substrate size: 2 - 200mm (ask about larger sizes)
Filter thickness: 0.5 - 50mm
Substrate materials: BK-7, Borofloat, Fused silica, Sapphire, Germanium, Silicon, Coloured glasses
With over 50 years of experience, our elite team of engineers can provide feedback on applications ranging from PCR to high-tech farming, quantum computing, machine vision and satellite-communications. Contact Omega Optical to help perfect your specifications!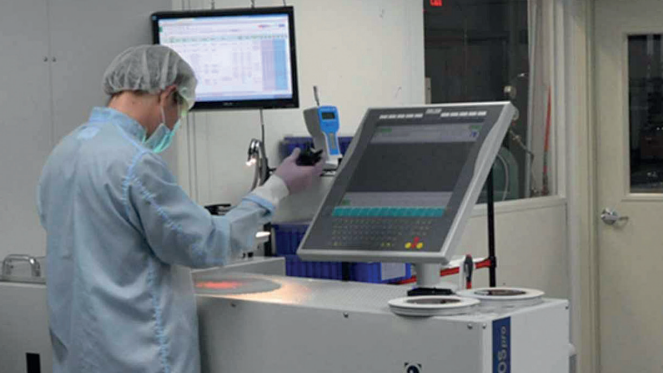 CeNing Optics: Featured optical filter product
CeNing Optics is a professional manufacturer of optics. We manufacture high-quality optical lenses including singlets, doublets and cylindrical lenses. We manufacture lenses not only in standard design but also custom design. With thousands of manufacturing tools in-house and advanced manufacturing technology, we can manufacture optical lenses in a short time but at low cost. We are able to take customer projects from prototype to volume production. The available materials include popularly used glass like BK7 and fused silica, and optical glass from Schott, CDGM and Ohara. The lenses' diameters range from 1mm to 300mm. We can achieve surface quality up to 10-5S/D and L/8 flatness, the centration of lenses being up to 30 arcsec. Anti-reflective coating is also available upon request. Quality guarantee is our top priority. Find out more about CeNing Optics' lenses by visiting the company website.