MicroLEDs prepare to take flight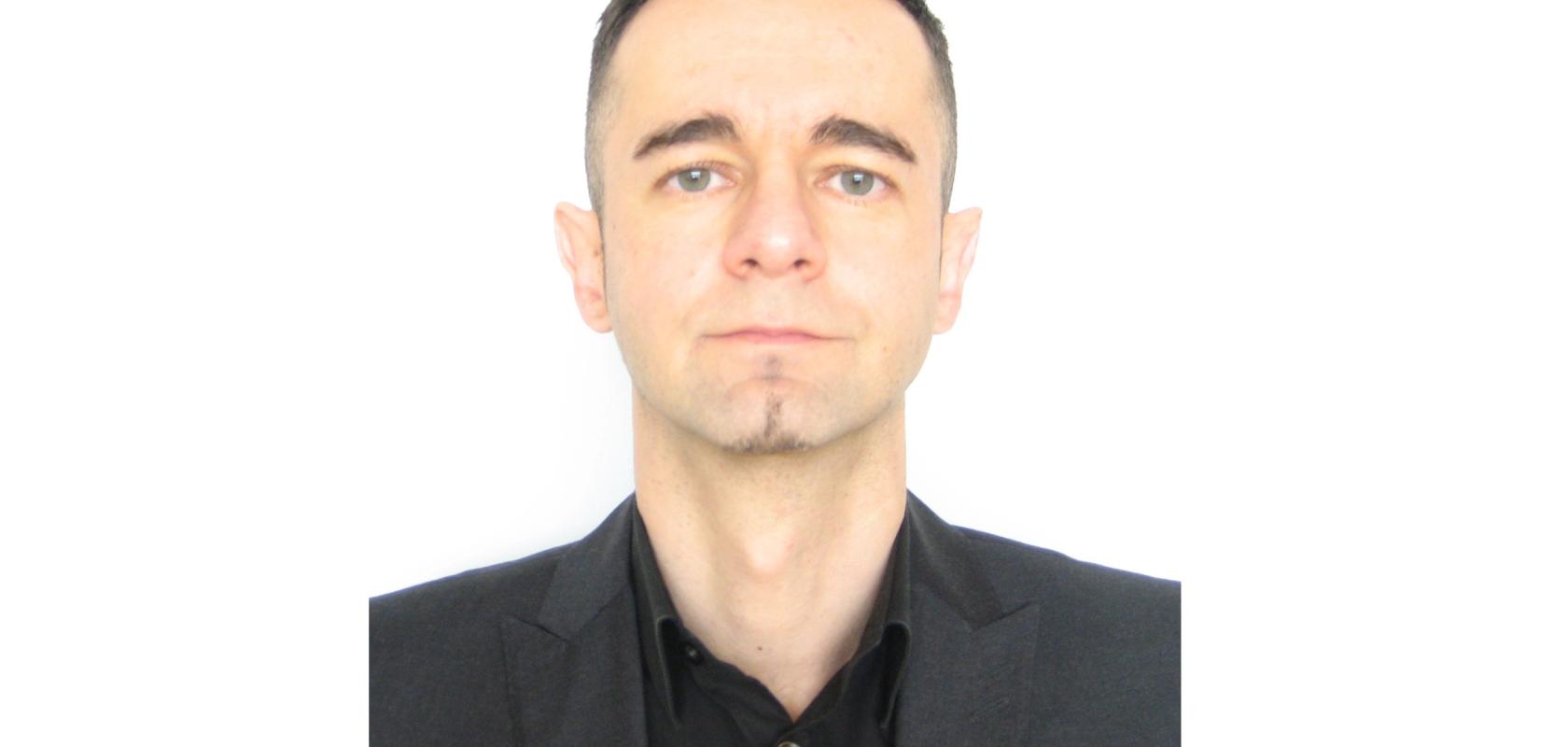 The microLED industry is close to a defining moment, with many encouraging signs for increased production and reduced costs, but the flight plan is not yet confirmed and there are still obstacles on the runway.
Today, microLED prototypes are available in a variety of sizes, form factors, pixel densities, and as transparent or flexible displays, but there is no one application imminent to drive adoption.
MicroLED applications
MicroLEDs are well-positioned for success in enterprise augmented reality (AR), such as warehouse-related applications. 
Vuzix, for example, introduced a commercial product last year and other products and prototypes are expected to be available in 2023. Most of these emerging products use micro displays from JBD (Jaybird Displays).
Consumer AR however still lacks a "killer app". Challenges include issues around computing, processing bandwidth, thermal management, form factor and social acceptance. 
For the automotive market, microLEDs are attractive for flexible displays within the vehicle. But it may be some years before the technology is mature enough to be at the right price point.
Samsung has been showing microLED TVs for five years. An 89-inch model planned for 2022 has been pushed back to 2023 or later, and when it is available, it is likely to be priced at over $80,000.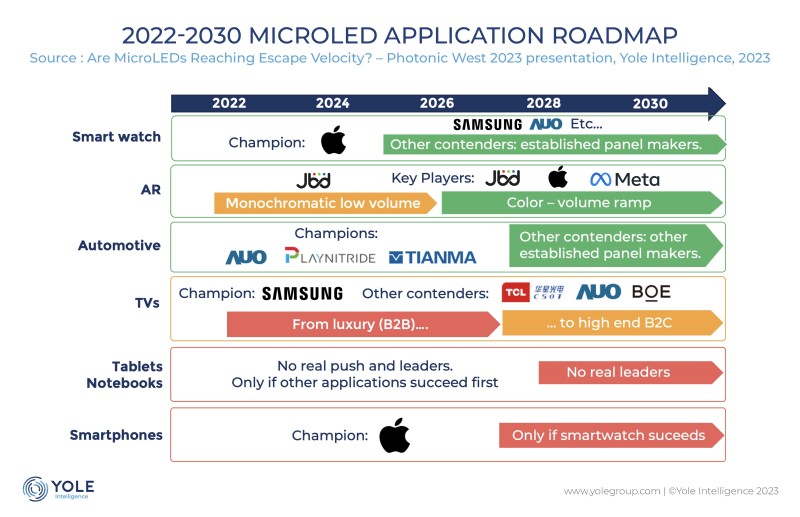 There is little traction for microLEDs in notebooks and tablets, but the cost-sensitive smartphone is probably the most challenging application. Success here may only be possible after a successful smartwatch introduction. 
Apple, Samsung and AUO are all working on a microLED smartwatch. 
Volume manufacturing
Apple is understood to have spent over $2.5 billion in microLED R&D and, together with its supply chain partners, is ready to invest further with an estimated $2 billion for setting up volume manufacturing. Partners, such as Osram, are spending around €800 million on other manufacturing steps to start producing smartwatch microLED displays in 2025. 
There are many other examples of companies setting up for volume manufacturing or microLED pilot lines. Taiwanese company AUO has announced it will be manufacturing microLEDs as early as the end of 2023. JBD and Aledia have invested $100 million each in their respective fabs, Sanan Optoelectronic is spending nearly $2 billion on a combined miniLED/microLED industrial base, and Epistar has announced that it will build multi-phase microLED foundries, with production expected to start in 2024.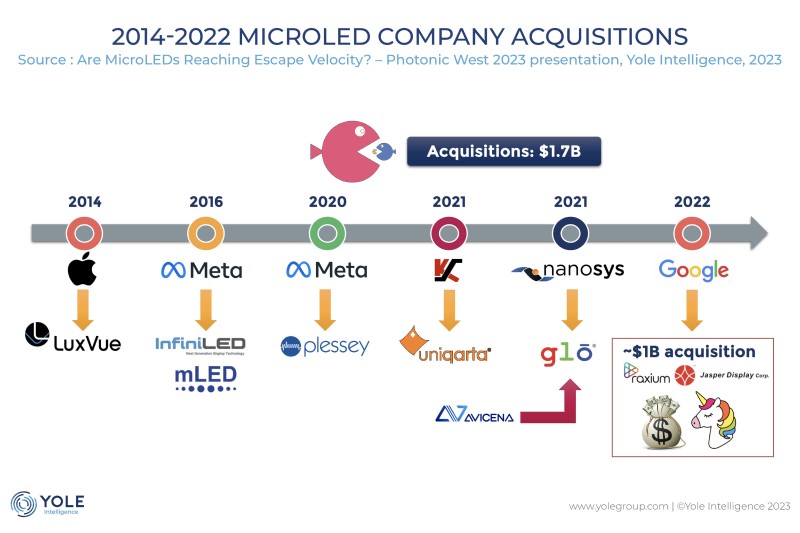 Strong domestic ecosystems are emerging. In Taiwan, Ennostar built a microLED foundry using technology from startup, PlayNitride. AUO owns 9% of PlayNitride and recently increased its stake in Ennostar to 17%. Samsung is a customer of both AUO and PlayNitride and is the largest shareholder in the latter. Another ecosystem is built around Foxconn and InnoLux.
In China, BOE recently acquired a controlling share in LED manufacturer HC SemiTek, while display makers CSOT and Visionox have joint ventures Sanan.
In 2014, Apple brought microLED technology to people's attention, with the acquisition of startup, Luxvue. In 2016, Facebook (now Meta) acquired two startups, infiniLED and mLED, and in 2020 acquired exclusivity to Plessey Semiconductor's capacity and capabilities. There was also the first microLED unicorn, Raxium, acquired by Google in 2022 for more than $1 billion. 
The cost challenge
Today, microLED TVs are 20-50 times more expensive than the best OLED TV on the market. MicroLEDs are at the intersection of several mature industries. Leveraging technologies, processes, equipment and infrastructures of the silicon-based semiconductor, LED and display industries could realise a significant price reduction fairly quickly. The focus for R&D can therefore be the few technical obstacles specific to microLEDs.
Initially, companies tried to shoehorn microLED fabrication into traditional LED fabs. But as die size decreases, the defect rates will inevitably increase, and yield costs will skyrocket. Adopting a semiconductor industry's mindset of better cleanrooms, equipment, and higher level of automation will improve yield management and defect prevention. 
At Yole Intelligence, we see this as the best strategy to enable the high yield manufacturing of very small, high-performance dies needed to enable difficult applications such as TVs or smartphones. Already, the industry has committed an estimated $8 billion on microLED development. It will probably continue to invest around $1.5-2 billion a year. Yole Intelligence estimates that by the end of 2025, an additional $3 billion will have been spent on ramping up manufacturing and capital expenditure. 
The estimated $16 billion spent on microLEDs by the end of 2025 will be about 10% that of the total accumulated capital expenditure of OLEDs since 2006, but it indicates a strong momentum. MicroLEDs are attracting resources which are starting to result in technological progress.
This in turn is lowering the barrier for entry and accelerating development cycles as traditional equipment makers develop microLED-specific equipment and offer microLED-specific off-the-shelf solutions.
Apple's smartwatch manufacturing is likely to act as an incubator for the entire industry. If successful, it will drive investment and pave the way to pursue other products.