How can emerging technologies gain the funding and support to transform industries?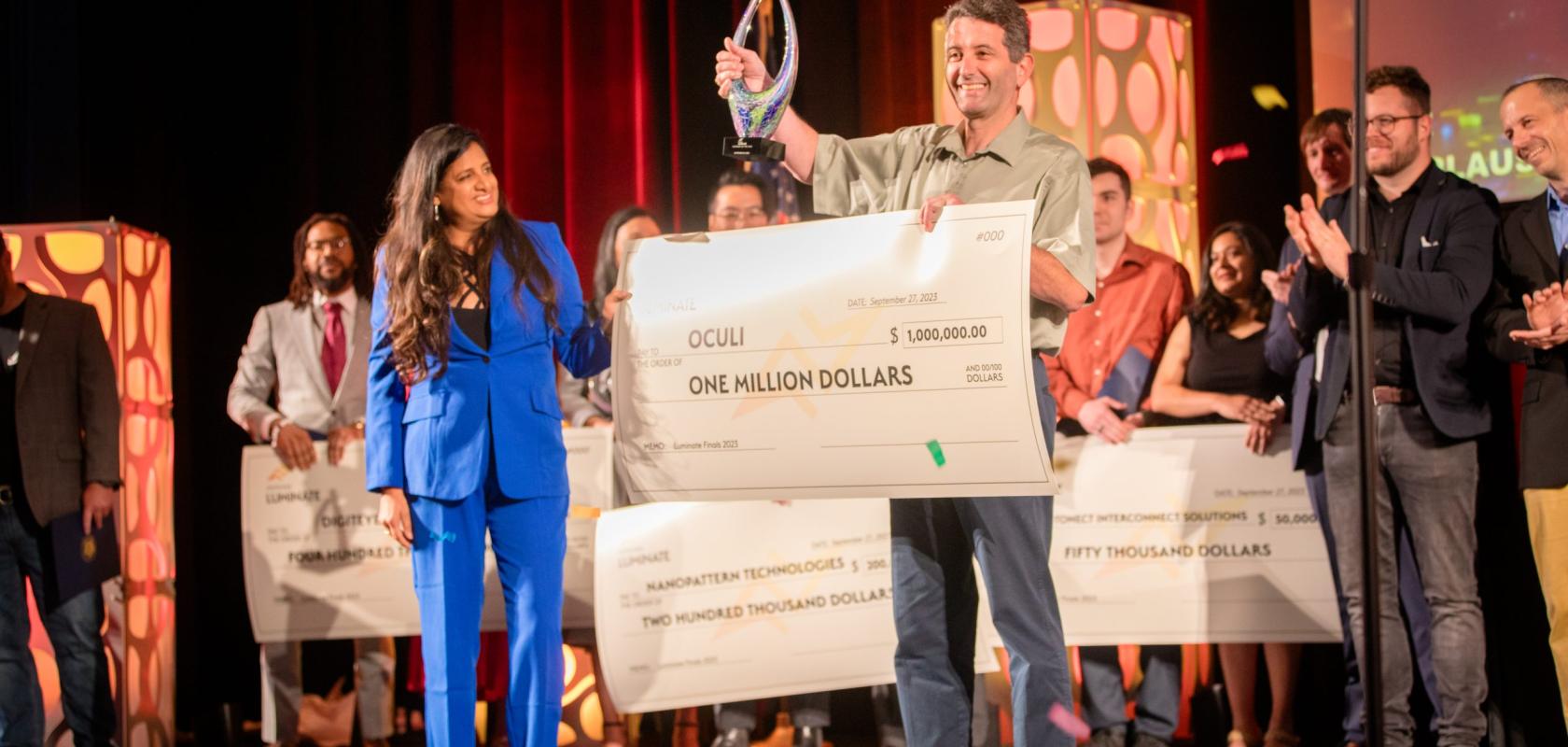 Charbel Rizk from Oculi picked up $1m in follow-on funding at the Luminate Finals 23
Each year, 10 companies with the most promising innovations that are bringing new capabilities to a wide range of industries step into the spotlight. The stakes are high. Not only do they compete for big money, but they vie for attention on a global stage that connects them to future investors, partners, and customers. 
Oculi takes home the Company of the Year Award
This was the scene on September 27 at Luminate Finals 2023. Oculi took home $1m in follow-on funding, as well as the coveted Company of the Year award, for developing the world's first single-chip software-defined vision sensor that delivers real-time vision intelligence. Called the OCULI SPU, the sensor is designed to transform computer/machine vision for edge applications, such as smart and interactive devices at home, office, and in vehicles, including those used in gaming and the Augmented Reality (AR) / Virtual Reality (VR) market. 
Digiteyez received the Outstanding Graduate Award and $400,000 for Clear, a product suite that will digitize the eye care industry, starting with giving people the ability to take a quick and easy online eye test from any digital device, anywhere.
Three-way tie for innovation
Never before in the history of Luminate had there been a three-way tie for the Distinguished Graduate Award, which provided three companies with $200,000 each. Quantune Technologies was recognized for reinventing QCL Spectroscopy with its chip-size laser spectrometer for biomedical consumer devices and industrial applications. NanoPattern Technologies stood out for addressing the unmet needs of the microLED display industry through its patented chemistry and ink that enables the patterning of high-resolution quantum dot downconverter layers—a process that will allow for the manufacturing of next-generation displays at a fraction of the cost. And, Swave Photonics was hailed for bringing the metaverse to life with its HXR microchip technology, which delivers life-like, high-resolution 3D images that are viewable with the naked eye, with no compromise. 
The Finals ceremony marked all of the companies' graduation from Luminate, the world's only accelerator and fund specifically designed to support emerging technologies that use optics, photonics, and imaging (OPI). Through the six-month program, companies receive comprehensive support to help scale both their technologies and businesses, including access to expert instructors, renowned mentors, vetted manufacturing and supply chain partners, investor networks, and substantial funding opportunities.
Luminate is currently recruiting its next cohort to take advantage of the many benefits that this platform provides. If you're an emerging company working on transformative OPI-enabled technology, apply to the competitive program for consideration by January 8, 2024, at luminate.org/apply.