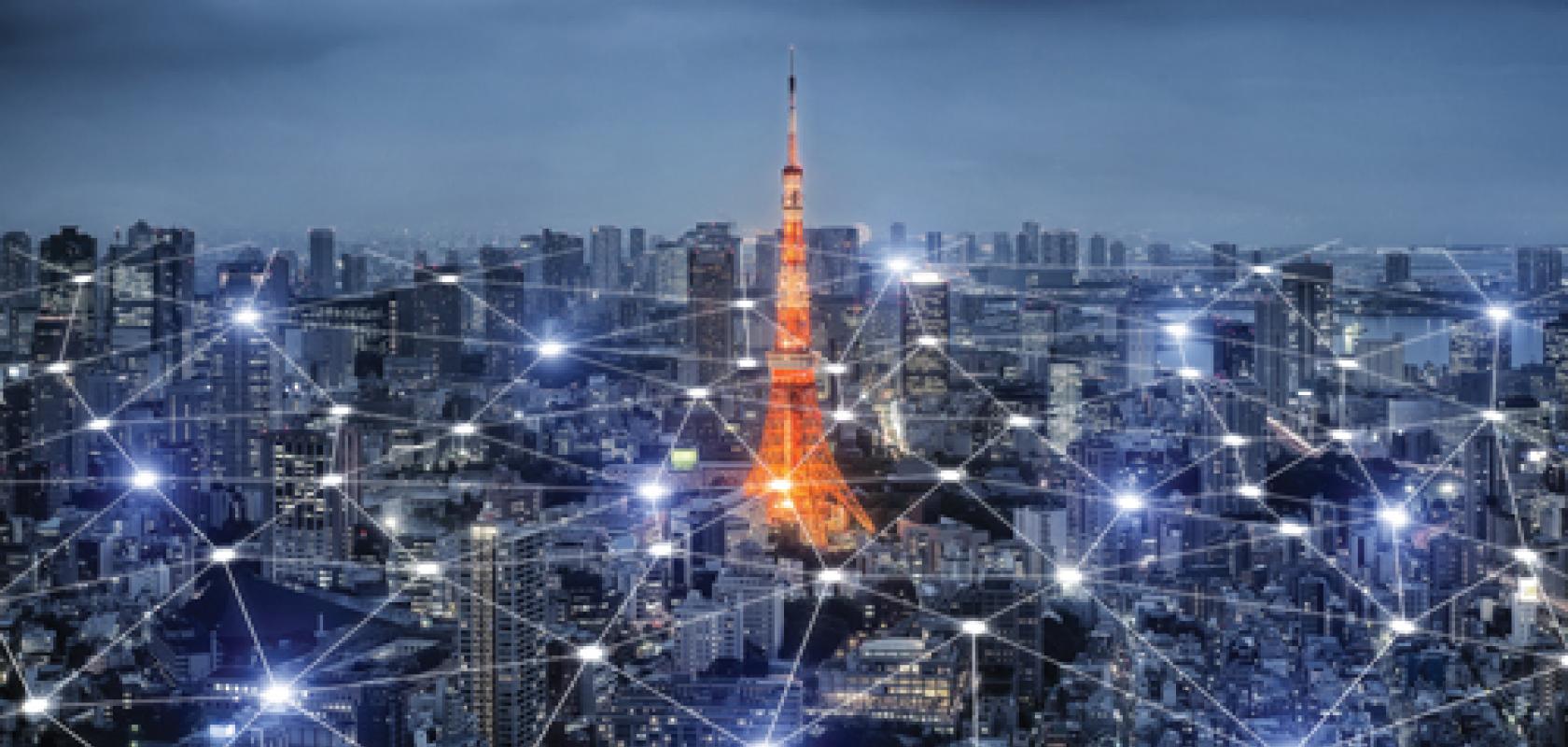 'Smart cities' is a phrase that seems to be arising quite frequently of late, but is a term that is ambiguous to some. The concept encompasses a diverse variety of technologies, and requires collaboration between varied, often fragmented markets in addition to changes in business models and financing. 
Tying in with other trends of digitisation such as industry 4.0 and digital health, smart cities are expected to not only improve quality of life, competitiveness and sustainability, but help cities deal with current megatrends of rapid urbanisation, climate change and resource depletion.
Photonics will clearly be a huge enabler of making a city smart. However, to make the most of everything smart cities promise, collaboration between technology companies, service providers, researchers, and city bodies will be essential, and issues associated with standardisation, cost and robustness of the technology are just a few of the challenges that need to be addressed.  
Clever but clear
According to a UK government market report1 on smart cities, there is confusion as to the definition of the phrase 'smart city', particularly with distinguishing it from other terms such as 'future city'.  The report noted that this confusion could lead to a barrier to growth of this market as confused customers find it difficult to justify investment.
Smart city solutions apply digital technologies to address social, environmental and economic goals. They can combine physical and digital infrastructure or can be based on digital infrastructure alone.
'We must keep in mind what we mean by "smart infrastructure" and "smart cities", as they may mean different things to different people,' said Nicky de Battista, research associate at the Centre for Smart Infrastructure and Construction at the University of Cambridge. 'For me… "smart" implies an element of inbuilt multi-metric monitoring capability that is used for automated feedback control and data analytics, in order for infrastructure and cities to operate more efficiently and in a more environmentally friendly way.'
A simple, everyday example of smart infrastructure is road junctions with traffic lights that switch signals depending on the amount of waiting traffic, noted de Battista, but that also learn to predict traffic flow based on past trends – taking into account other factors such as the day, time, and weather. 
'The wider context of the whole smart city discussion is that with connectivity, with data management, with the advent of the digital business model, many aspects of daily life can be made much easier and more convenient for private households and also for city infrastructure,' added Matthias Fiegler, director head of Vertical Smart City at Osram Lighting Solutions. 
Smart infrastructure
One key element that will allow cities to better manage and upgrade buildings, water, energy, and transport and communication systems is to add smart sensing solutions within infrastructure. 
'Smart infrastructure is an enabler for smart cities,' said de Battista. 'Smart cities are a collection of smart infrastructures that are not only smart in their own way but also feed into a system that aggregates the individual pieces into a full puzzle that works together.'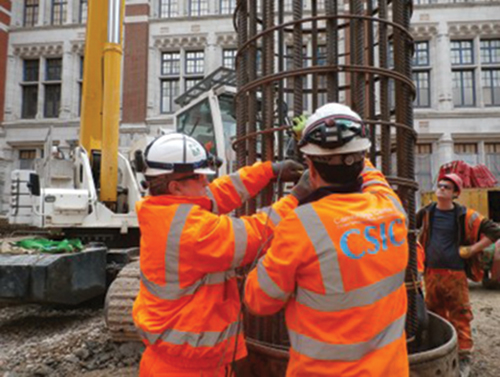 CSIC installing fibre optic strain sensors in London
With changing demographics and increased usage, there is a pressing need to test the reliance and performance of a city's infrastructure. With some infrastructure having an engineering design life of more than 100 years, it is sometimes challenging and expensive to upgrade and manage. 
Understanding the performance of infrastructure during its construction and throughout its design life will lead to better, more adaptable and sustainable designs, and less waste of materials, energy and labour. 
An article2 published last year in the Royal Society's journal Interface Focus analysed the potential of sensor systems to radically change the methods of condition assessment and monitoring of infrastructure. 
The authors proposed that the future of infrastructure relies on smarter information that will be obtained from a range of emerging sensor technologies, including distributed fibre-optics sensors, computer vision, wireless sensor networks, low-power micro-electromechanical systems (MEMS), energy harvesting and citizens as sensors. 
One of the many technologies that the Cambridge University's Centre for Smart Infrastructure and Construction (CSIC) is focusing on is distributed fibre optic sensing, such as that based on Brillouin or Raman scattering, which allows large linear or two-dimensional areas to be monitored from a single control point.
The CSIC was founded in 2011 to translate research into commercial use to alter the approaches to the design, construction and use of complex infrastructure. This in turn should lead to greater efficiency in design and performance, a low carbon society, sustainable urban planning and management, and improved health and productivity.
So far, the centre has installed its technologies at more than 80 sites, including bridges, tunnels, and buildings, and has generated more than £1 million in commercial revenue. 
An example of this is the integration of distributed fibre optic sensors in sewers in order to identify, in real-time, issues such as blockages and inflow of rain water from illicit connections or broken pipes. 'With a single fibre optic spectrum analyser and a single fibre optic cable, we can observe what is happening inside the sewer over time, for many kilometres,' said de Battista. 
But identifying problems such as these, while useful, does not necessarily constitute a smart infrastructure. According to de Battista, is it not the sensor technology itself that makes a structure smart, but its capacity to work with a 'smart' backbone that does analytics and makes decisions. 'If [the sensor technology] is integrated into a system that takes the data from the sensors and processes them so that it can automatically alter the performance of the infrastructure to make it more efficient, then yes, it would be a smart system,' he explained. 'For example, a fibre optic sewer monitoring system that can automatically divert flow when a blockage is detected, or alert maintenance crews to an incipient pipe breakage, would be smart.'
Industry partners provide a gateway for research institutions like CSIC to transition sensing and monitoring technologies from the research and development phase to a high technology readiness level and finally full industry uptake. This process usually starts with trial or demonstrator projects, de Battista explained, where the sensing, installation and data processing techniques can be verified in the real world and improved to become sufficiently reliable. 'This is a crucial phase which relies on working with industry partners who have the foresight and willingness to work with researchers, often with limited return on investment in the short term,' commented de Battista. 'This research-industry collaboration has proven to be a fast-track method for enabling technological advances, including smart infrastructure.'
De Battista noted that for the CSIC usually works with off-the-shelf or custom-made sensors – this includes both the distributed fibre optic sensors and fibre Bragg sensors. 
However, there are some limitations of the sensors on the market today, he added: 'One of the first things that are asked by industrial partners and clients is "How much does it cost?" And, at the moment, the price tag that comes with certain photonic sensor technologies is prohibitive for mass deployment in civil infrastructure,' de Battista said. 'Another issue is the robustness of the sensors and the optical interrogators – we are constantly struggling to find sensors (at the right price range) that are suitable for installation in harsh environments, such as embedded in concrete on a busy construction site.' 
Clever collaboration
A link between academia and industry is not the only type of collaboration that is becoming vital for enabling smart cities. The design, installation and operation of the various technologies within a smart city require that many disciplines come together and will most certainly involve many aspects that are outside of the 'norm' for some companies. 
As with smart infrastructure, smart lighting plays an integral role in making a city safer, more efficient and liveable. The sector is expected to grow rapidly in coming years, with one recent forecast by IHS Markit estimating the market for smart lighting and connected lighting controls to be worth $6 billion in 2015, which will double in size by 2020.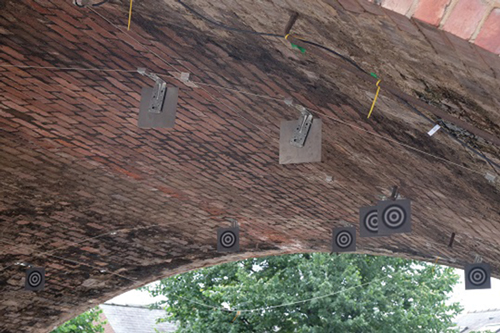 An arch instrumented with FBG cables and photogrammetry targets in the Marsh Lane viaduct, Leeds
Not only does intelligent lighting allow cities to improve public safety, energy spending, and make its spaces more attractive to its residents and visitors, it also can act as a host for non-lighting applications, such as for sensing noise, movement and air quality.  
'The omnipresence of lighting across a city is a valuable asset to put various sensors into the field via a luminaire,' said Fiegler. 'There really are endless possibilities of what you can connect to in such a spread-out infrastructure.'
Described using the term 'beyond lighting', incorporating different sensors into a connected lighting infrastructure allows a city to better manage its resources and services. For example integrating air pollution sensors into luminaires provides the city with the information it needs to better guide traffic to reduce pollution.
However, implementing such technologies within a city requires the coming together of different technology firms, service companies, and government bodies, according to Fiegler. 'The main challenge for the smart lighting area is the beyond lighting topic – lighting manufacturers are out of their comfort zone,' Fiegler noted. 'This is something where a lot of partners come together. Osram is currently closing the loop with other partners – with operating companies, with sensing companies, and with experts who can deal with data generated in the field,' he said. 'We are currently in the pilot stage, but the target is to, step by step, roll this out increasingly across a city to gather whatever data might be needed for that city.'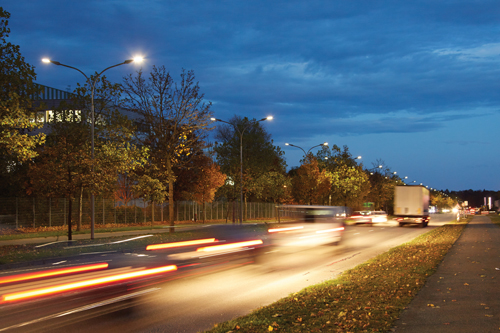 Osram was a partner in the installation of one of the first smart city projects in Wipperfürth, Germany
In addition to implementing partnerships, a change in business approach is required for making lighting more intelligent, or at least with the potential for intelligent upgrades in the future, noted Fiegler: 'There is a general shift we are seeing in the market – lighting is moving from people buying a box with a fixture to wanting to understand the larger context and wanting a consultation up-front. Therefore, lighting is moving into a solution business,' he said. 
As lighting becomes more connected, standardisation needs to be addressed in the lighting industry. This is particularly important in the smart city context, as city bodies won't accept a large variety of different operating systems or software packages. 'There are a lot of different fixtures with a lot of different technological features at hand, which is fine because the requirements vary strongly across regions – a city in Sicily will have completely different requirements to a city in North Norway. But the interfaces between the different steps of the system need to be increasingly standardised. We need to close the loop with communication companies to get the lighting industry into that topic of needing more standardised interfaces when it comes to communication,' Fiegler said. 
Safe and beautiful 
An emerging trend in the smart lighting area is leveraging the potential of changing lights depending on the timing or environment. For example, dimming the colour temperature from a warm white in the evening when a city's residents are out and about, to a cooler white – which is less attractive and more efficient – in the later hours. 'So, you can change the balance between the quality and the energy efficiency,' explained Fiegler. 
In addition to changing the colour temperature, altering the light distribution is also an area where smart lighting could improve safety for citizens, for example on roads. 'So, if it is very wet or you have snow on the road you could change the light distribution by modifying the optics in the luminaire to decrease the glare,' said Fiegler. 
The automotive industry already has many various lighting technologies that can – for example advanced front lighting systems, active curve lights, parking lights – that adapt to changing environmental situations. However, this is not as far advanced in the street lighting sector, Fiegler pointed out. 'The question is, why shouldn't public illumination do that? It is currently a business-case question of who would pay for that,' he said. 'But at the end of the day, if one could prove that road safety could be improved with such measures then it can become an attractive case as well.' 
References
[1] www.gov.uk/government/uploads/system/uploads/attachment_data/file/249423/bis-13-1217-smart-city-market-opportunties-uk.pdf
[2] www-smartinfrastructure.eng.cam.ac.uk/news/advances-in-sensing-will-shape-the-future-of-2018smart-infrastructure2019
Smart Antwerp
This year, the city of Antwerp in Belgium is set to be turned into a 'living lab' in which businesses, researchers, local residents and the city itself will experiment with smart technologies that aim to make urban life more pleasant, enjoyable and sustainable.
The City of Things is a collaborative project between the city of Antwerp, Belgium's Flanders region and nanoelectronics research institute, imec. The programme aims to roll out a fine-grained network of smart sensors and wireless gateways located around Antwerp's buildings, streets, and squares, connecting citizens with a range of innovative applications.
With the insights gained from the project, Antwerp and its businesses will learn how to collect the data they need to take well-informed decisions and develop innovative smart applications.
The Antwerp Living Lab already has a number of projects up and running. These include vans operated by Bpost, the Belgian postal service, which have sensors to measure the air pollution throughout the city, whose data can be used to improve the city's air quality.
Another project involved the network operator Orange, studying how the project's goals can be achieved using NarrowBand-IoT. This new technology enables communication of small data volumes over extended periods at hard-to-reach places, at the same time ensuring that the batteries of the connected devices can keep going for up to 10 years. The preparatory work on a host of other projects – such as those concerning mobility – is underway.
The Antwerp Living Lab is designed to grow into the largest living lab in Europe for internet of things (IoT) applications. 'Together with the city of Antwerp and Flanders, we have the ambition to become a leading player in the connected world,' says Luc Van den hove, CEO of imec. 'The City of Things project allows us to join the city residents, developers, entrepreneurs, the government, and research centres and universities around one common goal: developing innovative solutions for better cities. Antwerp will become a living technology lab in which everyone can make a contribution to a sustainable, forward-looking society.'
During the period from 2017 to 2019, the city of Antwerp intends to invest €650,000 in the project and, through imec, Flanders will invest €4 million annually, in addition to providing the required project resources.
'Antwerp is an ideal city in which to establish this Living Lab,' said Caroline Bastiaens, city Councillor for the Economy. 'The city is big enough to test applications properly, yet sufficiently small to keep the cost and time required for development under control. Antwerp also has an interesting mix of offices, industry and retail, meaning that various applications can be developed to cover all needs.'