SPIE to propel entrepreneurs at Photonics West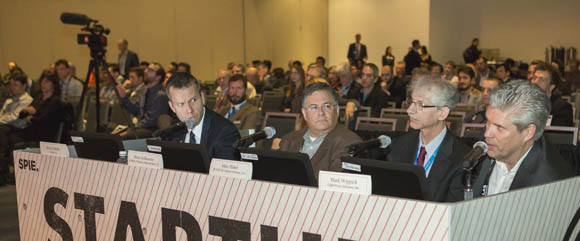 The semi-finalists of the 2017 StartUp Challenge have been announced. The chosen photonics technologies range from those addressing global health needs such as clean water, food safety, prenatal care, and cancer detection, to wearables, connected cars, artificial intelligence, and augmented reality.
The annual competition, which recognises young, pre-revenue firms, takes place every year during the SPIE Photonics West trade show in San Francisco.
On 31 January, the twenty two semi-finalists will pitch their photonics products to a panel of venture capitalists and corporate development experts, who will choose six finalists to move onto the final round on 1 February for the chance to win a share of $85,000 in prizes. Both judging rounds are open to the public with free registration.
Semi-finalists for the competition were named in three tracks. Track 1: Biophotonics, point of care; Track 2: Imaging, displays, lasers, semiconductors; and Track 3: Sensors, wearables, internet of things (IoT). Examples from the three tracks include: AcouStar, an optoacoustic guide with augmented reality technique for precision breast-conserving surgery (Track 1); Fastree3D, 3D vision with a lidar system on chip (Track 2); and Lightnosis, an optical wireless communication middleware for the IoT in the connected-cars market (Track 3).
The Startup Challenge is not the only way in which Photonics West is promoting young photonics businesses. For the first time, the 'Photonics Fast Pitch Lunch' will take place at the show, enabling experienced entrepreneurs to give rapid-fire, 90-second verbal presentations (without slides) to introduce their business concepts to a select group of potential investors, collaborators, and mentors. Following the presentations, the room will be available for further one-to-one conversations.
'With the new Photonics Fast Pitch Lunch, we've filled the gap between young, pre-revenue firms supported by the SPIE Startup Challenge and the best-new-product categories recognised by the Prism Awards for Photonics Innovation,' said Peter Hallett, director of marketing and industry relations at SPIE. 
'I am excited to see this inaugural Photonics Fast Pitch Lunch at Photonics West since this is where innovations can turn into profit,' said Andrea Belz, vice dean for technology innovation and entrepreneurship at the University of Southern California Viterbi School of Engineering. 
Related stories
Giving photonics a head start: Jessica Rowbury speaks to Dirk Fabian, SPIE's community lead, about the evolution of the StartUp Challenge and the importance of supporting start-ups
Photonics West show preview: A look at some of technologies that will be on display at the largest optics and photonics event