Volvo invests in Luminar's lidar tech
Volvo Cars has acquired a stake in lidar start-up Luminar to advance its position in the autonomous vehicle space. 
The investment in Luminar, which was an undiclosed amount, deepens Volvo's existing collaboration with the firm, which currently focuses on development and testing of its sensing technology on Volvo cars.
Luminar has already partnered with car firms such as Toyota, which has integrated Luminar's lidar into its autonomous research vehicles.
The firm's 1.5µm lidar system stands out because of its 200-metre range and high resolution, which is made possible because of the longer wavelength of light. Operating at 1.5µm is deemed less damaging to the eyes and means higher power lasers can be used. The longer range allows for more reaction time in the case of any road incidents, increasing safety.
Compared to the cheaper 905nm wavelength used by Velodyne and many other lidar companies, 1.5µm lasers are relatively expensive, which limits how many can be integrated while still being competitive. However, the longer wavelength means that fewer modules are needed; for example, compared to one of Velodyne's systems - which uses 128 lasers and 128 photodetectors to capture the scene - Luminar's lidar has just two modules, each containing a single laser, detector and a mirror that sweeps the beam over the surrounding environment many times a second to create a 3D image.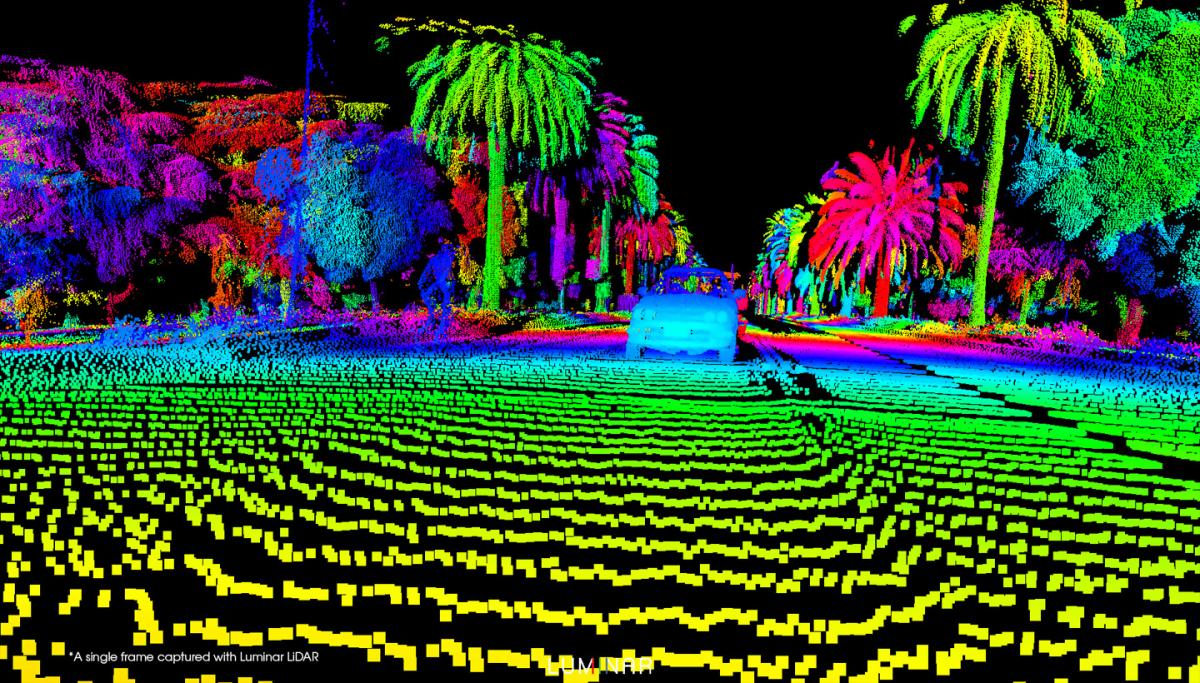 A single frame captured with Luminar lidar. Credit: Luminar
These optomechanical scanners also increase the price of the overall system, but it has been suggested that the mirrors can be replaced with optical versions of phased-array antennas – common in radars and in mobile phones – to increase affordability. These arrays have slotted elements arranged side by side, controlled via electric signals rather than moving mirrors.
'Our lidar is the first to deliver the necessary performance to enable safe and reliable long-range perception, which is required to unlock their goals of autonomy at highway speeds,' said Luminar founder and CEO Austin Russell.
Volvo plans to fit its the lidar modules to its fleet of autonomous vehicles in California, then integrate the Luminar software with its own. 
The investment was made as part of its Volvo Cars Tech Fund, which was launched earlier this year aimed at targetting high potential technology start-ups around the globe. It focuses its investments on strategic technology trends that are transforming the industry, such as artificial intelligence, electrification, autonomous driving and digital mobility services.
'Luminar represents exactly the type of company and technology we seek to invest in, providing us with strategic access to new technologies, capabilities and talent,' said Zaki Fasihuddin, CEO of the Tech Fund. 'Supporting promising young firms that are at the forefront of technological development will help us introduce cutting-edge technology that strengthens our leading role in the industry.'
Companies will benefit in a number of ways from participation by the Volvo Cars Tech Fund. Apart from the association with one of the world's largest car makers, start-ups may gain the ability to validate their technologies and accelerate the pace of achieving product market fit.
Moreover, start-ups may have the opportunity to benefit from Volvo Cars' access to the Chinese car market and the potential access to Volvo Cars' global network of automotive and technology partners.
Related stories
Real commitment for lidar from automotive OEMs: Lidar could become an important part of autonomous driving and potentially a huge market opportunity for laser and detector manufacturers, as Greg Blackman discovers at the Image Sensors conference in London