Collaborating to advance biophotonics
Professor Anita Mahadevan-Jansen, director of the Vanderbilt Biophotonics Center at Vanderbilt University, Nashville, will be chairing the Bios Clinical Technologies and Systems track at Photonics West. Here, she discusses her work translating medical technology and encouraging inclusion in photonics
In 1992, I attended SPIE Photonics West for the first time as a graduate student presenting my first scientific paper. While it was an eye-opening and exhilarating experience, I don't think I would have ever imagined it to be quite as large and impactful as it is now in San Francisco.
Since that first experience 27 years ago, I have not missed a single PW and it has been amazing being part of making this meeting grow. I started getting involved in conference organisation early (while still a graduate student, albeit in my final year) and have continued to be engaged in the Bios symposium, first as session chair and now as programme track chair, as well as conference co-chair for two different topics. In this time, our field has seen successful transition of lab experiments and basic research to many applications and innovative technologies, using light for everything from medical diagnostics to therapy. As the use of light-based technologies in medicine extends to many disciplines, so has the Bios symposia, making SPIE an excellent partner for our community.
SPIE has also acted as an important support for the many students and postdoctoral fellows that I mentor, through their many conferences and student chapter support. As the founding director of the Vanderbilt Biophotonics Center in Nashville, Tennessee, I must wear many hats in my day-to-day work, but my research focuses on the clinical translation of light and light-based technologies for the detection of tissue physiology and pathology. My approach to research is to identify a clinical need and develop the simplest and most effective optical technique to solve the medical challenge, instead of the 'hammer looking for a nail' approach.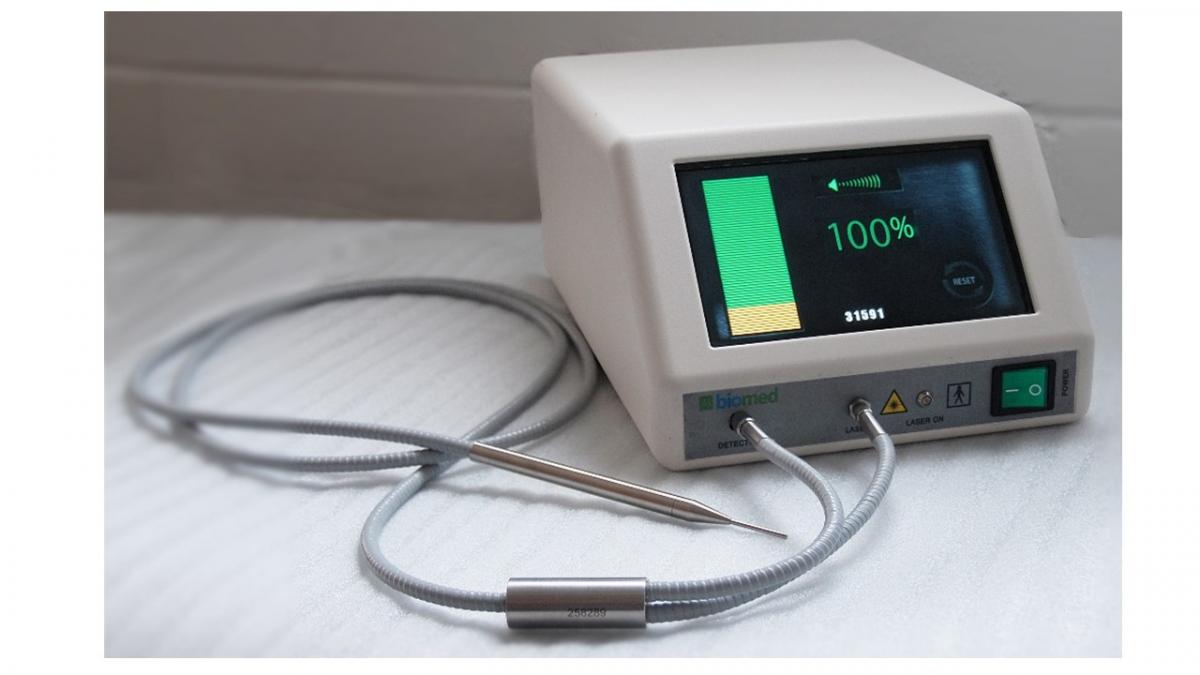 The PTeye systen recently received FDA clearance for parathyroid identification during endocrine surgery
As the director of this collaborative research centre, I strive to create a culture of inclusivity among the biophotonics researchers of the future, while focusing on the importance of translating these optical technologies for real-world applications. I am very proud to share that one of our current projects recently received FDA clearance for parathyroid identification during endocrine surgery, demonstrating the success of our approach to clinical translational research.
This particular technology, the PTeye system, uses near infrared auto fluorescence to give surgeons an audio and visual feedback in identifying the parathyroid gland, which is solely responsible for regulating the calcium in one's body. Our centre works closely with Vanderbilt University Medical Center and we are always talking to surgeons, oncologists, and other medical professionals to understand their blind spots better and find ways to use photonics to solve their problems. PTeye is a great example of a success story that results from such close collaborations.
Indeed, bringing together clinicians, physicists, chemists, biologists and engineers is critical to the success of biomedical science and translational biomedical engineering, which is why Bios has grown to the extent it has. The Bios exhibit in 1992 consisted of a few tables in a small meeting room, and today Bios fills a large exhibition hall with ease.
What is interesting is that for the academic, the draw of Photonics West is the combination of the scientific content – in breadth and depth – as well as the exhibition that brings together the photonics industry under a single, rather large roof.
Some people may say that Photonics West is too big and the science too widespread. And yet that is exactly why I encourage my students to attend and give presentations at this meeting. It provides students and postdocs with an appreciation of the breadth of biomedical optics and biophotonics, while allowing them to connect with experts from around the world. Besides presenting their own research to a wide audience, I encourage them to attend as many talks as they can, connecting with researchers of like and disparate interest, allowing them to be open to new collaborations and ideas by networking and asking questions. It is vital for young researchers to not be shy and  put themselves out there, and Bios is a great place for this. For the shy student, I tell them to come and stand next to me at every break so I can introduce them to people around me – a great way to break the ice and provide them with a stepping stone to connections.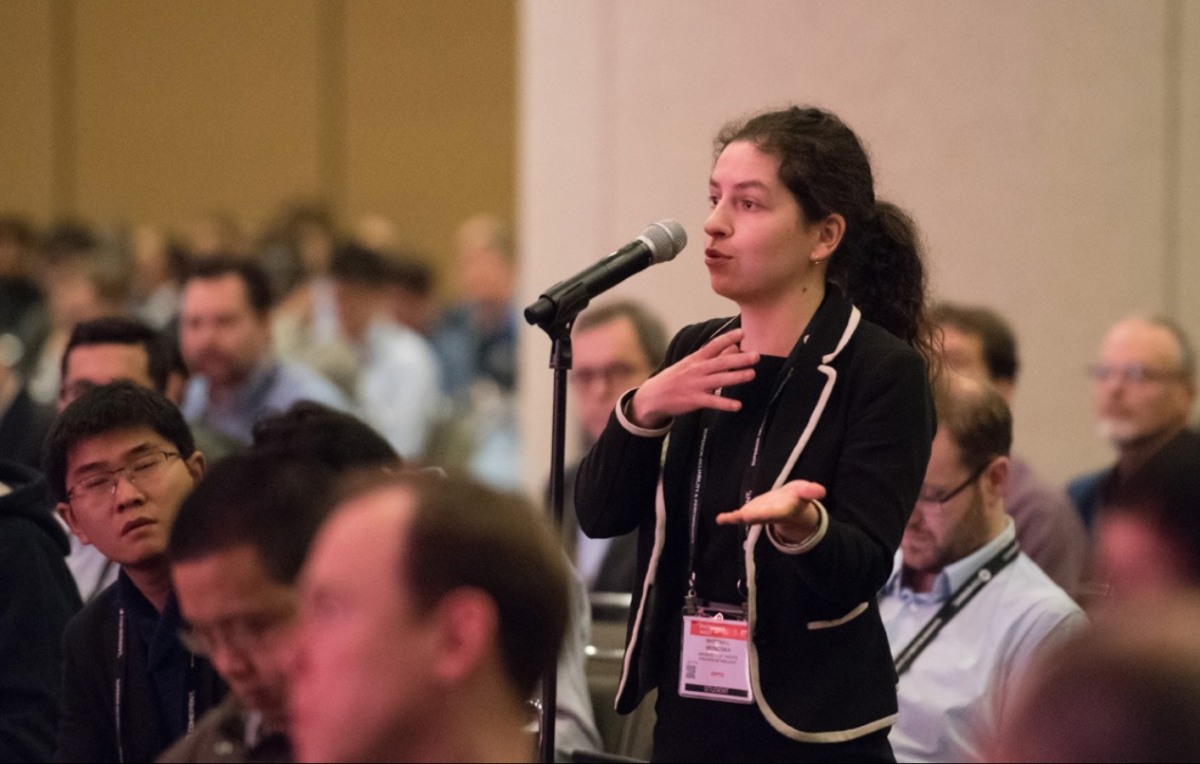 Bios allows researchers to connect with academics and professionals. Credit: SPIE
The student chapter events and various social activities that SPIE presents provides these budding future Bios leaders with the networking opportunities that will sustain them for their career. This is why I came to my first SPIE event and why I keep returning each year – to connect and reconnect with my community.
Interestingly, the optics and photonics community is not exempt from the challenges that all STEM disciplines are facing when it comes to equity, diversity and inclusion. While the community does not prevent people from diverse backgrounds from participating in the myriad of events, until recently little was done to encourage and support them. Concerted and coordinated effort is needed to make diversity part of the very fabric of our community, which was the motivation for why I initiated, and currently chair, SPIE's ad-hoc committee on Equity, Diversity and Inclusion. Diversity, in this context, is defined as any group considered to be underrepresented in the fields of optics and photonics. This includes, but is not limited to, age, race, gender/identity, sexual orientation, ethnicity, economic status and geographic location.
Through thoughtful and sustained work ensuring opportunities for those voices which have historically been underrepresented at scientific conferences to be heard, we can and will make continued progress. It is important to remember that the lack of diversity in our fields is not due to lack of know-how or want by certain groups of people, but because of lack of opportunity, and that is something we can impact. Our professional societies, including SPIE, have never precluded membership or participation to any group in the optics and photonics community. However, implicit bias and a lack of conscious planning often results in a lack of recognition of our colleagues from diverse backgrounds.
We have developed many strategies and implemented several activities in support of an inclusive environment in our community, as well as SPIE events. Areas of directed activities include conference leadership, recognition, education and support. One of the more recent initiatives SPIE has put in place is providing childcare grants for working parents who are attending an SPIE event. This programme will begin in 2019 with Photonics West. Such an initiative is long overdue.
Coming to every Photonics West since 1992 has meant that my daughter attended her first Photonics West at 3.5 weeks. In fact, Kiana had attended nine of them by the time she was nine, an achievement even my grad students cannot lay claim to. And yet I was lucky, my brother lives in San Jose and he and his wife helped us with child care. But most are not so lucky – childcare is a challenge, especially for rising researchers who may have little ones who need care, while also striving for success in this very demanding field.
The next Photonics West is around the corner and we have many events planned in support of our diverse colleagues. These are but the many steps we need to take to make progress. I am hopeful that the optics and photonics community at large will work together as a leader in making the STEM fields more diverse and representative of our society at large. 
Related stories
Better links between stakeholders needed in biophotonics: Professor Jurgen Popp, director of the IPHT in Jena, Germany, says more work is needed to connect the various players in the biophotonics value chain
Finding common ground on gender issues in optics and photonics: Optical research engineer, Katie Schwertz, discusses the need for mutual understanding and empathy within the photonics community in order to move towards gender equity
Growth in biophotonics depends on rapid clinical translation: Growth in the biophotonics sector requires rapid translation of innovations into the clinic, write Professor Jürgen Popp and Dr Thomas Mayerhöfer