Entrepreneur interview: Rising in the East
Carlos Lee talks to Petr Tůma about the growth of Czech-based 4isp, a distributor of HSG lasers, including its move to a leasing model and how it works with Chinese manufacturers
What led to you becoming CEO of 4isp?
On finishing high school, I studied international business, but in the third year, my father had a heart attack, so I had to abandon my studies to take care of the family's cable television business.
After a few years, we sold all the cable TV networks and I set up a small company to design outdoor wireless units because, at that time, there was no internet network in the Czech Republic. The company did well, but we were eventually kicked out of the market by one of our customers that set up a full relay production company in China.
I then started to look at 3D printing equipment and a contact from Germany, Carl Fruth, CEO of FIT, asked me to use the Chinese contacts I'd established in my previous businesses to help him obtain parts for his 3D printing company. We worked well together, and in 2010 Carl offered to buy the family company I was working for and set up 4isp, with me as CEO responsible for sourcing components from China.
How has the company developed?
We started off with an e-shop for video surveillance systems and components for development and production of computer numerical control (CNC) machines and in 2014, we began selling Chinese CNC machines. In 2015, we partnered with HSG and became the exclusive supplier for their laser cutting machines for Czech Republic and Slovakia. In 2018, with an investment of €6m, we opened Eurazio, the biggest CNC showroom in Europe, which has the largest and most powerful milling, CO2 lasers and other CNC cutting fibre lasers on permanent display. 
In the last 11 years, 4isp has grown to a workforce of 45, with a turnover of around €5m.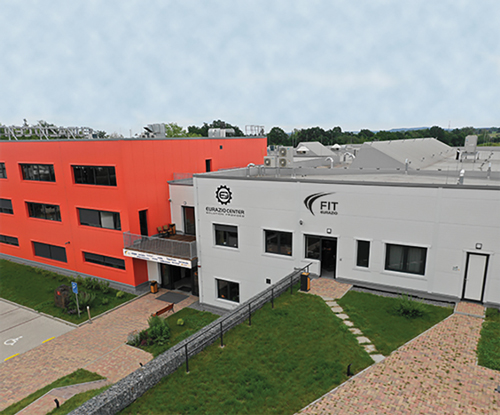 Tuma's good relationship with FIT's Carl Fruth led, ultimately, to the creation of 4isp
How do you see 4isp's future?
Today, everyone is chasing high series production. In the future, the demand for customisation will lead to much more diversity in the market and much smaller production series. 
3D printing technology and the electronics are changing very rapidly. For example, if I send a new design for a PCB to China, I will receive it fully done and equipped in five days, whereas in the Czech Republic, it takes three weeks. But what we've found out is that standard machines are not appropriate for this kind of rapid customisation. As a result, we're moving to a new leasing business model, whereby we've designed a fibre cutting laser and a press brake that customers can rent and pay, but only for the cutting minutes they use. 
The other thing we're moving into is after sales and a repair service for customers importing equipment from China. In China, if a machine stops working, the customer will usually try to repair it himself and if he's lucky, the supplier will replace a defective part. While this is completely normal in China, the expectation in Europe is completely different. So, we are working with Chinese manufacturers to make them more aware of the need for a European approach to after-sale services and warranties. 
What are some of the challenges working with China?
The first is dealing with Chinese legal bureaucracy. If a contact does not have the correct stamp and signature, it's completely invalid and it can take a long time to rectify. The second is to understand that the term 'free' in free shipping only refers to the cost of getting the parts to a European port. All the other costs, such as port expenses, any stocking fees and moving the parts from the port to the customer have to be paid by the customer.
Another issue is the reliability of marketing information, which can be very different from reality. If you order a machine based on the data sheet in a marketing brochure, and the machine works 50 per cent slower and you complain, the answer you'll get is: 'What do you expect? It's just marketing'.
On the positive side, the people work pretty hard, retire at 50, and it's not true that they have lower salaries than in Europe. But in general, the philosophy for people between the ages of 20 and 50 is to live to work and the time spent on leisure activities is much lower than in Europe.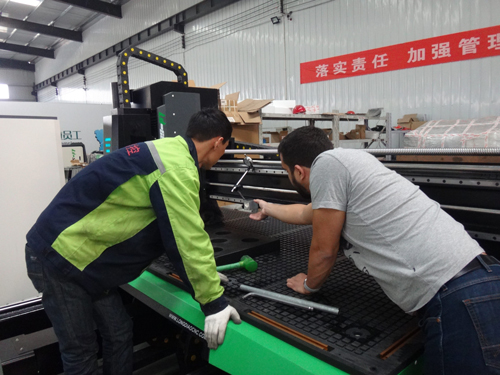 Quality control is a large part 4isp's activities and regular trips to China are a common task for its employees
What advice do you have 
for
the next generation of entrepreneurs?
If you do what you're passionate about, you will naturally become more capable and studying becomes less important. In my case, for example, I believe that right now I'm a pretty good electronic engineer and I can do quite complicated things, for example, with microcomputers and sensors, not because I studied electronics but because I like it.
It's not a sign of weakness to ask for and accept advice. Many young people think that older guys are not open to new ideas, but the reality is that they have the experience to know if something's not feasible, especially on the business side of things.
When creating a business plan, it's important to stay in the middle between reality and optimism. Focusing too much on reality makes it difficult to sell your ideas to investors, while being over-optimistic will make it easier to fail.
When thinking about a technology, don't look at what others are doing because you'll always be second. To be first, you really need to find a product with future potential, which at first sight may not seem feasible.
Don't reduce your prices just to keep up with competitors. If a customer tells me a competitor is selling a machine similar to mine at half the price, I generally ignore them.
Firstly, because similar machines are not the same as ours and, secondly, because reducing margins means we won't be able to provide the services that are essential for the technology. If the time comes when market pressures force you to cut margins too low, it's better to stop selling the product and find an alternative.