European photonics needs to unite to compete globally, says EPIC's Carlos Lee
The European Photonics Industry Consortium (EPIC) recently surpassed 300 members. In the buildup to the organisation's 2017 annual general meeting, Matthew Dale speaks to the consortium's director general, Carlos Lee, about the milestone and the implications it has on the current state of the European photonics industry
Fourteen years after its founding, the European Photonics Industry Consortium (EPIC) is recognised as a valued entity within the industry, and has more than 300 companies, universities, research organisations, service providers and photonics clusters as members. Launched in 2003, before Photonics21 or a photonics unit existed at the European Commission, the association was set up with the aim of bringing together the European photonics industry and promoting the sustainable development of organisations working in the field.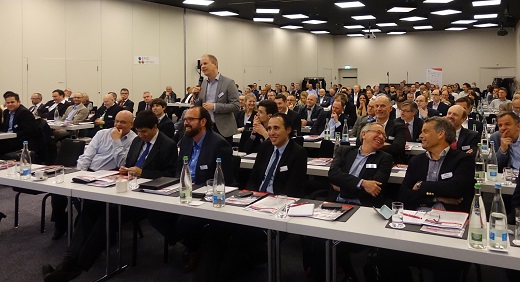 More than 150 photonics leaders from over 20 different countries will meet on 6-7 April in Eindhoven, Netherlands, for the 2017 EPIC annual general meeting
'We've been growing tremendously over the past five years, last year we gained 74 new members in a single year,' commented Carlos Lee, director general of EPIC. 'EPIC now has 305 members across 30 countries.'
According to Lee, the growth of the association is not only due to its strict focus on membership value, but also the maturing of the photonics industry as a whole. 'I certainly think that there is a link between companies becoming a member and the maturity of the industry,' he confirmed. 'When you become a member of an association you need to have both time and money to attend its meetings and conferences, so when a company is still very young it can be hard for them to join an association, and this was maybe the case ten years ago.' 
Now, however, with an increasing number of photonics entities signing up to the organisation each year, it appears industry members are in a better financial position to engage with industry consortia.
'Overall we sense a lot of momentum in photonics,' remarked Lee. 'Despite companies being very busy, we see them investing more resources into business development – companies see the value of having access to valuable resources such as our market reports, and the immense benefit of engaging with end-users to understand their requirements and develop new products. Individuals increasingly experience the value of being part of a truly active network of photonics experts and leaders.'
Lee believes that consortiums such as EPIC are vital for the European photonics industry to remain globally competitive, especially considering the growing competition from Asian photonics markets. 'China has photonics companies that are constantly being created and are rapidly growing by 100 to 200 per cent, and that is what we should see as the challenge,' he said. 'In my opinion there is only one way for Europe to remain competitive, and that is by everyone working together. By bringing companies and people together we can build the perfect team and have a better chance of meeting the global competition.'
According to Lee, the life science and medical photonics markets look to have a very good chance in Europe, as do lasers being used in material processing and integrated photonics. 'These are good markets because they are high value and low volume, whereas anything of high volume and low cost has a tendency to go to countries such as China. The challenge for Europe though is that we can not only focus on the lower volume markets, at some point we'll also want the high volume.' Lee believes that in the next 20 years with the automation of factories, and increasing salary costs in Asia, the European industry will have a better chance of transferring high volume production back into Europe.
Although EPIC is an organisation intended for entities of all types within the photonics industry, the organisation mainly works towards ensuring both the smaller and younger companies can remain competitive on a global scale. 'The larger companies can more easily afford to purchase market research reports, they'll have a sales team in China and people that go to European Commission meetings,' Lee said. 'The small companies don't necessarily have the resources yet to do this, so we are an association that serves mainly these smaller players.'
At an EPIC event last year in Vilnius, Lithuania, consortium members were shown the potentials and offerings of the Lithuanian photonics industry, a nation home to many small and young companies that have stemmed from the country's highly technical universities. Through a series of talks, company visits and networking opportunities, attendees were given the chance to witness and discuss the capabilities of the local companies first-hand, and build lasting relationships with those that may have remained uncontacted without the assistance of an industry consortium such as EPIC.
Through its activities, EPIC not only works to network its own members within the consortium and Europe, but also to connect them with foreign markets. This year, delegation trips were inaugurated to both Singapore and Israel with the support of local partners. 
Although each EPIC delegation and country visit is intended to promote and grow the organisation, according to Lee, the current aims of EPIC are not necessarily to keep expanding. 'The priority is to serve our existing members, and if we grow, we'd like it to be by adding companies that complete entire value chains. The target is to have one company in every technology field, in every manufacturing step.
'What I want for EPIC is that it is still an active photonics association in 30 years' time,' Lee concluded. 'The objective here, independent of our contribution, is that in 20 to 30 years we still have hundreds of companies active in photonics in Europe.'