Satellite imagery aids natural disaster relief efforts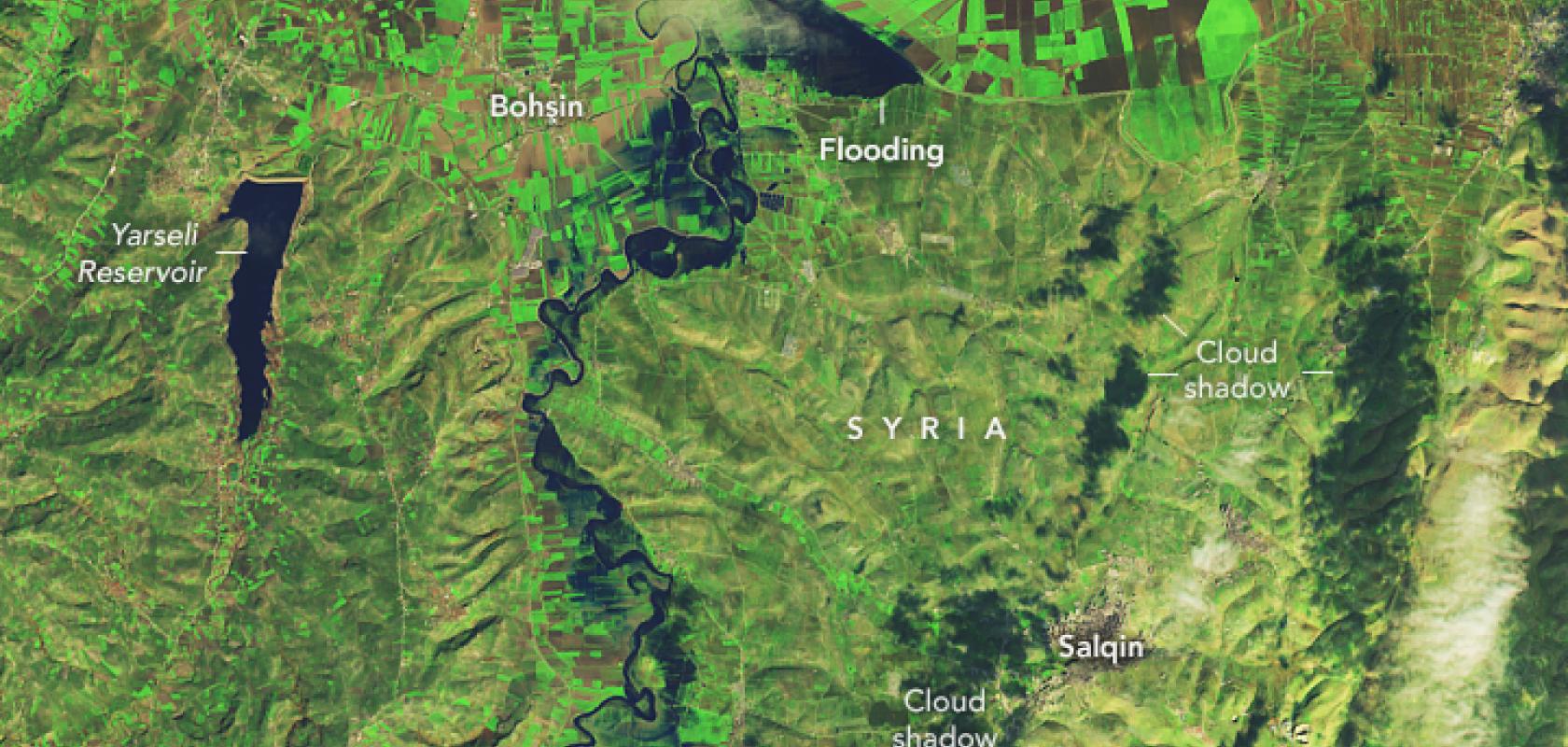 Nasa Earth Observatory satellite image showing flooding along the Orontes River (Credit: Lauren Dauphin/ NASA Earth Observatory/ US Geological Survey)
The days following the destructive 7.8- and 7.5-magnitude earthquakes in southern Turkey and western Syria in February saw rescuers scramble to search for survivors trapped beneath the rubble. 
Assessing areas affected by natural disasters is crucial for prioritising and directing emergency services, and satellite images helped determine the extent of damage in addition to the risk of secondary dangers such as landslides.
Images captured by the Operational Land Imager-2 (OLI-2) on Nasa's Landsat 9 satellite, for example, allowed scientists to identify more than 100 landslides, which were included in maps provided to World Central Kitchen to help the aid group deliver food and water to earthquake victims. 
The OLI instrument was also able to identify flooded farmland and communities along the Orontes (Asi) river. Much of the flooding occurred about 100km south of the epicentre of the quake in the Idlib governorate of Syria.
The Operational Land Imager (OLI), built by the Ball Aerospace and Technologies Corporation, measures in the visible, near-infrared, and shortwave infrared (SWIR) portions of the spectrum. Its images have 15m panchromatic and 30m multispectral spatial resolutions along a 185km-wide (115-mile) swath, covering large areas of the Earth's landscape while providing sufficient resolution to distinguish features such as urban centres, farms, forests and other land uses. The entire Earth falls within view once every 16 days thanks to Landsat 8's near-polar orbit.
OLI's design uses an approach demonstrated by the Advanced Land Imager sensor flown on Nasa's experimental EO-1 satellite. Instruments on earlier Landsat satellites employed scan mirrors to sweep the instrument fields of view across the surface swath and transmit light to a few detectors. The OLI instead uses long detector arrays, with more than 7,000 detectors per spectral band, aligned across its focal plane to view across the swath. This 'push-broom' design results in a more sensitive instrument, providing improved land surface information with fewer moving parts. With an improved signal-to-noise ratio compared with past Landsat instruments, OLI is more reliable and provides improved performance.