Space lasers overcome ground-based communication limits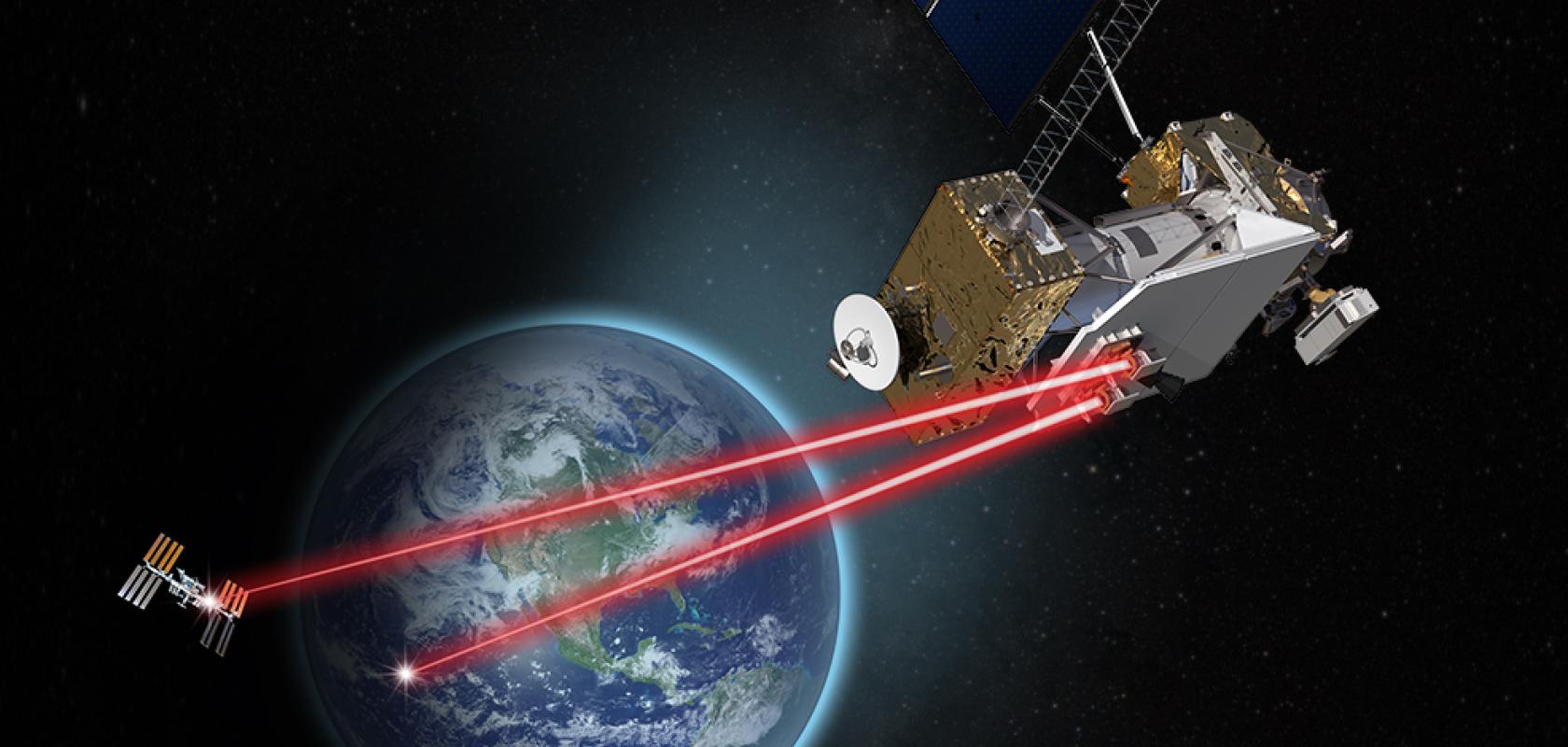 Nasa and other space organisations are making gains in demonstrating large-scale laser communications systems. The illustration shows Nasa's LCRD relaying data from ILLUMA-T on the International Space Station to a ground station on Earth (NASA's Goddard Space Flight Center/Dave Ryan)
As the world's data usage grows exponentially every year, the need for fast, reliable communications is rising. Existing communication networks are largely based on ground-based infrastructure, whose expansion is limited by legal, economic or logistical challenges. Therefore, various organisations are working on bringing network infrastructure into air and space. 
Laser communication uses satellites to transmit information through the atmosphere, between satellites or to and from space. The laser beams connect satellites with each other directly using inter-satellite links, but receiving stations can also be built on Earth, or even in cars or aircraft. 
The technique can transmit data more efficiently and up to 10 times faster than radio waves. It is also safer than radio communication because it's much harder to intercept, making it particularly interesting for defence applications. NASA and other space organisations are making gains in demonstrating large-scale systems to meet the mammoth data demands of their satellites. But the commercial sector is also bringing the technology to the mainstream. 
Sony, for example, launched a new satellite communications company in summer 2022. Named Sony Space Communications (SSC), the new subsidiary plans to adapt Sony's existing optical disc technology – developed over the years for CD players and other products – to realise optical communications devices that are ultra-compact, lightweight, mass producible, and can withstand harsh environments such as space. 
The small devices will use laser beams to connect micro satellites in low earth orbit (LEO), both with each other and with ground stations on earth.
 
'There are always tricky things you must solve for hardware that is intended to work in space'
In summer 2022, Northrop Grumman successfully demonstrated a secure laser communications system for low Earth orbit constellation constellations supporting the US military. The demonstration validated compatibility between commercially developed laser communication and secure US government encryption hardware, providing a baseline for proliferated space crosslink communications offerings.
Mynaric supplied Northrup with the laser communication technology for this project. The company also recently delivered its Condor Mk2 communication terminals to Telesat Government Solutions, which will be mounted to satellites as part of a high-speed network the US Department of Defence is developing in low Earth orbit.
Photonics Frontiers spoke to Joachim Horwath, the CTO and founder of Mynaric.

What technological challenges did you have to overcome to develop your laser communications system?
There are always tricky things you must solve for hardware that is intended to work in space – especially for optical equipment, like our terminal, where optical surfaces must have nanometre precision and the alignment of components must maintain micrometre precision throughout a large temperature range and lifetime. However, how to do that is fairly well understood.  
The real challenge is how to build eight or more such complex systems a day in a very cost-efficient way. To succeed in that we needed to start early in the design. Questions like how few optical surfaces do we need to guarantee better than diffraction limited operation across a wide field of view, or how to best use photonic integrated circuits or to get rid of mechanisms wherever possible, need to be answered.  
Improving the SWaP (size, weight, and power) of our terminals by about 30% compared to our previous generation Condor Mk2 terminals was almost a byproduct following this design for manufacturing approach. In that way we were able to realise significant size, weight, power, and performance advantages over its product.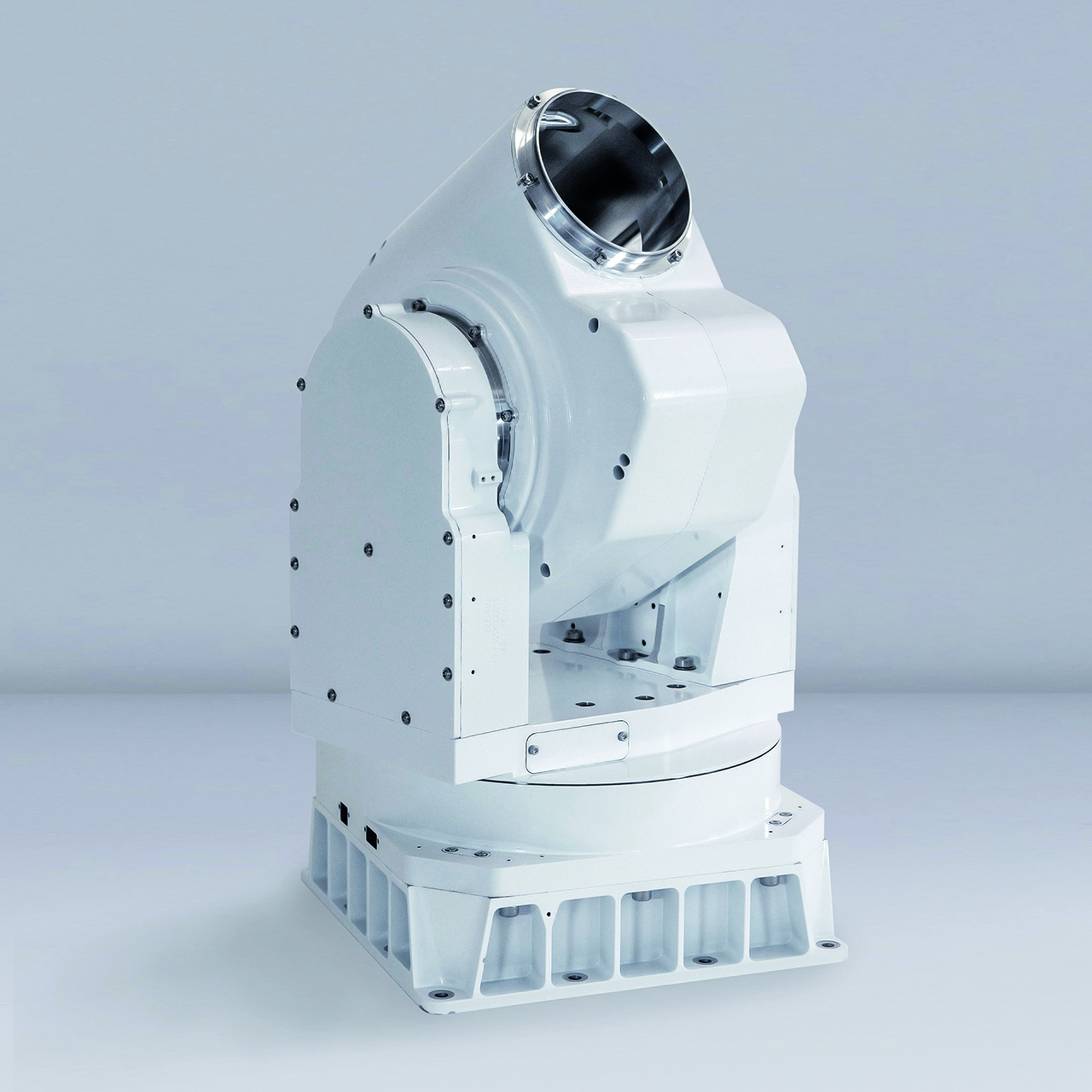 What integration challenges were there and how did you overcome these? 
As the market demand increases for laser communications solutions, the biggest integration challenges come with serial manufacturing. Once a stable design is achieved, we must be able to manufacture thousands of terminals each year to meet this demand. To overcome this challenge, our engineers design products with manufacturability in mind. Having the right design and being able to automate steps in the manufacturing process allows us to create scalable products. One example is a manual glueing process in one of our subsystems that we used for our previous generation terminals. This process was completely replaced by a non-organic automated process using robots that work in a fraction of the time. Streamlining processes for mass production is key here. 
There is also the integration challenge of new technology in the larger ecosystem. For that, it is important that there is a supplier base with compatible products. That is almost as vital as cost-efficiency and scalability to reach a technology breakthrough. Besides the creation of a common standard, which was spearheaded by the Space Development Agency and adopted by the industry, at Mynaric, we made an investment in our own link testbed. This testbed is similar to the on-Earth testing equipment used by the Naval Research Lab and not only emulates a link between two terminals under space conditions, such as range, microvibration and base motion, and doppler, among others, but it also verifies that terminals manufactured by different vendors can talk to each other. 
How do you hope optics/photonics components will improve to meet the laser communication needs of the future? 
At Mynaric, we are focused on creating scalable, affordable, and industrialised laser communications products. As such, the components we use need to follow those same guiding principles. As we scale up to manufacture thousands of terminals per year, we need to have components that meet the growing demand of the market. 
Photonic integration is, for sure, something we are profiting from and that will be even more so in the future. That does not just account for the transceiver subsystem where we are already profiting from highly integrated parts that have been originally developed for the fibre-optics telecom networks. 
Functions like all optical switching and routing at Tbps data rates or quantum key distribution would not work without that in a scalable fashion. Basic things like increasing the efficiency of the fibre optical amplifiers is an increasingly important thing, especially as the data-rates and optical output power needs are growing. 
How does Mynaric approach research and innovation? 
As we develop commercial off-the-shelf (COTS) laser communications products for our current customers, we are amazed by the use cases for laser communications technology that continue to present themselves. We know that research and innovation must be a core area that we always explore. 
We have a team of engineers in our research department that constantly challenge the status quo, are identifying new technologies out there and driving innovation by trying out new things that bring more value to our customers, such as increase of throughput, SWaP optimisation, improvement of serial manufacturability, and more. Finding new use cases and driving innovation is at the heart of what we do every day.  
We are very proud of the research projects we have been awarded, such as the Defense Advanced Research Projects Agency's (Darpa's) Space-BACN programme and our involvement with the QuNet initiative. 
The Space-BACN (Space-based adaptive communications node) programme envisions a low-cost, scalable optical communications terminal that could be reconfigured to work with various optical intersatellite link standards allowing seamless communication among government and private-sector proprietary satellite. The QuNet initiative includes the development of laser communications technology solutions for space, airborne and mobile applications related to quantum communications.